Sponsored by Libro.fm
Libro.fm lets you purchase audiobooks directly from your favorite local bookstore. You can pick from more than 100,000 audiobooks, including New York Times best sellers and recommendations from booksellers around the country, at the same price as the largest audiobook company out there (you know the name).
Libro.fm is currently running a Summer Listening Challenge–each person to finish will get free audiobook credit and the change to win free audiobooks for a year if you complete the challenge extra credit. Click here to get a 3-month audiobook membership for the price of one month.
Hola Audiophiles!
Whew! I'm in the final stages of packing of my life and have a 17-hour drive to Portland in my very near future. Should be some prime audiobooking going on, but I'll also be driving with my parents and brother. Could be amazing, could be a chaotic throwback to the road trips of my childhood. I can already hear my dad threatening to turn the van around…
Today I've got some new books coming out this week; I've heard from a few of you that you'd like to see new books broken up week by week, so that's what I did here. I'll be back next week with more new books plus updates on my listens – just gotta get this lil' move out of the way.
Ready? Let's audio.
New Releases: Week of August 6th (publisher's descriptions in quotes)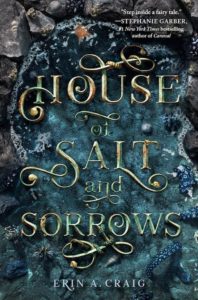 House of Salt and Sorrows by Erin A. Craig, narrated by Emily Lawrence – Annaleigh is one of twelve sisters living in an isolated manor by the sea with her father and stepmother. When four of the sisters die in a series of increasingly tragic accidents, Annaleigh is plagued by ghostly visions that suggest they weren't accidents after all. "When Annaleigh's involvement with a mysterious stranger who has secrets of his own intensifies, it's a race to unravel the darkness that has fallen over her family–before it claims her next."
Narrator Note: Emily Lawrence narrates a lot of fantasy and cozy mystery and may be familiar to those of you who've read The Princess and the Fangirl. I discovered she narrates a title called The Chupacabra Catastrophe. Yo soy intrigued!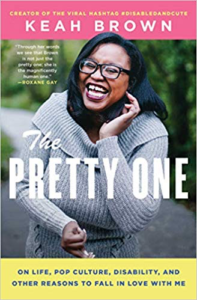 The Pretty One: On Life, Pop Culture, Disability, and Other Reasons to Fall in Love with Me by Keah Brown, narrated by the author – Keah Brown is a disability rights advocate born and creator of the #DisabledAndCute campaign. She was born with cerebral palsy and spent a lot of time feeling trapped by her disability, but no more! Gone are the days of yearning for a normalcy not afforded to her by society's treatment of the disabled. She's reclaimed her narrative and is living a life that flies in the face of stigma. In a series of essays, Brown explore everything from dating, her relationship with her able-bodied twin (called "the pretty one" by friends), and her frustration with the depiction of the disabled in media.
Narrator Note: You know how I feel about author-narrated work by now. I'm very into hearing stories exactly how their author intended them to be told.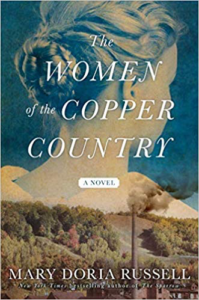 The Women of the Copper Country by Mary Doria Russell, narrated by Cassandra Campbell – I kind of didn't know that Mary Doria Russell had a book coming out this year! TBH I'm still a little shaken by The Sparrow but I'm ready for whatever else she's got. This one is a historical novel about "'America's Joan of Arc' Annie Clements – the courageous woman who started a rebellion by leading a strike against the largest copper-mining company in the world."
Narrator Note: I love me some Cassandra Campbell and I know many of you do too! She's the voice behind a lot of beloved titles: Everything I Never Told You, When Breath Becomes Air, Lilac Girls, and the insanely popular When the Crawdads Sing.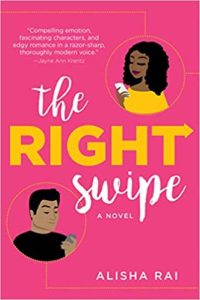 The Right Swipe by Alisha Rai, narrated by Summer Morton and Brian Pallino – This is the first in the new Modern Love series from Alisha Rai, and I just cannot compete with the publisher's blurb! This is indeed a romance "in which two rival dating-app creators find themselves at odds in the boardroom but in sync in the bedroom." The love interest her is a former pro football player who beds and then ghosts our main character only to resurface later, and he promises "he won't fumble their second chance." I mean… how can you not?
Narrator Note: Brian Pallino, bruh: I don't know anything about you. But your voice tho? call me.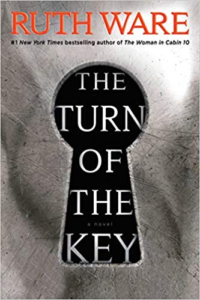 The Turn of the Key by Ruth Ware, narrated by Imogen Church – Ruth Ware is one of my contemporary mystery faves, which you probably guessed. She gives me such Agatha Christie vibes! In her fifth mystery novel, Rowan caine has hit the jackpot on the job front: she's bagged a live-in nanny post in a gorgeous "smart" home in the Scottish Highlands with a fat salary to match. Too good to be true? Probs. "What she doesn't know is that she's stepping into a nightmare—one that will end with a child dead and herself in prison awaiting trial for murder." I'm so in.
Narrator note: Imogen Church has narrated all of Ruth Ware's work and she nails it every time. Great pacing and tension building.
From the Internets
Check out Hypable's list of unforgettable audiobooks; Leigh Bardugo's Six of Crows duology gets a mention for its full cast narration, which makes me want to experience those books all over again on audio.
Michael Sheen will return narrate the latest Phillip Pullman book!
Paste shares their picks for best audiobooks in July. Don't know if I could do The Nickel Boys without crying in my car, but it is narrated in part by Whitehead and that's reason to try.
Over at the Riot
Since I'll be embarking on not one but two 17 hour road trips in the next month, I thought I'd throw it back to this fun list of mystery audiobooks to take on the road.
---
That's all I got today! Shoot me an email at vanessa@riotnewmedia.com with audiobook feedback & questions or find me on Twitter and the gram @buenosdiazsd. Sign up for the In The Club newsletter, peep the Read Harder podcast, and watch me booktube every Friday too!
Stay bad & bookish, my friends.
Vanessa