Welcome to Check Your Shelf! This is your guide to help librarians like you up your game when it comes to doing your job (& rocking it).
"Check Your Shelf" is sponsored by Dynamite Entertainment.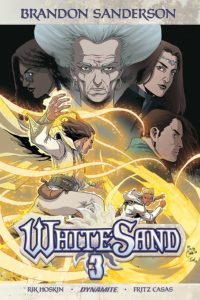 Underpowered and overwhelmed, Kenton tries to hold the Sand Masters together as forces political and personal conspire against them. Now, in one final push, Kenton must tap the most dangerous depths of his own abilities to combat the enemies within his own guild, and discover the truth behind the ambush that killed his father and almost destroyed the Sand Masters for good.
---
Libraries & Librarians
News Updates
Cool Library Updates
Worth Reading
Book Adaptations in the News
Collection Development Corner
Publishing News
New & Upcoming Titles
What Your Patrons Are Hearing About
Books & Authors in the News
Numbers & Trends
Award News
Pop Cultured
All Things Comics
Book Lists, Book Lists, Book Lists
Children/Teens
Adults
Bookish Curiosities & Miscellaneous
Level Up (Library Reads)
Do you take part in LibraryReads, the monthly list of best books selected by librarians only? We've made it easy for you to find eligible diverse titles to nominate. Kelly Jensen created a database of upcoming diverse books that anyone can edit, and Nora Rawlins of Early Word is doing the same, as well as including information about series, vendors, and publisher buzz.
Thanks for hanging, and I'll see you next week!
–Katie McLain Horner, @kt_librarylady on Twitter. Currently reading a bunch of classic Nancy Drew novels.