Hey YA readers! Officially, Asian Pacific Islander Heritage Month may be coming to an end, but let's keep it going even longer.
"What's Up in YA?" is sponsored by Somewhere Only We Know from Maurene Goo and Fierce Reads.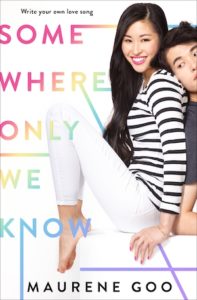 A Cosmopolitan Best Young Adult Book of 2019 Sparks fly between a K pop starlet and a tabloid reporter in this heartwarming rom-com from Maurene Goo. 10:00 PM.: Lucky is a huge K-pop star who just performed her hit song to thousands of adoring fans. She's tired but dying for a hamburger. 11:00 PM: Jack sneaks into a fancy hotel on assignment for his tabloid job. He runs into a cute girl wearing slippers — a girl who is single-mindedly determined to find a hamburger. 12:00 AM.: Nothing will ever be the same.
---
May is Asian Pacific Islander Heritage Month, but rather than limit reading awesome YA by Asian American authors to one month, let's add a few more titles to the TBR to keep the love going all year long.
These are all books that, as of this writing, haven't published yet, so I've pulled descriptions from Amazon (I, too, need to add them to my TBR!). There's a little of everything here genre-wise. I've noted with a "*" when the book is part of a series, and I've stuck to just first books in a series to avoid spoilers.
By day, seventeen-year-old Jo Kuan works as a lady's maid for the cruel daughter of one of the wealthiest men in Atlanta. But by night, Jo moonlights as the pseudonymous author of a newspaper advice column for the genteel Southern lady, "Dear Miss Sweetie." When her column becomes wildly popular, she uses the power of the pen to address some of society's ills, but she's not prepared for the backlash that follows when her column challenges fixed ideas about race and gender. While her opponents clamor to uncover the secret identity of Miss Sweetie, a mysterious letter sets Jo off on a search for her own past and the parents who abandoned her as a baby. But when her efforts put her in the crosshairs of Atlanta's most notorious criminal, Jo must decide whether she, a girl used to living in the shadows, is ready to step into the light. With prose that is witty, insightful, and at times heartbreaking, Stacey Lee masterfully crafts an extraordinary social drama set in the New South.
It's 1989 in New York City, and for three teens, the world is changing.
Reza is an Iranian boy who has just moved to the city with his mother to live with his stepfather and stepbrother. He's terrified that someone will guess the truth he can barely acknowledge about himself. Reza knows he's gay, but all he knows of gay life are the media's images of men dying of AIDS.
Judy is an aspiring fashion designer who worships her uncle Stephen, a gay man with AIDS who devotes his time to activism as a member of ACT UP. Judy has never imagined finding romance…until she falls for Reza and they start dating.
Art is Judy's best friend, their school's only out and proud teen. He'll never be who his conservative parents want him to be, so he rebels by documenting the AIDS crisis through his photographs.
As Reza and Art grow closer, Reza struggles to find a way out of his deception that won't break Judy's heart—and destroy the most meaningful friendship he's ever known.
CHINA, 484 A.D.
A Warrior in Disguise
All her life, Mulan has trained for one purpose: to win the duel that every generation in her family must fight. If she prevails, she can reunite a pair of priceless heirloom swords separated decades earlier, and avenge her father, who was paralyzed in his own duel.
Then a messenger from the Emperor arrives, demanding that all families send one soldier to fight the Rouran invaders in the north. Mulan's father cannot go. Her brother is just a child. So she ties up her hair, takes up her sword, and joins the army as a man.
A War for a Dynasty
Thanks to her martial arts skills, Mulan is chosen for an elite team under the command of the princeling—the royal duke's son, who is also the handsomest man she's ever seen. But the princeling has secrets of his own, which explode into Mulan's life and shake up everything she knows. As they cross the Great Wall to face the enemy beyond, Mulan and the princeling must find a way to unwind their past, unmask a traitor, and uncover the plans for the Rouran invasion . . . before it's too late.
*Spin The Dawn by Elizabeth Lim (July 9)
Maia Tamarin dreams of becoming the greatest tailor in the land, but as a girl, the best she can hope for is to marry well. When a royal messenger summons her ailing father, once a tailor of renown, to court, Maia poses as a boy and takes his place. She knows her life is forfeit if her secret is discovered, but she'll take that risk to achieve her dream and save her family from ruin. There's just one catch: Maia is one of twelve tailors vying for the job.
Backstabbing and lies run rampant as the tailors compete in challenges to prove their artistry and skill. Maia's task is further complicated when she draws the attention of the court enchanter, Edan, whose piercing eyes seem to see straight through her disguise.
And nothing could have prepared her for the final challenge: to sew three magic gowns for the emperor's reluctant bride-to-be, from the laughter of the sun, the tears of the moon, and the blood of stars. With this impossible task before her, she embarks on a journey to the far reaches of the kingdom, seeking the sun, the moon, and the stars, and finding more than she ever could have imagined.
The youngest doctor in America, an Indian-American teen makes her rounds―and falls head over heels―in the contemporary romantic comedy Symptoms of a Heartbreak.
Fresh from med school, sixteen-year-old medical prodigy Saira arrives for her first day at her new job: treating children with cancer. She's always had to balance family and friendships with her celebrity as the Girl Genius―but she's never had to prove herself to skeptical adult co-workers while adjusting to real life-and-death stakes. And working in the same hospital as her mother certainly isn't making things any easier.
But life gets complicated when Saira finds herself falling in love with a patient: a cute teen boy who's been diagnosed with cancer. And when she risks her brand new career to try to improve his chances, it could cost her everything.
It turns out "heartbreak" is the one thing she still doesn't know how to treat.
The first time Sana Khan asked out a girl–Rachel Recht–it went so badly that she never did it again. Rachel is a film buff and aspiring director, and she's seen Carrie enough times to learn you can never trust cheerleaders (and beautiful people). Rachel was furious that Sana tried to prank her by asking her on a date.
But when it comes time for Rachel to cast her senior project, she realizes that there's no more perfect lead than Sana–the girl she's sneered at in the halls for the past three years. And poor Sana–she says yes. She never did really get over that first crush, even if Rachel can barely stand to be in the same room as her.
Told in alternative viewpoints and set against the backdrop of Los Angeles in the springtime, when the rainy season rolls in and the Santa Ana's can still blow–these two girls are about to learn that in the city of dreams, anything is possible–even love.
*Wicked Fox by Kat Cho (June 25)
Eighteen-year-old Gu Miyoung has a secret–she's a gumiho, a nine-tailed fox who must devour the energy of men in order to survive. Because so few believe in the old tales anymore, and with so many evil men no one will miss, the modern city of Seoul is the perfect place to hide and hunt.
But after feeding one full moon, Miyoung crosses paths with Jihoon, a human boy, being attacked by a goblin deep in the forest. Against her better judgment, she violates the rules of survival to rescue the boy, losing her fox bead–her gumiho soul–in the process.
Jihoon knows Miyoung is more than just a beautiful girl–he saw her nine tails the night she saved his life. His grandmother used to tell him stories of the gumiho, of their power and the danger they pose to men. He's drawn to her anyway.
With murderous forces lurking in the background, Miyoung and Jihoon develop a tenuous friendship that blossoms into something more. But when a young shaman tries to reunite Miyoung with her bead, the consequences are disastrous and reignite a generations-old feud . . . forcing Miyoung to choose between her immortal life and Jihoon's.
---
Thanks for hanging out, y'all, and we'll see you again soon!
— Kelly Jensen, @veronikellymars on Instagram and editor of (Don't) Call Me Crazy and Here We Are.