Hello, Kid Lit Friends!
Last week I gave you a list of great picture books with summer themes, and today I give you a list of middle grade books! There are so many gorgeous summer-themed books, perfect for summer reading, so check out the titles below and let me know what you think! *Please note that all descriptions come from the publisher.*
---
Sponsored by our $100 Amazon gift card giveaway!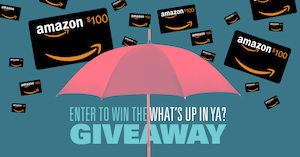 We're giving away a $100 gift card to Amazon to support our What's Up in YA newsletter! Enter here for the chance to win $100 to spend on young adult literature, and get the best YA book recs, news, and more in your inbox.
---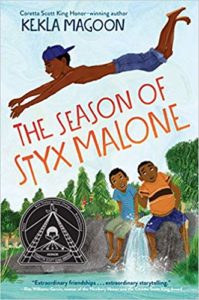 The Season of Styx Malone by Kekla Magoon
Caleb Franklin and his big brother Bobby Gene are excited to have adventures in the woods behind their house. But Caleb dreams of venturing beyond their ordinary small town. Then Caleb and Bobby Gene meet new neighbor Styx Malone. Styx is sixteen and oozes cool. Styx promises the brothers that together, the three of them can pull off the Great Escalator Trade–exchanging one small thing for something better until they achieve their wildest dream. But as the trades get bigger, the brothers soon find themselves in over their heads. Styx has secrets–secrets so big they could ruin everything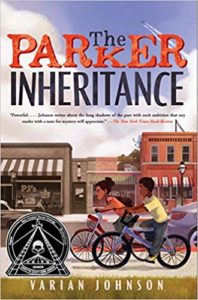 The Parker Inheritance by Varian Johnson
When Candice finds a letter in an old attic in Lambert, South Carolina, she isn't sure she should read it. It's addressed to her grandmother, who left the town in shame. But the letter describes a young woman. An injustice that happened decades ago. A mystery enfolding its writer. And the fortune that awaits the person who solves the puzzle. So with the help of Brandon, the quiet boy across the street, she begins to decipher the clues. The challenge will lead them deep into Lambert's history, full of ugly deeds, forgotten heroes, and one great love; and deeper into their own families, with their own unspoken secrets. Can they find the fortune and fulfill the letter's promise before the answers slip into the past yet again?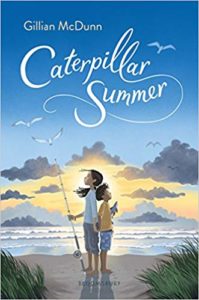 Caterpillar Summer by Gillian McDunn
Cat and her brother Chicken have always had a very special bond–Cat is one of the few people who can keep Chicken happy. When he has a "meltdown" she's the one who scratches his back and reads his favorite story. She's the one who knows what Chicken needs. Since their mom has had to work double-hard to keep their family afloat after their father passed away, Cat has been the glue holding her family together. But even the strongest glue sometimes struggles to hold. When a summer trip doesn't go according to plan, Cat and Chicken end up spending three weeks with grandparents they never knew. For the first time in years, Cat has the opportunity to be a kid again, and the journey she takes shows that even the most broken or strained relationships can be healed if people take the time to walk in one another's shoes.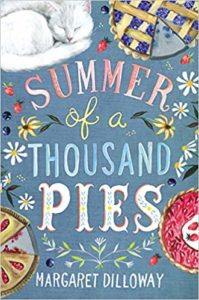 Summer of a Thousand Pies by Margaret Dilloway
When Cady Bennett is sent to live with the aunt she didn't even know she had in the quaint mountain town of Julian, she isn't sure what to expect. Cady isn't used to stability, after growing up homeless in San Diego with her dad. Now she's staying in her mother's old room, exploring the countryside filled with apple orchards and pie shops, making friends, and working in Aunt Shell's own pie shop—and soon, Cady starts to feel like she belongs. Then she finds out that Aunt Shell's shop is failing. Saving the business and protecting the first place she's ever really felt safe will take everything she's learned and the help of all her new friends. But are there some things even the perfect pie just can't fix?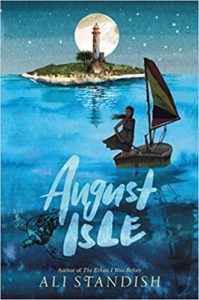 August Isle by Ali Standish
For years, Miranda has stared at postcards of August Isle, Florida. The town where her mother spent her summers as a girl. The town that Miranda has always ached to visit. She just never wanted it to happen this way. When she arrives on the Isle, alone and uncertain, to stay the summer with an old friend of her mother's, Miranda discovers a place even more perfect than she imagined. And she finds a new friend in Sammy, "Aunt" Clare's daughter. But there is more to August Isle than its bright streets and sandy beaches, and soon Miranda is tangled in a web of mysteries. A haunted lighthouse. An old seafarer with something to hide. A name reaching out from her mother's shadowy past.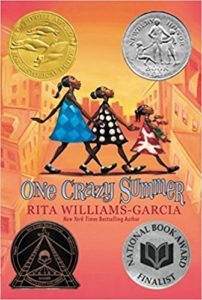 One Crazy Summer by Rita Williams-Garcia
Eleven-year-old Delphine is like a mother to her two younger sisters, Vonetta and Fern. She's had to be, ever since their mother, Cecile, left them seven years ago for a radical new life in California. But when the sisters arrive from Brooklyn to spend the summer with their mother, Cecile is nothing like they imagined. While the girls hope to go to Disneyland and meet Tinker Bell, their mother sends them to a day camp run by the Black Panthers. Unexpectedly, Delphine, Vonetta, and Fern learn much about their family, their country, and themselves during one truly crazy summer.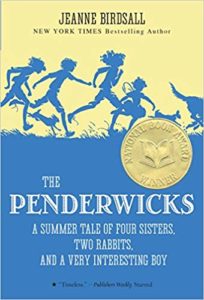 The Pendericks by Jeanne Birdsall
This summer the Penderwick sisters have a wonderful surprise: a holiday on the grounds of a beautiful estate called Arundel. Soon they are busy discovering the summertime magic of Arundel's sprawling gardens, treasure-filled attic, tame rabbits, and the cook who makes the best gingerbread in Massachusetts. But the best discovery of all is Jeffrey Tifton, son of Arundel's owner, who quickly proves to be the perfect companion for their adventures. The icy-hearted Mrs. Tifton is not as pleased with the Penderwicks as Jeffrey is, though, and warns the new friends to stay out of trouble. Which, of course, they will—won't they? One thing's for sure: it will be a summer the Penderwicks will never forget.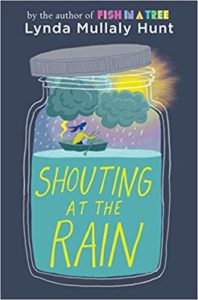 Shouting at the Rain by Lynda Mullaly Hunt
Delsie loves tracking the weather–lately, though, it seems the squalls are in her own life. She's always lived with her kindhearted Grammy, but now she's looking at their life with new eyes and wishing she could have a "regular family." Delsie observes other changes in the air, too–the most painful being a friend who's outgrown her. Luckily, she has neighbors with strong shoulders to support her, and Ronan, a new friend who is caring and courageous but also troubled by the losses he's endured. As Ronan and Delsie traipse around Cape Cod on their adventures, they both learn what it means to be angry versus sad, broken versus whole, and abandoned versus loved. And that, together, they can weather any storm.
Where the Watermelons Grow by Cindy Baldwin
When twelve-year-old Della Kelly finds her mother furiously digging black seeds from a watermelon in the middle of the night and talking to people who aren't there, Della worries that it's happening again—that the sickness that put her mama in the hospital four years ago is back. That her mama is going to be hospitalized for months like she was last time. With her daddy struggling to save the farm and her mama in denial about what's happening, it's up to Della to heal her mama for good. And she knows just how she'll do it: with a jar of the Bee Lady's magic honey, which has mended the wounds and woes of Maryville, North Carolina, for generations.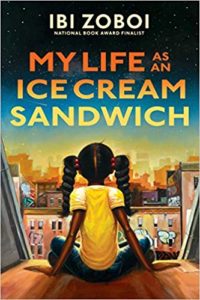 My Life As An Ice Cream Sandwich by Ibi Zoboi (August 27, Dutton Books for Young Readers)
Twelve-year-old Ebony-Grace Norfleet has lived with her beloved grandfather Jeremiah in Huntsville, Alabama ever since she was little. As one of the first black engineers to integrate NASA, Jeremiah has nurtured Ebony-Grace's love for all things outer space and science fiction—especially Star Wars and Star Trek. But in the summer of 1984, when trouble arises with Jeremiah, it's decided she'll spend a few weeks with her father in Harlem. Harlem is an exciting and terrifying place for a sheltered girl from Hunstville, and Ebony-Grace's first instinct is to retreat into her imagination. But soon 126th Street begins to reveal that it has more in common with her beloved sci-fi adventures than she ever thought possible, and by summer's end, Ebony-Grace discovers that Harlem has a place for a girl whose eyes are always on the stars.
Around the web…
James Holzhauer, Jeopardy! Champion and Reading Superstar, via Book Riot
Nine Children's Book Pins to Pick Up Right Now, via Book Riot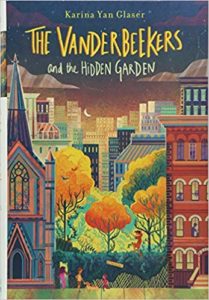 And if you would like yet another summer-themed middle grade book, might I suggest The Vanderbeekers and the Hidden Garden? It's set during the summer in Harlem, and the Vanderbeekers kids are attempting to transform the abandoned lot on their block into a community garden.
I would love to know what you are reading this week! Find me on Twitter at @KarinaYanGlaser, on Instagram at @KarinaIsReadingAndWriting, or email me at karina@bookriot.com.
Until next time!
Karina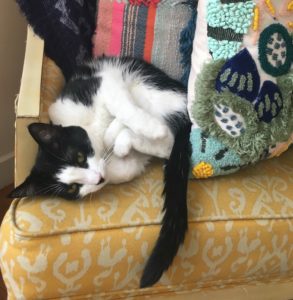 *If this e-mail was forwarded to you, follow this link to subscribe to "The Kids Are All Right" newsletter and other fabulous Book Riot newsletters for your own customized e-mail delivery. Thank you!*