Sponsored by Kawaii Craft Life by Sosae Caetano and Dennis Caetano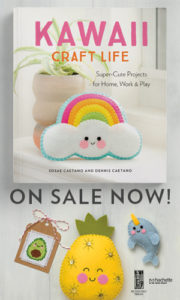 ---
Cease & Desist Over Alexandria Ocasio-Cortez Wonder Woman
Devil's Due published a new comic, Alexandria Ocasio-Cortez & The Freedom Force: New Party, Who Dis?, with a limited variant cover that got DC comics saying no-no. And by no-no I mean a cease and desist letter because the cover, by artist Carla Cohen, looks too much like Wonder Woman for DC's liking. Whoever got their hands on one already is most likely going to have a valuable issue. You can check out the cover, and full story, here.

Sarah Jessica Parker Fighting Library Budget Cuts In NYC
The book-loving actress is hoping to stop a looming budget cut that would affect libraries in New York's five boroughs. Summoning Carrie Bradshaw, and that terrible post-it breakup, Sarah Jessica Parker sent out an emailing urging "people to post sticky notes about why they love their libraries on the investinlibraries.org website." More here.
Marie Kondo Has Been Writing
Marie Kondo found the time to write (Hopefully while ignoring all the racist backlash over *checks notes* helping people who wanted to get organize get organized.) not one, but two new books! Here's her Instagram announcement where she is once again wearing a blouse I covet.