Welcome to Check Your Shelf! This is your guide to help librarians like you up your game when it comes to doing your job (& rocking it).
"Check Your Shelf" is sponsored by Vertical, Inc.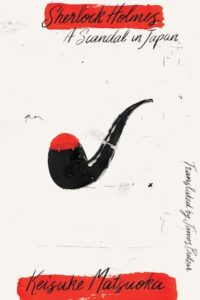 Where did Sherlock Holmes go during his famous disappearance between his death at Reichenbach Falls and reappearance in Baker Street, three years later? God of mystery Keisuke Matsuoka contends that it was in the Far East—in Japan, to be exact. In 1891, Nicholas Alexandrovich, the Tsarevich of Russia, was traveling in a fragile Meiji-era Japan on an official tour when he was almost assassinated. The Otsu Incident, as this came to be known, led to fear of an international incident, perhaps even a declaration of war from Russia. In steps Sherlock Holmes—on the run from the British police and presumed to be dead. Together with Hirobumi Ito, the first Prime Minister of Japan, the two unlikely allies immerse themselves in a knotted tangle of politics, deceit, and great powers. In this deftly researched and immersive novel, based on real historical events, the great Sherlock Holmes stakes his flag in modern history in the turbulent early years of a rising Japan buffeted by the winds of change.
---
Libraries & Librarians
News Updates
Cool Library Updates
Worth Reading
Book Adaptations in the News
Collection Development Corner
New & Upcoming Titles
What Your Patrons Are Hearing About
RA & Genre Resources
Books & Authors in the News
Numbers & Trends
Award News
Pop Cultured
All Things Comics
Audiophilia
Book Lists, Book Lists, Book Lists
Children/Teens
Adults
Bookish Curiosities & Miscellaneous
Level Up (Library Reads)
Do you take part in LibraryReads, the monthly list of best books selected by librarians only? We've made it easy for you to find eligible diverse titles to nominate. Kelly Jensen created a database of upcoming diverse books that anyone can edit, and Nora Rawlins of Early Word is doing the same, as well as including information about series, vendors, and publisher buzz.
Thanks for hanging out and I'll see you again next week!
–Katie McLain, @kt_librarylady on Twitter. Currently reading Circe by Madeline Miller.