This edition of Today in Books is sponsored by Dynamite Entertainment.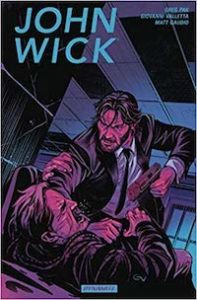 ---
Thanks Shakespeare For These 10 Common Words
Shakespeare Day–today, because April 23, 1564 was his day of birth–has many celebrating the poet and playwright. And as a man of many words he contributed almost 300 words to the Oxford English dictionary, 10 of which we use daily. Check out the words and the works in which they first appeared here.
The First Internet Information Storage Base
Collaborating with IT company Sina, The National Library of China has begun to build the first Internet information storage base. Sina website's news and Weibo's blog posts will all be stored and we're talking about millions and billions of pieces and comments.
High Fidelity Reimagining Cast News
First, High Fidelity was a novel by Nick Hornby. Next, it was a film starring John Cusack. Then, it was a reimagined series adaptation where the lead is a woman in development at Disney+. Now, it's still a woman lead reimagining but the series moved to Hulu. Caught up? Good, because we now have casting news: joining Zoë Kravitz (her mama was in the original adaptation!) is Jake Lacy.