Hey YA Readers: Let's talk YA biographies!
"What's Up in YA?" is sponsored by Albert Whitman & Company, 100 Years of Good Books, and publisher of Descendant Of The Crane.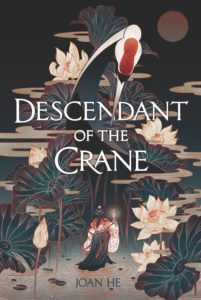 Princess Hesina of Yan, always eager to shirk responsibilities of the crown, until her father is murdered, finding herself thrust into power, suddenly the queen of an unstable kingdom. Determined to find her father's killer, Hesina does something desperate: she enlists the aid of a soothsayer—a treasonous act, punishable by death, as magic was outlawed. With information illicitly provided by the sooth, Hesina turns to Akira—a brilliant investigator and convicted criminal with secrets of his own. With the future of her kingdom at stake, can Hesina find justice for her father? Or will the cost be too high?
---
We're in a real golden age of excellent YA memoirs. There's been a wide range of voices sharing their stories and experiences with young readers, including Malala, Laurie Halse Anderson, Shane Burcaw, and more. But what we have seen less of in recent years are biographies. Sure, there've been a number of collective biographies — I've highlighted them here before! — but few full-length biographies have emerged.
For those who don't know the distinctions, here's a guide to the differences between memoirs and autobiographies. Biographies differ from both of these in that they're written by someone who isn't the subject of the book. There are biographies of living individuals, but more often than not, biographies are about people of the past.
I've been really happy to see more YA nonfiction, including biographies, move toward a more novel-like trim size, meaning that they look like YA fiction or adult nonfiction, as opposed to having a larger trim size like books for younger readers. It's easier to carry and hold them and more, they make the books look more appealing to YA readers, both teens and adults.
Find below a handful of YA biographies worth checking out. There are recent titles here, as well as some deep backlist books. I could write my own descriptions here, but they wouldn't be as useful as the publisher copy, so know these are from Amazon.
Charles Darwin published The Origin of Species, his revolutionary tract on evolution and the fundamental ideas involved, in 1859. Nearly 150 years later, the theory of evolution continues to create tension between the scientific and religious communities. Challenges about teaching the theory of evolution in schools occur annually all over the country. This same debate raged within Darwin himself, and played an important part in his marriage: his wife, Emma, was quite religious, and her faith gave Charles a lot to think about as he worked on a theory that continues to spark intense debates.
Deborah Heiligman's new biography of Charles Darwin is a thought-provoking account of the man behind evolutionary theory: how his personal life affected his work and vice versa. The end result is an engaging exploration of history, science, and religion for young readers.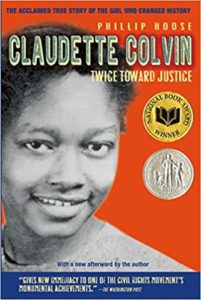 Claudette Colvin: Twice Toward Justice by Phillip Hoose
On March 2, 1955, an impassioned teenager, fed up with the daily injustices of Jim Crow segregation, refused to give her seat to a white woman on a segregated bus in Montgomery, Alabama. Instead of being celebrated as Rosa Parks would be just nine months later, fifteen-year-old Claudette Colvin found herself shunned by her classmates and dismissed by community leaders. Undaunted, a year later she dared to challenge segregation again as a key plaintiff in Browder v. Gayle, the landmark case that struck down the segregation laws of Montgomery and swept away the legal underpinnings of the Jim Crow South.
Known far and wide for his jumbo elephants, midgets, and three-ring circuses, here' s a complete and captivating look at the man behind the Greatest Show on Earth. Readers can visit Barnum's American Museum; meet Tom Thumb, the miniature man (only 39 inches tall) and his tinier bride (32 inches); experience the thrill Barnum must have felt when, at age 60, he joined the circus; and discover Barnum's legacy to the 19th century and beyond. Drawing on old circus posters, photographs, etchings, ticket stubs—and with incredible decorative art by Ray Fenwick—this book presents history as it's never been experienced before—a show-stopping event!
A riveting portrait of the world's greatest boxer chronicles his childhood, his rise as a champion, his politics, and his battle against Parkinsons' disease to demonstrate his accomplishments both inside and outside the ring.
Pairing free verse with over three hundred pages of black-and-white watercolor illustrations, Mary's Monster is a unique and stunning biography of Mary Shelley, the pregnant teenage runaway who became one of the greatest authors of all time.
Legend is correct that Mary Shelley began penning Frankenstein in answer to a dare to write a ghost story. What most people don't know, however, is that the seeds of her novel had been planted long before that night. By age nineteen, she had been disowned by her family, was living in scandal with a married man, and had lost her baby daughter just days after her birth. Mary poured her grief, pain, and passion into the powerful book still revered two hundred years later, and in Mary's Monster, author/illustrator Lita Judge has poured her own passion into a gorgeous book that pays tribute to the life of this incredible author.
Photographic: The Life of Graciela Iturbide by Isabel Quintero and Zeke Peña
Graciela Iturbide was born in Mexico City in 1942, the oldest of 13 children. When tragedy struck Iturbide as a young mother, she turned to photography for solace and understanding. From then on Iturbide embarked on a photographic journey that has taken her throughout her native Mexico, from the Sonora Desert to Juchitán to Frida Kahlo's bathroom, to the United States, India, and beyond. Photographic is a symbolic, poetic, and deeply personal graphic biography of this iconic photographer. Iturbide's journey will excite readers of all ages as well as budding photographers, who will be inspired by her resolve, talent, and curiosity.
Robert E. Lee's life was filled with responsibility and loyalty. Born to a Revolutionary War hero, Lee learned a sense of duty and restraint after weathering scandals brought on by his father and eldest brother. He found the perfect way to channel this sense of duty at West Point, where he spent his days under rigorous teachers who taught him the organizational skills and discipline he would apply for the rest of his life. The military became Lee's life: he was often away from his beloved family, making strides with the Army, forcibly expanding the United States toward the Western coastline, and fighting the
Mexican-American War. And ultimately, the military and his defining role therein–General of the Confederate Army–would prove to be Lee's legacy. Author Brandon Marie Miller separates fact from fiction and reveals the complex truth behind who Lee was as a person, a soldier, a general, and a father.
Born into a family of privilege and wealth, he was sent to military school at the age of 13. After an unremarkable academic career, he joined the family business in real estate and built his fortune. His personal brand: sex, money and power. From no-holds-barred reality TV star to unlikely candidate, Donald J. Trump rose to the highest political office: President of the United States of America.
Learn fascinating details about his personal history, including:
-Why Trump's grandfather left Germany and immigrated to America
-Why Woodie Guthrie wrote a song criticizing Trump's father
-How Trump's romance with Ivana began―and ended
-When Trump first declared his interest in running for President
Discover the incredible true story of America's 45th President: his questionable political and personal conduct, and his unprecedented rise to power.
---
Thanks for hanging out, and we'll see you later this week with a look at the latest in YA news!
— Kelly Jensen, @veronikellymars on Instagram and editor of (Don't) Call Me Crazy and Here We Are.