Hey YA Fans: Pour yourself a cuppa and let's catch up on the latest news.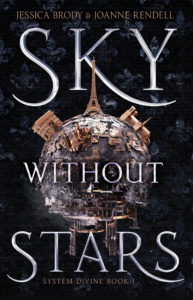 "What's Up in YA?" is sponsored by Simon & Schuster Children's Publishing.
In the tradition of The Lunar Chronicles, this sweeping reimagining of Les Misérables tells the story of three teens from very different backgrounds who are thrown together amidst the looming threat of revolution on the French planet of Laterre.
---
For the talk of YA book sales being down, there sure has been a lot of adaptation news lately, suggesting that perhaps the sales come later in the book's life, as opposed to its arrival? I'm chewing over some thoughts on this, especially related to the old statistic that the bulk of YA books are purchased by adults. Are we seeing this level off and are seeing more organic purchases from teens themselves? There's a lot to unpack in that article, and I don't have the answers.
┏┓
┃┃╱╲ In this
┃╱╱╲╲ house
╱╱╭╮╲╲ we
▔▏┗┛▕▔ support
╱▔▔▔▔▔▔▔▔▔▔╲
beautiful YA
maps
╱╱┏┳┓╭╮┏┳┓ ╲╲
▔▏┗┻┛┃┃┗┻┛▕▔

— HMH Teen (@HMHteen) March 19, 2019
---
Recent Book Mail…
This huge stack doesn't even cover it all. The fall releases are hitting fever pitch at my doorstep (and I'm still reading books from this month, y'all!). From top to bottom, starting with Maybe This Time, as the two books above it aren't YA books.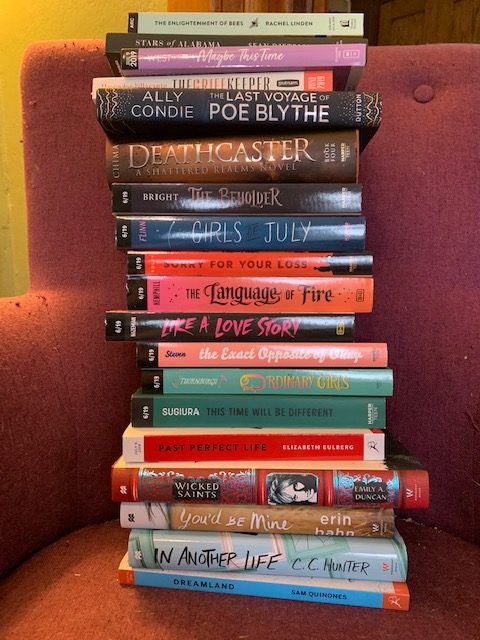 Maybe This Time by Kasie West
The Grief Keeper by Alexandra Villasante
The Last Voyage of Poe Blythe by Ally Condie
Deathcaster by Cinda Williams Chima
The Beholder by Anna Bright
Girls of July by Alex Flinn
Sorry For Your Loss by Jessie Ann Foley
The Language of Fire by Stephanie Hemphill
Like A Love Story by Abdi Nazemian
The Exact Opposite of Okay by Laura Steven
Ordinary Girls by Blair Thornburgh
This Time Will Be Different by Misa Sugiura
Past Perfect Life by Elizabeth Eulberg
Wicked Saints by Emily A. Duncan
You'd Be Mine by Erin Hnhn
In Another Life by CC Hunter
Dreamland by Sam Quinones
---
We'll see you next week with some more book lists, book talk, and more.
— Kelly Jensen, @veronikellymars on Instagram and editor of (Don't) Call Me Crazy and Here We Are (currently $2, y'all!).