Hello mystery fans! This week I have for you a ghostly cozy, a book within a book, and a psychological thriller!
---
Sponsored by Flatiron Books, publishers of Save Me From Dangerous Men by S.A. Lelchuk.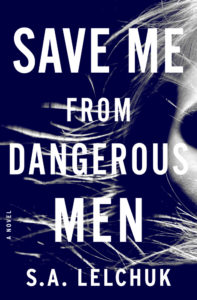 Nikki Griffin isn't your typical private investigator. In her office above her bookstore's shelves and stacks, she also tracks certain men. Dangerous men. She seeks justice for those who need her help in Save Me From Dangerous Men, the debut by S.A. Lelchuk.
---
Cozy Mystery With A Ghost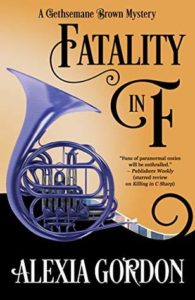 Fatality in F (Gethsemane Brown Mysteries #4) by Alexia Gordon: I'm terrible at reading every book released in a cozy mystery series with the exception of a few, and this is one. It centers around Gethsemane Brown, an American classical musician living in a small Irish town, who can't stop finding herself in the wrong place at the wrong time and getting into trouble. The trouble obviously means she needs to solve a murder. This time around we get gardens and rose bush competitions and a Flower Shop Killer–Gethsemane Brown to the rescue of course. What always draws me into this series is Gethsemane's no-nonsense, sarcastic personality and her friendship with a ghost. Yup, as in now-dead-still-haunting-around spirit that helps her solve mysteries when he can–he can only visit places he was at when alive. I especially enjoy their bickering in public since no one else can see who in the world she's talking to.
Book Within A Book!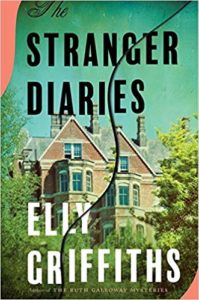 The Stranger Diaries by Elly Griffiths: This is a modern murder mystery with wonderful nods to Gothic tales, including a short story layered within. Clare Cassidy is an English school teacher writing a book about R. M. Holland, a fictional Gothic author who once lived in the school she works at. When a coworker, and friend, is murdered, Cassidy finds strange things happening that have her and the police believing she too is in danger. That's all I'm giving you on plot, because I really enjoyed feeling the tension of how this unfolds since I knew nothing about it. The story changes point of view between Cassidy, her 15-year-old daughter Georgie, and police detective Harbinder Kaur, while also weaving in R. M. Holland's short story. It's a great read for fans of The Magpie Murders, books within books, literary nods inside mysteries, Gothic tales, and anyone looking for a good mystery with great characters where you feel the emotions but never get plunged into dark and gruesome waters. The book also left me 100% wanting a series that follows detective Harbinder Kaur because I loved her, and being in her head as she puts together evidence in a case.
Psychological Thriller (TW domestic abuse/ PTSD)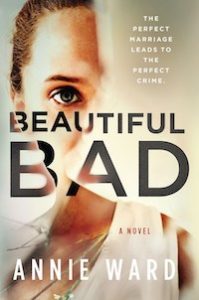 Beautiful Bad by Annie Ward: This opens up with a crime, a bloody kitchen, without revealing the who or why, and then mostly takes you back to two time periods before the reveal. In the few months leading up to the crime you get to know Maddie and her toddler Charlie as she's in therapy after an accident that scarred her face and left her with memory issues. The police think her accident was domestic abuse, but she thinks she just fell while camping and that her husband Ian wouldn't have hurt her. But she's using the writing therapy to try and work it out. We also go years further into the past to when Ian, a British soldier, met Maddie and her best friend Joanna in war-torn Southeast Europe to see how their love story came to be… While told mostly from Maddie's point of view, we also get to hear Ian's stories, especially of war, and Diane Varga the Kansas police officer that shows up to find the bloody kitchen… Even though I had this one figured out, which is usually the case for me, the audiobook kept me sufficiently glued to being in Maddie's head and wanting to see how everything would be put together.
Recent Releases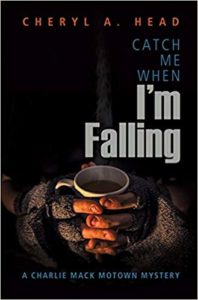 Catch Me When I'm Falling (A Charlie Mack Motown Mystery)by Cheryl A. Head (Detroit PI series that I am super excited to start reading–the paperback is out now, the ebook next week.)
Redemption Point (Crimson Lake #2) by Candice Fox (Really looking forward to starting since I really liked the first in this Australian crime series.) (Review for first in series.)
Run Away by Harlan Coben (TBR: A father gets sucked into a dark world while trying to bring home his daughter who is an addict and in an abusive relationship–You can generally count on Coben for a page-turner and lots of twists.)
Murder Once Removed (Ancestry Detective #1) by S.C. Perkins (Cozy mystery following a Texas genealogist.)
If You're Out There by Katy Loutzenhiser (TBR: A best friend is convinced she hasn't been ghosted and needs to find out what happened to her friend.)
Browse all the books recommended in Unusual Suspects previous newsletters on this shelf. And here's an Unusual Suspects Pinterest board.
Until next time, keep investigating! And in the meantime, come talk books with me on Twitter, Instagram, and Litsy–you can find me under Jamie Canavés.
If a mystery fan forwarded this newsletter to you and you'd like your very own you can sign up here.