Welcome to Check Your Shelf! This is your guide to help librarians like you up your game when it comes to doing your job (& rocking it).
"Check Your Shelf" is sponsored by Carolrhoda Lab ®, an imprint of Lerner Publishing Group.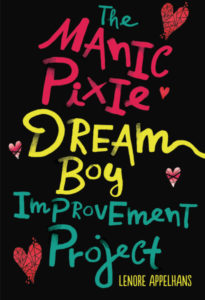 Riley was born to be a cliché. A "Manic Pixie Dream Boy" from TropeTown, he's always ready to play his part for Authors and their Developed protagonists… until he starts going off-script. It's against all the rules, but if Riley doesn't reject his training and expand his role, he may meet a fate far worse than any stereotype. As romantic as 500 Days of Summer and as meta as The Rest of Us Just Live Here, The Manic Pixie Dream Boy Improvement Project will leave you questioning just who should be in charge of your story. Available now!
---
A couple items before we dive in:
1) If you're a Check Your Shelf reader, we want to hear from YOU! Take this short survey and be entered to win a $50 Amazon gift card! Entries will be accepted until 3/31, and is open to US and Canadian residents.
2) Kelly Jensen wants to hear your funniest and weirdest stories about why a book was returned to your library damaged! The form will only be open until Friday, March 15th, so if you have a story to share, this is your last chance to send it in! Responses will be rounded up for an April Book Riot post to celebrate libraries.
Libraries & Librarians
Book Adaptations in the News
Books & Authors in the News
Upcoming Books in 2019
By the Numbers
Award News
Pop Cultured
All Things Comics
Audiophilia
Book Lists, Book Lists, Book Lists
Bookish Curiosities & Miscellaneous
Level Up (Library Reads)
Do you take part in LibraryReads, the monthly list of best books selected by librarians only? We've made it easy for you to find eligible diverse titles to nominate. Kelly Jensen created a database of upcoming diverse books that anyone can edit, and Nora Rawlins of Early Word is doing the same, as well as including information about series, vendors, and publisher buzz.
Thanks for hanging out and I'll see you again next week!
–Katie McLain, @kt_librarylady on Twitter. Currently reading Dig by A.S. King.