Sponsored by our What's Up in YA Giveaway of a $100 gift card to Amazon! Enter here.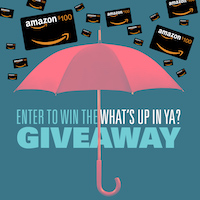 ---
Wild Nights with Emily Trailer
An upcoming movie starring Molly Shannon hopes to shed a new light on Emily Dickinson as more than a recluse who wanted her poetry burned. The film is based on letters written between Emily Dickinson and her sister-in-law Susan Huntington Gilbert Dickinson, "the purported real muse behind her poems." You can see the film in theaters on April 12th and watch the trailer here.
Where Are My Crime Fiction Fans At?
Agora, a new imprint of Polis Books, has revealed the covers for their first three releases. And "each book is a debut novel, each is about identity, and each tells a harrowing tale of crime and intrigue." Gimme, gimme, gimme! You can check out the covers here and read more about the novels and authors.
Miss Marple Returning To Television
Guess this round of news got extra crime-y! Bruna Papandrea's Made Up Stories has partnered with Agatha Christie Ltd to bring us a new Miss Marple series. Agatha Christie wrote 12 Miss Marple books along with twenty short stories so there is plenty of source material!