Today's The Stack is sponsored by The Umbrella Academy, published by Dark Horse Comics.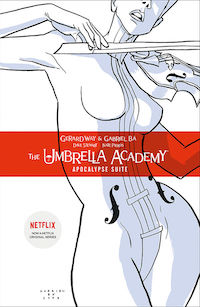 In an inexplicable worldwide event, 47 children are born to women who had shown no signs of pregnancy. Millionaire inventor Reginald Hargreeves adopted seven of these extraordinary children. This dysfunctional family of superheroes formed the Umbrella Academy. At age ten, they defeated their first enemy. A decade later, they disbanded. But when their father dies mysteriously, the siblings reunite to face the threat of the apocalypse and save the world.
The Umbrella Academy is an Eisner Award-winning comic series created by Gerard Way and Gabriel Bá, now being adapted into a live-action TV series, coming to Netflix February 15, 2019!