This edition of Today in Books is sponsored by Amazon Publishing and The Fever King by Victoria Lee.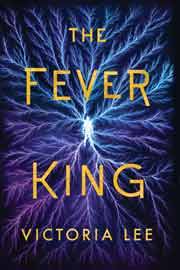 ---
Do Your Homework And Eat Your Veggies
Ann M. Martin's The Baby-Sitters Club will once again be adapted! This time we're getting a ten-episode series on Netflix. "'The themes of The Baby-Sitters Club still resonate 30 years after the original book series was released and there has never been a more opportune time to tell an aspirational story about empowering young female entrepreneurs,' said Melissa Cobb, vice president of Kids & Family at Netflix."
Serial Box + Marvel
Serial Box, a publisher that serializes stories that read like a television series broken down into episodes but, all together, make up a season, has partnered with Marvel. So we're going to get new original stories, not based on films or comics, for Black Panther, Black Widow, Jessica Jones, and Thor in the Serials form. Cool!
New Play Adaptation!
Erika L. Sánchez's I Am Not Your Perfect Mexican Daughter will be a play at Steppenwolf Theatre in Chicago in 2020. Isaac Gomez will write the adaptation and Sandra Marquez will direct. So exciting!