Hey YA Fans: I've got an awesome interview today with a debut author with a new book you'll be adding to your TBR so fast you get finger burn.
"What's Up in YA?" is sponsored by An Affair of Poisons by Addie Thorley.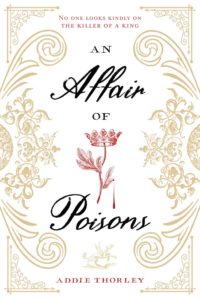 She's a deadly poisoner. He's a bastard prince. They are sworn enemies, yet they form a tenuous pact to unite the commoners and former nobility against the Shadow Society. But can a rebellion built on mistrust ever hope to succeed? After Mirabelle helps to poison King Louis XIV, she is forced to see the Shadow Society in a horrifying new light: not heroes of the people, but murderers. Herself included. Josse is more kitchen boy than fils de France. But when the Shadow Society assassinates the King, he must become the prince he was never meant to be.
---
I have one semi-strict rule when it comes to my personal reading habits. I don't like to read the first book in a series before the rest of the series is out. I have a hard time remembering details by the time book two or three rolls around, and more, I just want to devour them all at once if I'm loving the story. I'm okay not reading the series when it's new and hot.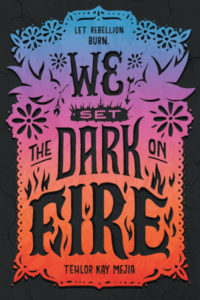 But I broke that rule accidentally with We Set The Dark on Fire by Tehlor Kay Mejia. I didn't realize it was a duology until I was half-way through this fierce, fiery feminist fantasy and now I sit, impatiently waiting for book two. I'm not sad I read it. I am just sad now I have to wait for the second book.
Mejia's book is her debut, and it's set in a near-future, but recognizable, world. I won't say too much about it, but it's about girls helping other girls, it features a queer romance, and it's about privilege, borders, and the ways the Haves treat the Have Nots.
I asked Tehlor to talk a bit about her book, as well as some of the books and stories that have inspired her. I'm thrilled to share this conversation and to tell you to put this book on your radar right now.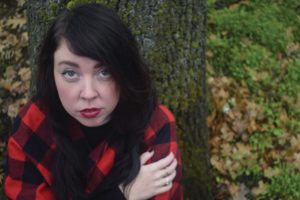 Tell us about We Set The Dark On Fire. What's the pitch and what inspired the story? For readers who want the fastest summary possible, can you also describe it in three words and three words only?
The pitch! A Latinx-based fantasy world on the brink of a class revolution. Two young women assigned to one sneering upper class man-child of a husband. Spies, forbidden romance, questionable loyalties, destructive secrets galore.
In three words?! How about…Secrets, kissing, patriarchysmashing. (It's one word now)
While Dani is our main character and one torn between an array of loyalties, the secondary characters in this story are not only well-drawn, but they're as — if not more! — compelling because we aren't privy to their loyalties except through Dani's eyes. Who is your favorite character in the story and why?
Thank you so much! Honestly I think Sota was probably my favorite character to write. I loved getting the chance to explore the fact that just because you're on the right side of history doesn't mean you can't still have a lot to learn. And then he's such a fun character, too. The enigma of him and this sort of mercurial, mischievous front he puts up — plus banter is my favorite thing to write, and he's so charming he could literally banter with a rock.
Your story is a Latinx fantasy/fairy tale. Can you share some of the Latinx stories that inspired you as you were growing up and what stories inspired We Set The Dark On Fire? 
Honestly, sad as it is to say, this book was based more on the lack of Latinx stories I experienced growing up. I'm biracial, and a third generation Latina, so I was really in a place of feeling disconnected from the more traditional folktale type stories my culture had to offer, while still not feeling seen by the speculative stories I loved. That absence is definitely what eventually led to this story.
Though the bigger world building in the story focuses on how women become accessories for men — a Primera and a Seguna are offered to a man to serve as essentially guidance and as a beautiful play thing respectively — one of the big moments in the book is the budding romance between Primera Dani and Segunda Carmen. Can you talk a bit to that?
Yes! I knew from the beginning that I wanted Dani to have a transformative love story. I feel like love can affect us so profoundly, whether it's locking us into remaining the people we are, or enticing us to become the people we're meant to become. I think Dani's overall course would be the same with or without Carmen — her growth and radically shifting empathy as a character is based on something deeply personal for her — but because of the repressed way she was raised and trained, I wanted to show the other ways it would change her to turn everything she knew and believed about femininity and womanhood on its head through this big, earth shattering romance with the last person she expected to connect with.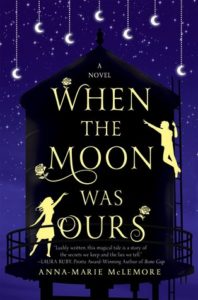 That, of course, begs the question: who have been some of your favorite queer couples in YA lit?
Oh there are so many! Top three off the cuff are:
-Sam and Miel from Anna-Marie McLemore's WHEN THE MOON WAS OURS
-Ari and Dante from Benjamin Alire Sáenz's ARISTOTLE AND DANTE DISCOVER THE SECRETS OF THE UNIVERSE
-Alex and Rishi from Zoraida Córdova's LABYRINTH LOST
Your book is fiercely feminist for many reasons, but it'd be interesting to hear you explain why and how it's a feminist read and what some of the best feminist YA titles you've read are.
Ahh, thank you again! Pretty sure "fiercely feminist" is my favorite thing anyone has ever said about the book. Personally, I hope people consider this a feminist book because it shows that agency is something you can acquire, even if you're not born with it, and the world has truly conspired to make sure you don't ever get it.
So many heroes and heroines in books already seem so powerful in their own ways, but in Dani I wanted to show that you can begin from a powerless place. You can be lost. You can be scared. You can have the wrong idea about the world. And that so many, many people start there. I wanted to show that the inner work of discovering who you are and where you stand and what tools are at your disposal comes first. Before you can organize or march or burn things down, before you can do anything visible, there's the quiet, deeply personal work of finding out who you are and what part you have to play.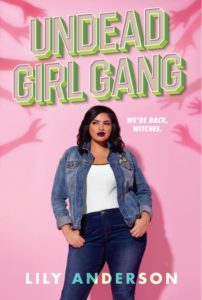 I deeply believe that every one of us has a skill or a voice or a passion that lends itself to the revolutionary work of doing what is right. Even when it seems impossible. I hope young women especially feel empowered by how seemingly unremarkable Dani starts out, and how much inner strength she's able to muster just by finding out who she is and what she wants.
In terms of feminist books, I could go on all day, but I want to specifically shout out UNDEAD GIRL GANG by Lily Anderson, HOME AND AWAY by Candice Montgomery, as well as the upcoming WITH THE FIRE ON HIGH by Elizabeth Acevedo, and ALL OF US WITH WINGS by Michelle Ruíz Keil.
What do you hope readers take away from We Set The Dark On Fire?
It's probably cliché, but I'm going to say hope? With a hint of responsibility. The feeling that even though things are terrible, what you believe matters. What you do matters. How you treat people matters.
Also, to never let a cruel jerk make himself the center of your story.
If you could go back in time and hand your 12-year-old self any book, what would it be and why?
GABI, A GIRL IN PIECES by Isabel Quintero. Probably a little old for most 12-year-olds but I think tiny Tehlor would have been consumed by it in the best way.
Big thank you to Tehlor for this fantastic interview. I don't know about you, but MY TBR grew some here, too! 
____________________
Thanks for hanging out, and we'll see you again next week!
— Kelly Jensen, @veronikellymars on Instagram and editor of (Don't) Call Me Crazy and Here We Are.