Hi Kid Lit friends!
I have been thinking about kids around the world lately and how essential it is to learn about different experiences, cultures, and customs. What does it mean to be a kid in different cities, states, provinces, or countries? Here are five beautifully illustrated books featuring kids around the world that I have loved reading with my kids.
---
Sponsored by our giveaway of $100 to Amazon in support of Swords and Spaceships, our sci-fi/fantasy newsletter!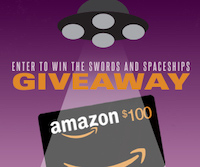 Swords and Spaceships is our biweekly newsletter about all things sci-fi and fantasy literature, and we're giving away a $100 gift card to Amazon to one lucky reader! Just sign up for the newsletter below to enter (if you win, send us a pic of all the SFF books you buy with it!), and enjoy a regular dose of your favorite genre news, recs, and more, in your inbox.
---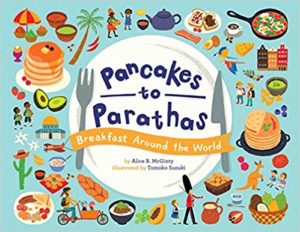 Pancakes to Parathas: Breakfast Around the World by Alice B. McGinty, illustrated by Tomoko Suzuki
From Australia to India to the USA, come travel around the world at dawn. Children everywhere are waking up to breakfast. In Japan, students eat soured soybeans called natto. In Brazil, even kids drink coffee–with lots of milk! With rhythm and rhymes and bold, graphic art, Pancakes to Parathas invites young readers to explore the world through the most important meal of the day.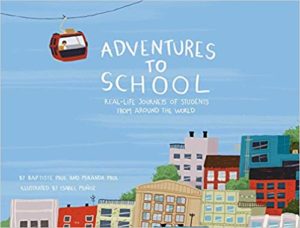 Adventures to School: Real-Life Journeys of Students from Around the World by Miranda Paul and Baptiste Paul, illustrated by Isabel Muñoz
Children all around the world go to school. Whether they're from Japan, Ukraine, Ethiopia, or the United States, all students have the desire to learn about the world and shape the future. In Bhutan, children walk for three hours to make it to school, and in Pakistan, children travel by rickshaw. Some children in China must climb a heaven ladder, while children in Nepal must walk over a wire bridge. The treks of these students are unique, extraordinary, and even dangerous, and they signify the common determination, perseverance, and sense of adventure shared by young people around the world.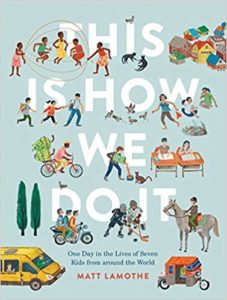 This is How We Do It: One Day in the Lives of Seven Kids Around the World by Matt Lamothe
In Japan, Kei plays Freeze Tag, while in Uganda, Daphine likes to jump rope. While the way they play may differ, the shared rhythm of their days—and this one world we all share—unites them. This genuine exchange provides a window into traditions that may be different from our own as well as mirrors reflecting our common experiences. Inspired by his own travels, Matt Lamonthe transports readers across the globe and back with this luminous and thoughtful picture book.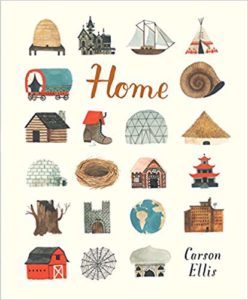 Home by Carson Ellis
Home might be a house in the country, an apartment in the city, or even a shoe. Home may be on the road or the sea, in the realm of myth, or in the artist's own studio. A meditation on the concept of home and a visual treat that invites many return visits, this loving look at the places where people live marks the picture-book debut of Carson Ellis.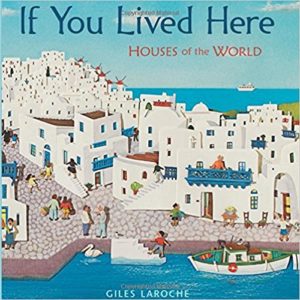 If You Lived Here: Houses of the World by Giles Laroche
If you lived in the mountains of southern Spain, your bedroom might be carved out of a mountain. If you lived in a village in South Africa, the outside of your house might tell the story of your family. And if you lived in a floating green house in the Netherlands, you could rotate your house to watch both the sunrise and sunset. With intricate bas-relief collages, Giles Laroche uncovers the reason why each home was constructed the way in which it was, then lets us imagine what it would be like to live in homes so different from our own.
What I'm Reading…
*Note: Both of these books have ESL themes, which I loved!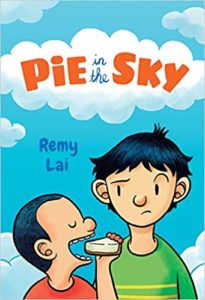 Right now I just finished Pie in the Sky by Remy Lai (Henry Holt & Co, 5/14/19). I love it! It's written in prose and heavily illustrated. It's about fifth grader Jingwen who moves to Australia with his mom and younger brother Yanghao. He feels as if he is visiting Mars, however, given that he doesn't know English and everything he sees and hears is foreign to his ears.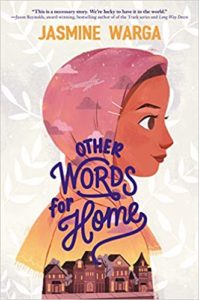 I also just finished Other Words for Home by Jasmine Warga (Balzer + Bray, 5/28/19), which is a middle grade novel in verse set Syria and Ohio. It is so good. Here is the publisher's description:
"Jude never thought she'd be leaving her beloved older brother and father behind, all the way across the ocean in Syria. But when things in her hometown start becoming volatile, Jude and her mother are sent to live in Cincinnati with relatives. At first, everything in America seems too fast and too loud. The American movies that Jude has always loved haven't quite prepared her for starting school in the US—and her new label of "Middle Eastern," an identity she's never known before."
Around the web…
Fall 2019 Children's Sneak Previews, via Publisher's Weekly
Cover Reveal: My Life as an Ice Cream Sandwich by Ibi Zoboi, via Book Riot
10 Chinese New Year Books to Celebrate the Year of the Pig, via Book Riot
100th Anniversary Children's Book Week Poster Revealed, via Publisher's Weekly
What are you reading these days? Find me on Twitter at @KarinaYanGlaser, on Instagram at @KarinaIsReadingAndWriting, or email me at karina@bookriot.com.
Until next time!
Karina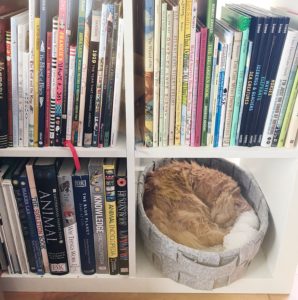 I created a little nook in our IKEA shelving unit for the cat bed. It's now the most coveted pet spot in our apartment!
*If this e-mail was forwarded to you, follow this link to subscribe to "The Kids Are All Right" newsletter and other fabulous Book Riot newsletters for your own customized e-mail delivery. Thank you!*