Today's The Stack is sponsored by Fierce Reads.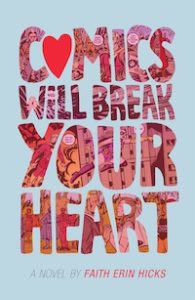 A sweet, funny contemporary romance for the inner geek in all of us from graphic novelist Faith Erin Hicks.
Miriam's family should be rich. After all, her grandfather was the co-creator of smash-hit comics series The TomorrowMen. But he sold his rights to the series to his co-creator in the 1960s for practically nothing, and now that's what Miriam has: practically nothing. As if she didn't have enough to worry about, Miriam's life gets much more complicated when a cute boy shows up in town . . . and turns out to be the grandson of the man who defrauded Miriam's grandfather, and heir to the TomorrowMen fortune.