Hi Kid Lit friends!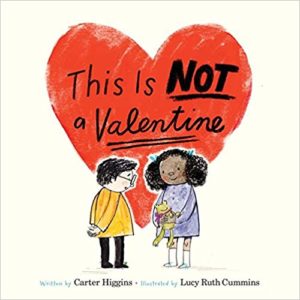 Happy almost Valentine's Day! Do you have a favorite children's book featuring Valentine's Day? One of mine is This is Not a Valentine by Carter Higgins, illustrated by Lucy Ruth Cummins. It's a story of two kids who show their friendship with each other in lots of tiny, sweet ways.
It's new release Tuesday, so check out these new books out in the world today and let me know if any of them look interesting to you! As always, if I've read a book and loved it, I marked it with a 
. Please note that all descriptions from Goodreads.
---
Sponsored by CubHouse, an imprint of Lion Forge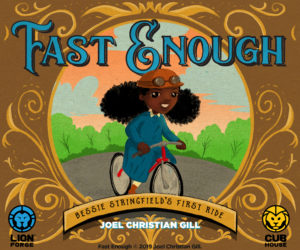 Bessie dreams of riding her bike with the boys after school, but they tell her she isn't fast enough. Fast Enough: Bessie Stringfield's First Ride by Joel Christian Gill combines an imagined story of Bessie Stringfield as a young girl with historical facts about Bessie, a true adventurer and the first African-American woman to travel solo across the United States on a motorcycle. Find Fast Enough in stores now from CubHouse, an imprint of Lion Forge!
---
Picture Book New Releases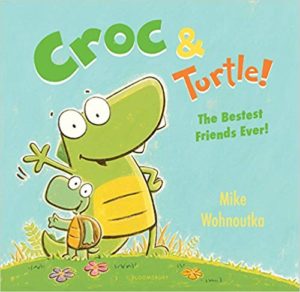 Croc and Turtle by Mike Wohnoutka
Meet Croc! He is the strongest and fastest crocodile around.
Meet Turtle! He agrees that Croc is the strongest and fastest.
But what happens when Elephant lifts that heavy rock with ease? And when Cheetah speeds on by?
Croc and Turtle might not be the strongest or the fastest, but they're definitely the best at something even more important . . .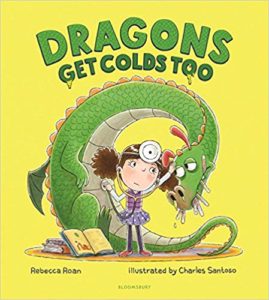 Dragons Get Colds Too by Rebecca Roan, illustrated by Charles Santoso
Is your dragon sleepy? Does he have a runny nose? Does he keep sneezing fire? Unfortunately, it sounds like your dragon has a cold. But luckily, this guide will help anxious dragon owners through the challenges of caring for their sick dragon!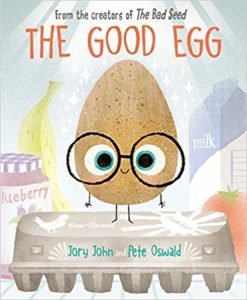 The Good Egg by Jory John and Pete Oswald
Meet the good egg. He's a verrrrrry good egg indeed.
But trying to be so good is hard when everyone else is plain ol' rotten. As the other eggs in the dozen behave badly, the good egg starts to crack from all the pressure of feeling like he has to be perfect.
So, he decides enough is enough! It's time for him to make a change…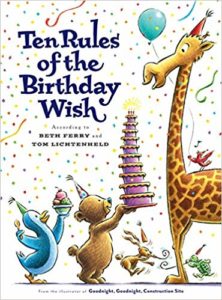 Ten Rules of the Birthday Wish by Beth Ferry and Tom Lichtenheld
The most important rule is #1: It must be your birthday.
After that's been established, a crew of hilarious animals help picture book pros Tom Lichtenheld and Beth Ferry take readers through a joyous romp that covers the most important elements of every year's most essential holiday, including singing; closing your eyes and making a wish; blowing out candles on a cake, then settling into bed and dreaming of your wish coming true.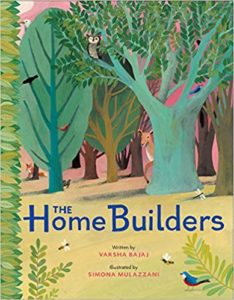 The Home Builders by Varsha Bajaj, illustrated by Simona Mulazzani
Welcome to a serene woodland where lots of expectant animal parents are in their "nesting" phase–that is, busy preparing safe, cozy homes for their growing families. As they dig, tunnel, gnaw, and gather, they create dens, burrows, lodges, and, of course, nests. Soon the woods are full of new little ones peeping, crawling, romping, and snuggling–and with artwork so gorgeous that it feels like an invitation into the scenery it's depicting, readers will be eager to join them in their beautiful home.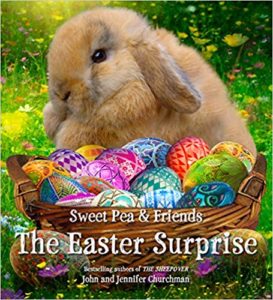 Sweet Pea and Friends: The Easter Surprise by John and Jennifer Churchman
Fern the bunny wakes up one morning to a surprise: the squirrels have discovered a beautifully decorated egg in their tree! And it's not just the squirrels–Mo the kitten, the goslings, the puppies, and even the lambs have all found special eggs hidden around the farm. As the baby animals follow clues from one egg to the next, Fern thinks she sees two soft, pointy ears peeking out above the grass. Then she notices a fluffy tail disappearing behind the barn. Then she spots long whiskers twitching among the flowers! Someone is watching, and the animal friends will have to solve their Easter mystery together to find out who.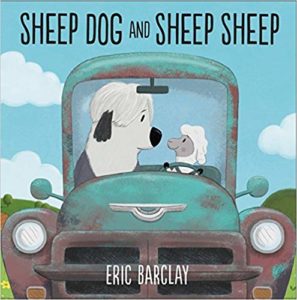 Sheep Dog and Sheep Sheep by Eric Barclay
Sheep is an expert at protecting sheep—or so she thinks until one happy afternoon when she bumps into a very hairy someone on the farm.
"Who are you?" she asks.
"I'm the sheep dog!" the someone says. "I watch the sheep."
Holy begonia! Sheep knows this can't be right. After all, she's the pro! So Sheep goes off to get everything Sheep Dog needs to get the job done, but each time she goes, something almost happens to Sheep… And it's Sheep Dog who saves the day!
Middle Grade New Releases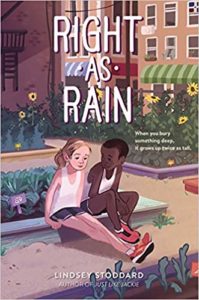 Right as Rain by Lindsey Stoddard
It's been almost a year since Rain's brother Guthrie died, and her parents still don't know it was all Rain's fault. In fact, no one does—Rain buried her secret deep, no matter how heavy it weighs on her heart. So when her mom suggests moving the family from Vermont to New York City, Rain agrees. But life in the big city is different. She's never seen so many people in one place—or felt more like an outsider. With her parents fighting more than ever and the anniversary of Guthrie's death approaching, Rain is determined to keep her big secret close to her heart. But even she knows that when you bury things deep, they grow up twice as tall.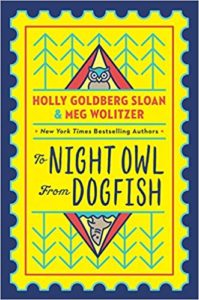 To Night Owl From Dogfish by Holly Goldberg Sloan and Meg Wolitzer
Avery Bloom, who's bookish, intense, and afraid of many things, particularly deep water, lives in New York City. Bett Devlin, who's fearless, outgoing, and loves all animals as well as the ocean, lives in California. What they have in common is that they are both twelve years old, and are both being raised by single, gay dads. When their dads fall in love, Bett and Avery are sent, against their will, to the same sleepaway camp. Their dads hope that they will find common ground and become friends–and possibly, one day, even sisters. But things soon go off the rails for the girls (and for their dads too), and they find themselves on a summer adventure that neither of them could have predicted.
Eventown by Corey Ann Haydu
The world tilted for Elodee this year, and now it's impossible for her to be the same as she was before. Not when her feelings have such a strong grip on her heart. Not when she and her twin sister, Naomi, seem to be drifting apart. So when Elodee's mom gets a new job in Eventown, moving seems like it might just fix everything. Indeed, life in Eventown is comforting and exciting all at once. Everything may be "even" in Eventown, but is there a price to pay for perfection—and pretending?
 The Lost Girl by Anne Ursu
When you're an identical twin, your story always starts with someone else. For Iris, that means her story starts with Lark. Iris has always been the grounded, capable, and rational one; Lark has been inventive, dreamy, and brilliant—and from their first moments in the world together, they've never left each other's side. Everyone around them realized early on what the two sisters already knew: they had better outcomes when they were together. When fifth grade arrives, however, it's decided that Iris and Lark should be split into different classrooms, and something breaks in them both.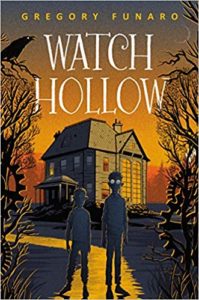 Watch Hollow by Gregory Funaro
Deep within the enchanted woods in the town of Watch Hollow stands the once-grand Blackford House, whose halls hold a magical secret: a giant cuckoo clock that does much more than tell time. But when the clock's gears cease to turn, an evil presence lurking among the trees begins to come out of the shadows. When Lucy and Oliver Tinker arrive in Watch Hollow, they have no idea that anything is wrong. A mysterious stranger has made their father an offer that's too good for him to refuse. All Mr. Tinker needs to do is fix the clock at Blackford House and fistfuls of gold coins are his to keep. It doesn't take long, however, for the children to realize that there is more to Blackford House than meets the eye.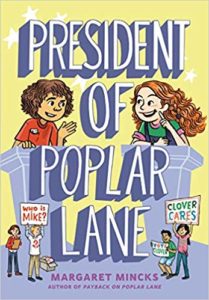 President of Poplar Lane by Margaret Mincks
Clover O'Reilly is super psyched to run for class president. As the second oldest of five sisters, she struggles to be heard in her ginormous family. But when you are president of the seventh grade, everyone has listen to you! Comedy magician Mike the Unusual feels confident onstage. Offstage, life can be tricky. It's okay that his classmates don't understand him, but it bugs him when his dad suggests he needs more friends. Is he willing to give up his passion to win friends . . . and votes?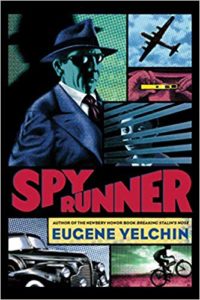 Spy Runner by Eugene Yelchin
In Spy Runner, a noir mystery middle grade novel from Newbery Honor author Eugene Yelchin, a boy stumbles upon a secret that jeopardizes American national security.
Nonfiction New Releases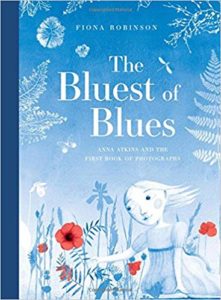 The Bluest of Blues: Anna Atkins and the First Book of Photographs by Fiona Robinson
After losing her mother very early in life, Anna Atkins (1799–1871) was raised by her loving father. He gave her a scientific education, which was highly unusual for women and girls in the early 19th century. Fascinated with the plant life around her, Anna became a botanist. She recorded all her findings in detailed illustrations and engravings, until the invention of cyanotype photography in 1842. Anna used this new technology in order to catalogue plant specimens—a true marriage of science and art. In 1843, Anna published the book Photographs of British Algae: Cyanotype Impressions with handwritten text and cyanotype photographs. It is considered the first book of photographs ever published.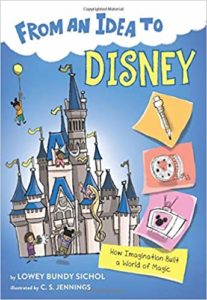 From An Idea to Disney by Lowey Bundy Sichol, illustrations by C.S. Jennings
Today, the Walt Disney Company is the biggest entertainment company in the world with theme parks, TV shows, movie studios, merchandise, the most recognizable cartoon character in the world, Mickey Mouse. But a long time ago, brothers Walt and Roy Disney started out with just an idea.
Backlist Book Recommendations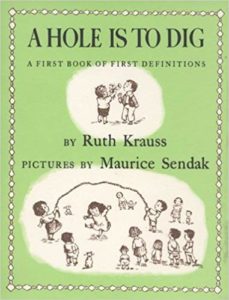 Picture Book Backlist Book Recommendation: A Hole is to Dig by Ruth Krauss, illustrated by Maurice Sendak
What would you say about eye-brows? Miss Krauss and the many children who made suggestions, re-visions, additions (and subtractions) to this book say, "Eyebrows are to go over eyes." A face? "A face is something to have on the front of your head." Also, "a face is so you can make faces." Hands? Well, hands are to hold. And also "a hand is to hold up when you want your turn." "A party is to say how-do-you-do and shake hands" and also "a party is to make little children happy." Of course, a brother is to help you, a package is to look inside, arms are to hug with, and a book is to look at.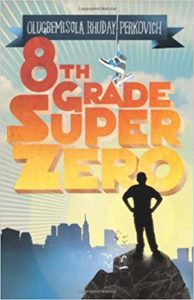 Middle Grade Backlist Book Recommendation: Eighth Grade Superhero by Olugbemisola Rhuday-Perkovich
Ever since a deeply unfortunate incident earlier this year, Reggie's been known as "Pukey" McKnight at his high-intensity Brooklyn middle school. He wants to turn his image around, but he has other things on his mind as well: his father, who's out of a job; his best friends, Ruthie and Joe C.; his former best friend Donovan, who's now become a jerk; and of course, the beautiful Mialonie. The elections for school president are coming up, but with his notorious nickname and "nothing" social status, Reggie wouldn't stand a chance, if he even had the courage to run.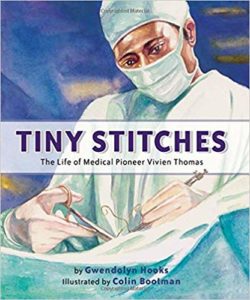 Nonfiction Backlist Book Recommendation: Tiny Stitches: The Life of Medical Pioneer Vivien Thomas by Gwendolyn Hooks, illustrated by Colin Bootman
Vivien Thomas's greatest dream was to attend college to study medicine. But after the stock market crashed in 1929, Vivien lost all his savings. Then he heard about a job opening at the Vanderbilt University medical school under the supervision of Dr. Alfred Blalock. Vivien knew that the all-white school would never admit him as a student, but he hoped working there meant he was getting closer to his dream. As Dr. Blalock's research assistant, Vivien learned surgical techniques. In 1943, Vivien was asked to help Dr. Helen Taussig find a cure for children with a specific heart defect. After months of experimenting, Vivien developed a procedure that was used for the first successful open-heart surgery on a child. Afterward, Dr. Blalock and Dr. Taussig announced their innovative new surgical technique, the Blalock-Taussig shunt. Vivien's name did not appear in the report. Overcoming racism and resistance from his colleagues, Vivien ushered in a new era of medicine children's heart surgery.
I would love to know what you are reading this week! Find me on Twitter at @KarinaYanGlaser, on Instagram at @KarinaIsReadingAndWriting, or email me at karina@bookriot.com.
Until next time!
Karina
I found Izzy in my bookshelf.
*If this e-mail was forwarded to you, follow this link to subscribe to "The Kids Are All Right" newsletter and other fabulous Book Riot newsletters for your own customized e-mail delivery. Thank you!*