Hey YA Readers: Let's check out some amazing upcoming fall YA.
"What's Up in YA?" is sponsored by Epic Reads.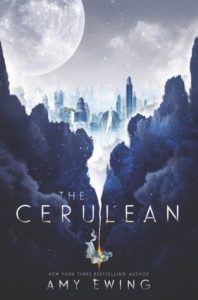 Sera has always felt as if she didn't quite belong among her people, the Cerulean, who live in the City Above the Sky. She is curious about everything—especially the planet that her City is tethered to and has always longed for the day when the tether will break. But when Sera is chosen as the sacrifice and has to end her own life to break the tether, she feels betrayed. Instead Sera somehow survives, ending up on the planet below. She's heard tales about the dangerous humans who live here, and she quickly learns that these dangers were not just stories.
---
Fall feels like it's a million months away (and it kind of is!). But there have been a number of amazing-sounding books being highlighted for the fall season, and because it's always great to know about books well in advance, it seemed fitting to highlight a few.
Find seven awesome books hitting shelves between September and December this year. I've included descriptions from Goodreads, simply because I haven't read 'em myself — though you better believe I will be!
The Beautiful by Renée Ahdieh (October 8)
In 1872, New Orleans is a city ruled by the dead. But to seventeen-year-old Celine Rousseau, New Orleans provides her a refuge after she's forced to flee her life as a dressmaker in Paris. Taken in by the sisters of the Ursuline convent along with six other girls, Celine quickly becomes enamored with the vibrant city from the music to the food to the soirées and—especially—to the danger. She soon becomes embroiled in the city's glitzy underworld, known as Le Cour des Lions, after catching the eye of the group's leader, the enigmatic Sèbastien Saint Germain. When the body of one of the girls from the convent is found in the lair of Le Cour des Lions, Celine battles her attraction to him and suspicions about Sèbastien's guilt along with the shame of her own horrible secret.
When more bodies are discovered, each crime more gruesome than the last, Celine and New Orleans become gripped by the terror of a serial killer on the loose—one Celine is sure has set her in his sights . . . and who may even be the young man who has stolen her heart. As the murders continue to go unsolved, Celine takes matters into her own hands and soon uncovers something even more shocking: an age-old feud from the darkest creatures of the underworld reveals a truth about Celine she always suspected simmered just beneath the surface.
At once a sultry romance and a thrilling murder mystery, master storyteller Renée Ahdieh embarks on her most potent fantasy series yet: The Beautiful.
The Bone Houses by Emily Lloyd-Jones (September 24)
Seventeen-year-old Aderyn ("Ryn") only cares about two things: her family, and her family's graveyard. And right now, both are in dire straits. Since the death of their parents, Ryn and her siblings have been scraping together a meager existence as gravediggers in the remote village of Colbren, which sits at the foot of a harsh and deadly mountain range that was once home to the fae. The problem with being a gravedigger in Colbren, though, is that the dead don't always stay dead.
The risen corpses are known as "bone houses," and legend says that they're the result of a decades-old curse. When Ellis, an apprentice mapmaker with a mysterious past, arrives in town, the bone houses attack with new ferocity. What is it about Ellis that draws them near? And more importantly, how can they be stopped for good?
Together, Ellis and Ryn embark on a journey that will take them deep into the heart of the mountains, where they will have to face both the curse and the long-hidden truths about themselves. Equal parts classic horror novel and original fairy-tale, The Bone Houses will have you spellbound from the very first page.
Color Outside The Lines: Stories About Love edited by Sangu Mandanna (November 12, no order link yet!)
[A] YA anthology centered around interracial relationships and the complicated, rewarding and sometimes hilarious dynamics between friends, family, and first loves. The collection features Anna-Marie McLemore, Elsie Chapman, Karuna Riazi, Lydia Kang, L.L. McKinney, Lori M. Lee, Lauren Gibaldi, Tara Sim, Eric Smith, Caroline Tung Richmond, Kelly Zekas, Tarun Shanker, Samira Ahmed and Adam Silvera, and more.
Dear Haiti, Love Alaine by Maika Moulite and Maritza Moulite (September 3)
Quick-witted high school journalist Alaine Beauparlant gets booted from her elite private school after an intricate prank goes cruelly awry. She warily accepts an invitation from her aunt to spend her suspension at the family's estate in Haiti–where her estranged mom is recuperating from a political fiasco. In her homeland for the first time, Alaine is immediately put to work at her aunt's start-up helping native children in need. Alaine meets locals, interacts with kids connected to donors, and is shown the ropes by Jason, a fellow intern whose charming ways are making work a bit more challenging. What she doesn't expect to find are letters, articles, emails, and diary entries that she compiles into a final project that will not only save her academic standing in school, but also help her finally know the mother she's never really understood.
The Grace Year by Kim Liggett (September 17)
No one speaks of the grace year. It's forbidden.
Girls are told they have the power to lure grown men from their beds, drive women mad with jealousy. They believe their very skin emits a powerful aphrodisiac, the potent essence of youth, of a girl on the edge of womanhood. That's why they're banished for their sixteenth year, to release their magic into the wild so they can return purified and ready for marriage. But not all of them will make it home alive.
Sixteen-year-old Tierney James dreams of a better life—a society that doesn't pit friend against friend or woman against woman, but as her own grace year draws near, she quickly realizes that it's not just the brutal elements they must fear. It's not even the poachers in the woods, men who are waiting for their chance to grab one of the girls in order to make their fortune on the black market. Their greatest threat may very well be each other.
With sharp prose and gritty realism, The Grace Year examines the complex and sometimes twisted relationships between girls, the women they eventually become, and the difficult decisions they make in-between.
Fifteen-year-old Simran "Simi" Sangha comes from a long line of Indian vichole-matchmakers-with a rich history for helping parents find good matches for their grown children. When Simi accidentally sets up her cousin and a soon-to-be lawyer, her family is thrilled that she has the "gift."
But Simi is an artist, and she doesn't want to have anything to do with relationships, helicopter parents, and family drama. That is, until she realizes this might be just the thing to improve her and her best friend Noah's social status. Armed with her family's ancient guide to finding love, Simi starts a matchmaking service-via an app, of course.
But when she helps connect a wallflower of a girl with the star of the boys' soccer team, she turns the high school hierarchy topsy-turvy, soon making herself public enemy number one.
Oasis by Katya de Becerra (October 15)
Alif had exciting summer plans: working on her father's archeological dig site in the desert with four close friends … and a very cute research assistant. Then the sandstorm hit.
Their camp wiped away, Alif and the others find themselves lost on the sands, seemingly doomed … until they find the oasis. It has everything they need: food, water, and shade–and mysterious ruins that hide a deadly secret. As reality begins to shift around them, they question what's real and what's a mirage.
The answers turn Alif and her friends against each other, and they begin to wonder if they've truly been saved. And while it was easy to walk into the oasis, it may be impossible to leave …
____________________
Thanks for hanging out & we'll see you again next week!
— Kelly Jensen, @veronikellymars on Instagram and editor of (Don't) Call Me Crazy and Here We Are.