Welcome back, book fans! I have a few great things to tell you today, and I want to remind you that this weekend is the 24-in-48 Readathon. It's really fun, and there's still time to sign up! For those of you who have never participated, 24-in-48 means trying to read 24 of the 48 hours. But however many hours you read is great – the main goal is to spend time reading. Because there's nothing better than that! Whatever you decide to do, please be kind to yourself as well as others, and remember that life is hard – you are doing a great job! – xoxo, Liberty
---
Sponsored by our Unusual Suspects giveaway of $100 to the bookstore of your choice!
We're giving away $100 to the bookstore of your choice! Enter to win by signing up for Unusual Suspects, our mystery/thriller newsletter about new releases, book recommendations, book deals, and more. Enter here.
---
P.S. Should there be a weekly kitten picture? Here's one, just in case.
Trivia question time! What is the name of Long John Silver's parrot? (Scroll to the bottom for the answer.)
Deals, Reals, and Squeals!
Syfy has renewed The Magicians for a fifth season.
Eve Ewing is writing another story in the Marvelverse.
Tor Books is releasing Robert Jordan's never-before-seen first novel.
Harlequin have launched a creator fund for the Feel Good Project, for works that are – wait for it – feel-good.
Congratulations to Rioter Eric Smith! His new novel, Reclaim the Sun, is coming in 2020.
Two USA Today bestselling vampire series optioned for the small screen.
The Wizard of Oz will return to theaters for its 80th anniversary.
And BlacKKKlansman, based on the memoir by Ron Stallworth, is returning to theaters after garnering six Academy Award nominations.
Cover Reveals
Here's the first look at Alphabet Squadron (Star Wars) by Alexander Freed. (Del Rey, June 11)
And here's another amazing cover: Dear Haiti, Love Alaine by Maika Moulite and Maritza Moulite. (Inkyard Press, September 3)
Here's the beautiful cover of Tuesday Mooney Talks to Ghosts by Kate Racculia. (Houghton Mifflin Harcourt, October 8)
And here's a cover reveal and a sneak peek at Wicked Fox by Kat Cho. (G.P. Putnam's Sons Books for Young Readers, June 25)
Sneek Peeks
Ellen revealed the first trailer for the new Nancy Drew movie.
Book Riot Recommends 
At Book Riot, I work on the New Books! email, the All the Books! podcast about new releases, and the Book Riot Insiders New Release Index. I am very fortunate to get to read a lot of upcoming titles, and learn about a lot of upcoming titles, and I'm delighted to share a couple with you each week so you can add them to your TBR! (It will now be books I loved on Mondays and books I'm excited to read on Thursdays. YAY, BOOKS!)
Excited to read: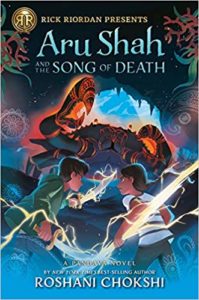 Aru Shah and the Song of Death (Pandava Series) by Roshani Chokshi (Rick Riordan Presents, April 30)
I loved the first Aru Shah book so flippin' much. It's so inventive, and action-packed, and I loved the cranky pigeon sidekick. He's very Zazu. And Aru Shah is a great character! She's very realistic, and I appreciate that she's flawed, because heroes who don't make mistakes are boring. So you can bet I am chomping at the bit to get my hands on this one! If you didn't read the first one, I HIGHLY recommend it.
What I'm reading this week.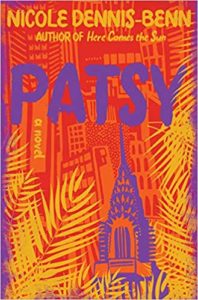 Patsy: A Novel by Nicole Dennis-Benn
Serving the Servant: Remembering Kurt Cobain by Danny Goldberg
What My Mother and I Don't Talk About: Fifteen Writers Break Their Silence by Michele Filgate
And this is funny.
Having three cats in the house now reminded me of my favorite New Yorker piece. (Slightly NSFW.)
Trivia answer: Captain Flint.
You made it to the bottom! High five. Thanks for reading! – xo, L