Hi Kid Lit Friends!
I'm very excited about the middle grade books coming out in 2019! I know I say it every year, but this year is an excellent year for children's books. In case you missed it, I talked about the eleven picture books I'm looking forward to in 2019 here, and eleven chapters books I'm looking forward to in 2019 here. And to round out these lists, here are twelve middle grade books I'm excited about!
---
Sponsored by our Unusual Suspects giveaway of $100 to the bookstore of your choice!
We're giving away $100 to the bookstore of your choice! Enter to win by signing up for Unusual Suspects, our mystery/thriller newsletter about new releases, book recommendations, book deals, and more. Enter here.
---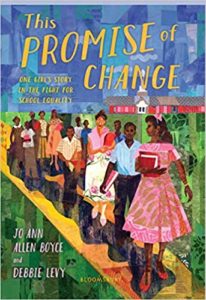 I just finished reading This Promise of Change: One Girl's Story in the Fight for School Equality by Jo Ann Allen Boyce and Debbie Levy (1/8, Bloomsbury). This incredible nonfiction book in verse is told from the perspective of Jo Ann Allen Boyce, one of twelve African-American high school students who broke the color barrier and integrated Clinton High School in Tennessee in 1956. It's an amazing book and I learned so much about the experiences of these brave young teens trying to change the course of a nation.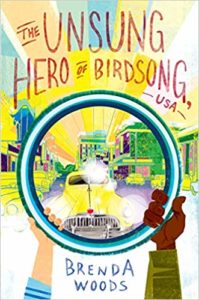 I am only a few chapters into The Unsung Hero of Birdsong, USA by Coretta Scott King Honor-winning author Brenda Woods (1/8, Penguin), and I know I'll be finishing this up very soon. At the heart of the story is the friendship between a young white boy and a Black WWII veteran who has recently returned to the unwelcoming Jim Crow South. Despite Meriweather's military service in the Army's all-Black 761st Tank Battalion in WWII, life is still unsafe for him in the south.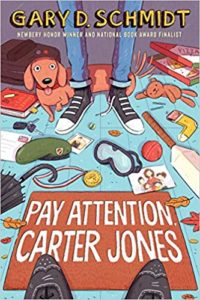 Pay Attention, Carter Jones, written by one of my all-time favorite authors Gary D. Schmidt, comes out on February 5 (HMH Books for Young Readers). In this book, the protagonist Carter Jones is astonished early one morning when he finds a real English butler, bowler hat and all, on the doorstep—one who stays to help the Jones family, which is a little bit broken. In addition to figuring out middle school, Carter has to adjust to the unwelcome presence of this new know-it-all adult in his life and navigate the butler's notions of decorum. In trademark Schmidt fashion, the story is both funny and poignant.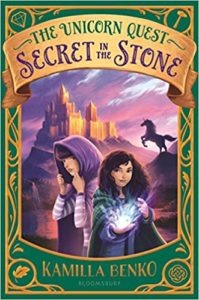 Readers who love fantasy will be thrilled to hear that the second book in the Unicorn Quest series will be out next month! Secret in the Stone by Kamilla Benko (2/19, Bloomsbury) continues the storyline from the first book. Claire Martinson and her sister Sophie have decided to stay in Arden–the magical land they discovered by climbing up a chimney in their great-aunt's manor. If what they've learned is true, the sisters are the last descendants of the royal family, and only a true heir of Arden–with magic in her blood–can awaken the unicorns.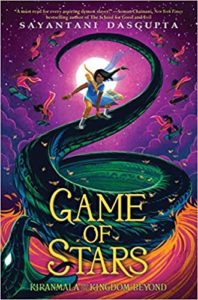 Game of Stars by Sayantani DasGupta (2/26, Scholastic) is a book that my ten-year-old daughter snatched out of my hands when I unpacked the advance reader's copy. She loved the first book in the series, The Serpent's Secret, and this new Kiranmala adventure is sure to thrill fans of Rick Riordan. When the Demon Queen shows up in her bedroom, smelling of acid and surrounded by evil-looking bees, twelve-year-old Kiranmala is uninterested. But after a call to action over an interdimensional television station and a visit with some all-seeing birds, Kiran decides that she has to once again return to her homeland, where society is fraying, a terrible game show reigns supreme, and friends and foes alike are in danger.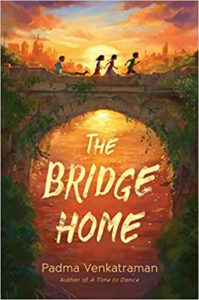 The Bridge Home by Padma Venkatraman (2/5, Nancy Paulsen Book) is a book that will transport you to India where life on Chennai's streets are dangerous, especially for homeless children. When runaway sisters Viji and Rukku arrive, they very quickly discover how vulnerable they are in this uncaring, dangerous world. Fortunately, the girls find shelter–and friendship–on an abandoned bridge. With two homeless boys, Muthi and Arul, the group forms a family of sorts. But when illness strikes, Viji must decide whether to risk seeking help from strangers or to keep holding on to their fragile, hard-fought freedom.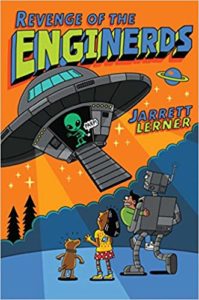 Fans of Enginerds rejoice! Revenge of the Enginerds by Jarrett Lerner arrives on February 19th (Aladdin), and this time they're on the hunt for just one rogue robot. But who knows what kind of mayhem one mechanical creature can cause? And why is Ken the only EngiNerd who's worried about the runaway robot? The rest of the crew seems be missing in action and Ken fears it's because of Mikaela Harrington. She's the new girl in town who's UFO and alien-obsessed and wants to join the EngiNerds. But as far as Ken is concerned, the EngiNerds are Y-chromosome only, no Xs allowed! This is a perfect book for readers who love the funny and zany.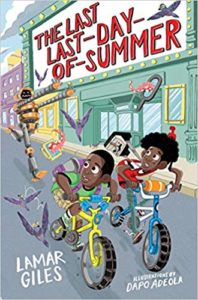 The Last Last-Day-of-Summer by Lamar Giles, illustrated by Dapo Adeola (4/2, HMH Versify), is one of the first books to release from HMH Versify, an imprint which reflects Newbery Award-winner Kwame Alexander's vision that accessible and powerful prose and poetry—in picture books, novels, and nonfiction—can celebrate the lives and reflect the possibilities of all children. In this new book, Otto and Sheed are the local sleuths in their zany Virginia town, masters of unraveling mischief using their unmatched powers of deduction. And as the summer winds down and the first day of school looms, the boys are craving just a little bit more time for fun, even as they bicker over what kind of fun they want to have. That is, until a mysterious man appears with a camera that literally freezes time.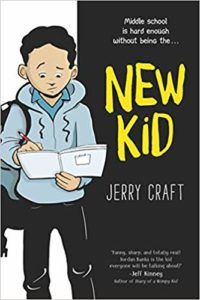 A graphic novel that I'm SO excited about is Jerry Craft's New Kid (2/5, HarperCollins). I read this book in one sitting! It is about seventh grader Jordan Banks who loves nothing more than drawing cartoons about his life. But instead of sending him to the art school of his dreams, his parents enroll him in a prestigious private school known for its academics, where Jordan is one of the few kids of color in his entire grade. As he makes the daily trip from his Washington Heights apartment to the upscale Riverdale Academy Day School, Jordan soon finds himself torn between two worlds—and not really fitting into either one.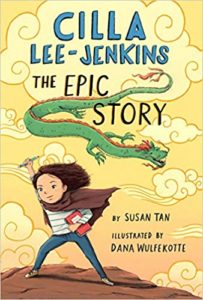 A middle grade list would not be complete without including one of my favorite middle grade series, Cilla Lee-Jenkins by Susan Tan, illustrated by Dana Wulfekotte. In the third book, Cilla Lee-Jenkins: The Epic Story (3/26, Roaring Brook Press), Cilla returns to pursue her dreams of becoming a successful author. Epics are all about brave heroes overcoming Struggles to save the world, and this year, Cilla is facing her toughest struggles yet:
· Cilla is in fifth grade and, unlike her classmates, not at all ready to start middle school;
· She has two younger sisters to look after now and they don't exactly get along;
· Her beloved grandfather YeYe has had a stroke and forgotten his English, and it's up to Cilla to help him find his words again.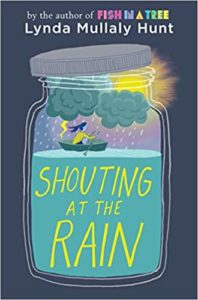 I am very excited to read Shouting at the Rain by Lynda Mullaly Hunt (5/7, Nancy Paulsen Books) because I loved Lynda's previous books, One for the Murphys and Fish in a Tree. In her new book, she writes about Delsie, who loves tracking the weather. Lately, though, it seems the squalls are in her own life. She's always lived with her kindhearted Grammy, but now she's looking at their life with new eyes and wishing she could have a "regular family." Delsie observes other changes in the air, too–the most painful being a friend who's outgrown her.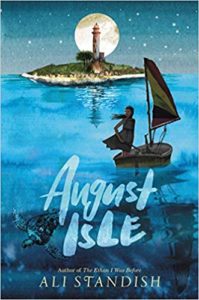 I finished August Isle by Ali Standish (4/16, HarperCollins) last night, which was a book I could not put down! It had mystery, intrigue, and it also made me cry – a lot. Ali is a masterful storyteller. In this story, the main character Miranda has stared at postcards of August Isle, Florida for years. It's the town where her mother spent her summers as a girl and Miranda has always wanted to visit. When she finally arrives on the Isle, alone and uncertain, to stay the summer with an old friend of her mother's, Miranda discovers a place even more perfect than she imagined. But there is more to August Isle than its bright streets and sandy beaches, and soon Miranda is tangled in a web of mysteries. A haunted lighthouse. An old seafarer with something to hide. A name reaching out from her mother's shadowy past.
Around the web…
The Very Hungry Caterpillar is turning fifty! Learn more about the celebrations in store for this momentous birthday here.
16 of the Best Islamic Books for Kids, via Book Riot
A Q&A with Bestselling Author Jacqueline Woodson, via Brightly
I would love to know what you are reading this week! Find me on Twitter at @KarinaYanGlaser, on Instagram at @KarinaIsReadingAndWriting, or email me at karina@bookriot.com.
Until next time!
Karina
*If this e-mail was forwarded to you, follow this link to subscribe to "The Kids Are All Right" newsletter and other fabulous Book Riot newsletters for your own customized e-mail delivery. Thank you!*