Hey YA Readers: Let's bulk up our TBRs.
"What's Up in YA?" is sponsored by Flatiron Books.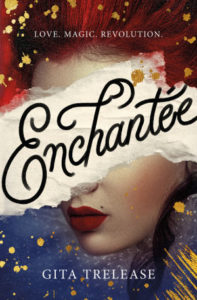 Enchantée by Gita Trelease transports readers to the glittering and magical world of 1870s Paris. After her parents die, Camille must find a way to provide for her sister by transforming scraps of metal into money. But soon she begins to pursue a more dangerous mark: the court of Louis XVI and Marie Antoinette. Camille transforms herself into a baroness and is swept up into life at Versailles. She meets a handsome young inventor, and begins to believe that love and liberty may both be possible. But magic has costs, and when revolution erupts, Camille must choose—before Paris burns.
---
Debut YA novels get a lot of hype and for good reason. These books are the easiest ones for many readers to miss if they're not the big, splashy titles of their publication seasons. So the effort to highlight those debuts pays off in getting them some much-deserved attention.
But what happens after the debut year when those authors have their sophomore releases? Let's highlight nine upcoming sophomore YA novels from authors who had their debuts in 2017 or 2018. Note that at least one of these authors (maybe only one?) published an adult novel in the interim, so sophomore refers to their sophomore YA release specifically.
This genre-bender, like Miller's debut YA novel, highlights trauma and mental illness. Following a pair of best friends, one struggles with memory loss while the other battles with mental demons following an accident they were part of.
Internment by Samira Ahmed (March 19)
In a near-future USA, Muslim-Americans are forced into internment camps. This story follows as Layla works with those inside the camp and her allies outside to break free and change this too-plausible scenario from continuing to happen. It's a story of resistance and change.
If you've been itching for a romance between a Muslim American girl and a boy struggling with multiple sclerosis, then this is going to be a treat. It's a book about prejudice and xenophobia, as well as a book with an angry female main character who attempts to change herself following a confrontation with her racist teacher — a change that takes her to Qatar and through what it means to be herself. Also, romance!
Lexi knows when someone will die by simply a touch. Maybe it sounds cool but she hates it. She's isolated and alone, until she foresees the violent death of a girl outside a club…and suddenly, that girl's ghost is right there, begging Lexi to help avenge her death.
On The Come Up by Angie Thomas (February 5)
Do you need to know much about this one, other than it's an outstanding book about a girl determined to become a rap legend and that it might be as good, if not even better, than Thomas's debut you might be familiar with? The main character is well-written and utterly memorable.
CJ's never been as ambitious or engaged as the rest of her family, but when she discovers she has a knack for flower arranging, thanks to helping out in her aunt's shop, she thinks she may have found it. But when CJ's mom decides to sell the shop to a family who deeply harmed her grandparents and thousands of others during the Japanese Interment in the USA, CJ might discover another knack — that of fighting for justice and her family's name.
This is a meet cute set on a subway train between a private school student and a Dominican American boy struggling with pressures from his father and his own inner desires which differ.
If you love dark mysteries about small towns, murders, and so many juicy secrets, you'll do well picking up McManus's sophomore effort.
Emoni Santiago has not only her grandmother to care for, but her daughter, too. She's a senior in high school ding what she needs to do in order to survive. Her relaxation comes in the kitchen, where she is a cook like none other. But she doesn't have time to take classes at her school or study abroad. Instead, she's got to make herself known in other ways, right where she is.
____________________
I don't know about you, but I think 2019 is looking like a fiery year for YA.
See you again later this week!
— Kelly Jensen, @veronikellymars on Instagram and editor of (Don't) Call Me Crazy and Here We Are.