Hello mystery fans! This week I have for you a great PI I can't believe I hadn't heard of, a deliciously evil thriller, and a missing persons mystery.
---
Sponsored by Last Woman Standing by Amy Gentry
Dana Diaz is an aspiring stand‑up comedian—a woman in a man's world. When she meets a tough computer programmer named Amanda Dorn, the two bond over their struggles in boys' club professions. Dana confides that she's recently been harassed and assaulted while in L.A., and Amanda comes up with a plan: they should go after each other's assailants, Strangers on a Train–style. But Dana finds that revenge, however sweet, draws her into a more complicated series of betrayals. Soon her distrust turns to paranoia, encompassing strangers, friends—and even herself. At what cost will she get her vengeance? Who will end up getting hurt? And when it's all over, will there be anyone left to trust?
---
I Want The Next Book Now! (TW suicide)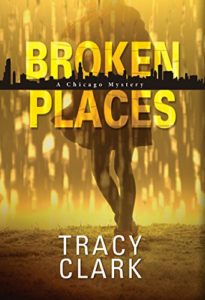 Broken Places (A Chicago Mystery #1) by Tracy Clark: I'd been craving a solid mystery from beginning to end for a while now, and finally a book delivered! This starts with Cass Raines as a police officer, but after a traumatic work incident she quits the force and starts her own Private Detective firm in Chicago. When the priest who helped raise her is murdered, she's forced to deal with a cop she hates, while stopping at nothing to find out what happened. I love Raines character, her heart and humor, and really enjoyed how the novel takes you through her process of searching for clues and witnesses. And it isn't a simple case of "this clue lead to this, and this, and bingo." She also has her ex-partner as a friend, a childhood friend, and a nun who are great for witty banter; interesting characters; and found family. If you're looking for a good mystery, don't miss this one.
Deliciously Twisted Fun! (TW suicide/ rape/ revenge porn/ domestic violence)
As Long as We Both Shall Live by JoAnn Chaney: If you're a fan of thrillers get thee this book now without knowing anything about it–trust me! For everyone else going, "Yeah, no, you're going to have to tell me more," here's my leaving-everything-I-can-out review: There's a dude whose first wife died in a house fire and his current wife just fell to her death while on a hike. As you can imagine, the cops have their eyebrows raised at him because that's a hell of a coinkydink, dude! You get a detective character who I loved (she's smart and by the book and patient) trying to figure out what happened on this hike, while also bringing in a pure a-hole detective character from Chaney's previous book, What You Don't Know, who has a past mystery of his own coming to get him. This book is a wicked page-turner, dripping in dark humor, and a hell of a ride you won't realize you are on until it's too late to get off. So strap-in, and read this before anyone spoils the fun.
Return To Small-Town Mystery (TW physical child abuse/ stalking)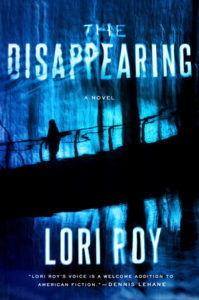 The Disappearing by Lori Roy: I inhaled this audiobook since it gave me a few things I always like: good, multiple narrators; small-town secrets; multiple POV–and it just happened that while I was watching You on Netflix, one of the points-of-view in the book happened to be a similar voice as Joe, so I was curious to see how that turned out. Lane, a former journalist, returns to her small Florida hometown with her two daughters after her divorce. It is not a fun homecoming being that the town still remembers when Ted Bundy came through, and her father was accused of horrible crimes. Then Lane's daughter goes missing… If you're a fan of small-town mysteries with thriller endings, secrets, and watching characters wrestle with their own demons this was a good read and listen.
Recent Releases
No Exit by Taylor Adams (TBR: Group-of-strangers-snowed-in-and-there's-a-kidnapper-amongst-them thriller and one young woman is going to attempt to go all John McClane (Die Hard) on the situation.)
Mala Vida by Marc Fernandez, Molly Grogan (Translator) (TBR: Spanish noir starring a reporter looking into murders.)
No Mercy (Ellery Hathaway #2) by Joanna Schaffhausen (TBR: Police procedural. "Police officer Ellery Hathaway is on involuntary leave from her job because she shot a murderer in cold blood and refuses to apologize for it.")
Last Woman Standing by Amy Gentry (TBR: Author of Good As Gone's new thriller about two women out for revenge using the Strangers on a Train method.)
No Sunscreen for the Dead (Serge A. Storms #22) by Tim Dorsey (TBR: Satirical mysteries set in Florida with a vigilante serial killer and plenty of mayhem.)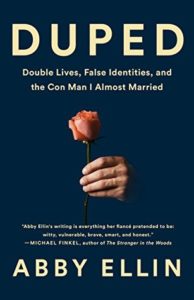 Duped: Double Lives, False Identities, and the Con Man I Almost Married by Abby Ellin (TBR: True crime memoir)
The Night Agent by Matthew Quirk (Thriller following an FBI agent hunting a Russian mole.)
The Perfect Liar by Thomas Christopher Greene (Domestic thriller)
The Liar's Room by Simon Lelic (Psychological thriller)
Now Out In Paperback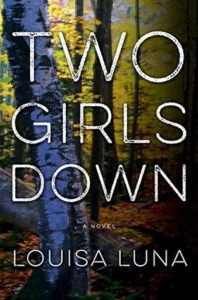 Two Girls Down by Louisa Luna (Review) (TW child cruelty/ pedophilia/ suicidal thoughts)
The Flight Attendant by Chris Bohjalian (Review) (TW date rape)
Macbeth by Jo Nesbø
Not That I Could Tell by Jessica Strawser (Review) (TW suicide discussion/ domestic abuse)
The Vanishing Season by Joanna Schaffhausen
The Elizas by Sara Shepard (TW: suicide)
The Legacy (Children's House #1) by Yrsa Sigurðardóttir,Victoria Cribb (Translator) (Review) (TW incestuous rape)
Browse all the books recommended in Unusual Suspects previous newsletters on this shelf. And here's an Unusual Suspects Pinterest board.
Until next time, keep investigating! And in the meantime, come talk books with me on Twitter, Instagram, and Litsy–you can find me under Jamie Canavés.
If a mystery fan forwarded this newsletter to you and you'd like your very own you can sign up here.