Hello and happy Tuesday, centaurs and Alpha Centaurians! Today we've got anticipated reads, Game of Thrones show updates, some very exciting new releases, a review of Resist: Tales From a Future Worth Fighting Against, and more.
---
This newsletter is sponsored by our Unusual Suspects giveaway of $100 to the bookstore of your choice!
We're giving away $100 to the bookstore of your choice! Enter to win by signing up for Unusual Suspects, our mystery/thriller newsletter about new releases, book recommendations, book deals, and more. Enter here.
---
Book news is a bit light this week, but as usual the adaptation trains are rolling:
More-more Most Anticipated! We've got our full Riot list up, and you can sort by SF and F if you so desire.
The Game of Thrones prequel show has revealed some new cast members and a director for the pilot episode, S.J. Clarkson. I am rooting for a female director's involvement, so my fingers and toes are crossed.
If you wanted a refresher on the status of the Lord of the Rings prequel show, The Nerdist has you covered. (Also I did not know that tidbit about Simon Tolkien getting disinherited [?!] briefly over his involvement!)
And the Dune remake is moving along, and recently cast Dave Bautista as "Beast" Rabban and Stellan Skarsgård as Baron Harkonnen, cool cool cool. I will say that while I'm not familiar with Rebecca Ferguson's work, visually she's a ringer for the Lady Jessica in my head.
This has been moldering in my inbox since December (woops) but better late than never: House DeFraction, a.k.a. Kelly Sue DeConnick and Matt Fraction, inked a big TV deal, and now I desperately need a … movie? mini-series? show? whatever! of Bitch Planet.
And this week in exciting new releases:
Dragon Pearl by Yoon Ha Lee (I have GOT to get my hands on this)
The Dreamers by Karen Thompson Walker (loved her first book, curious about this one)
The Gilded Wolves by Roshani Chokshi (magical Parisian alt-history, yes yes yes)
In ebook deals, here are some genre stand-bys you can pick up on the cheap:
The Queen of the Tearling by Erika Johansen, $1.99
Dragon Keeper by Robin Hobb, $1.99
Babel-17 by Samuel R. Delaney, $1.99
And now, for an anthology that also does good (a minimum of 50% per sale goes to the ACLU).
Resist: Tales From a Future Worth Fighting Against, edited by Gary Whitta, Christie Yant, and Hugh Howey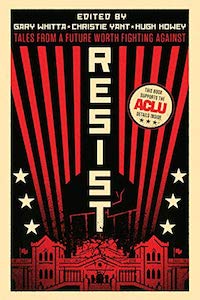 It seems to me that you can tell right from the get-go whether or not this collection is for you based on the premise: "Join twenty-seven of today's top science fiction authors as they write about possible tomorrows we hope to avoid, drawing on challenges taken from today's headlines." Art, gender, fake news, AI, trolling, religion, the consumer industrial complex, you name it and someone has written about it. The contributor list for this collection is both extensive and impressive: Charlie Jane Anders, Elizabeth Bear, Charles Yu, John Scalzi, Saladin Ahmed, I could literally go on and on. And with 27 stories to talk about, it's very hard to give an overview. It goes in so many directions, with so many different experiments in narrative as well as plot; poetry, second-person narration, non-linear, epistolary, everyone is playing with everything.
If you've been reading this newsletter for a while, you've probably guessed that all of this adds up to a "Hell, yes!" from me. While I've been working more optimistic reads (hi, solarpunk!) into my book diet, I'm also up to watch authors play with darker scenarios, and four of these in particular caught my eye.
"Monster Queens" by Sarah Kuhn imagines what might happen if aliens hijacked a teen beauty pageant, because Sarah Kuhn is hilarious and amazing. I laughed, I gasped, I chewed on my fingernails, and I thoroughly appreciated how Kuhn dives into beauty standards, competitive and performative femininity, and gives us page-turning action sequences (including, naturally, baton twirling). Also funny — in a dark and twisted way — is "The Arc Bends" by Kieron Gillen, which follows a man who chose to have his head cryogenically frozen in hopes of being brought back in the future. He is — only to be put on trial for the crimes of the 21st century. Gillen gives us multiple futures, all narrated by the head in question, and it's a genius, cringe-and-laugh-inducing concept.
It's hard to pick an absolute favorite but "Bastion" by Daniel H. Wilson might be it; told in transcripts, it follows the capture and interrogation of a young human who was raised by rogue AI. Having read a fair amount of Wilson's work (The Clockwork Dynasty, reviewed here) including short stories (Guardian Angels and Other Monsters, reviewed here), I wasn't surprised that I liked it, but I was perhaps not prepared for how much I loved it. If you too were raised on and shaped by Space: Above and Beyond, Star Trek, and Battlestar Galactica, you need this story in your life.
Last but not least is my favorite new-to-me, and one of the stories I'll be pondering for some time, "Three Points Masculine" by An Owomoyela. Examining gender in a future where it is assessed and licensed by the U.S. government, and in which there's a civil war on, Owomoyela (who is nonbinary) digs into the tangled, complicated ways in which performance, identification, and public "acceptance" bounce and rebound off each other, and reminds us that these issues are more complex than many of us like to think.
And that's a wrap! You can find all of the books recommended in this newsletter on a handy Goodreads shelf. If you're interested in more science fiction and fantasy talk, you can catch me and my co-host Sharifah on the SFF Yeah! podcast. For many many more book recommendations you can find me on the Get Booked podcast with the inimitable Amanda, or on Twitter as jennIRL.
Your fellow booknerd,
Jenn