Hello, Kid Lit friends!
Last week I had a wonderful time sharing about some of my favorite picture book releases of early 2019, and today I'll be talking about amazing 2019 chapter book new releases. Chapter books are geared toward beginning independent readers (generally ages 5-8), and they are some of my favorite books to read.
---
Sponsored by our Unusual Suspects giveaway of $100 to the bookstore of your choice!
We're giving away $100 to the bookstore of your choice! Enter to win by signing up for Unusual Suspects, our mystery/thriller newsletter about new releases, book recommendations, book deals, and more. Enter here.
---
The first book I'm excited about is Jada Jones: Sleepover Scientist by Kelly Starling Lyons and illustrated by Nneka Myers (Penguin Random House, 1/8), the third book in this charming chapter book series. I love Jada's spunk, and I could totally commiserate with Jada's dilemma in this book. She plans all of these awesome activities for her sleepover, but her friends quickly tire of all of the structured activities, and just want to hang out. Yes, that has happened to me before.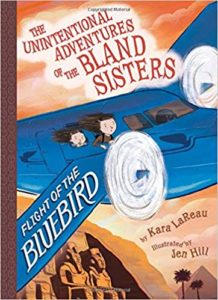 Another great chapter book series is The Unintentional Adventures of the Bland Sisters by Kara LaReau, illustrated by Jen Hill. The series centers around two sisters, Kale and Jaundice, who avoid excitement at any cost. In this third installment, Flight of the Bluebird (Amulet, 1/8), the sisters head off to Egypt to uncover the mysteries of a magical scarab and find their missing parents.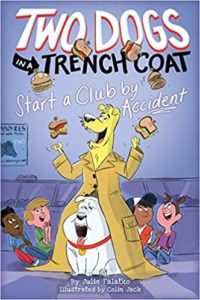 If you're looking for laugh-out-loud humor, check out Two Dogs in a Trench Coat Start a Club by Accident by Julie Falatko, illustrated by Colin Jack (Scholastic, 1/29). This installment features the same hilarious dogs, Sassy and Waldo and their owner Stewart from Two Dogs in a Trench Coat Go to School.  When Stewart has to stay late after school for a Junior Office Supply Enthusiasts meeting, Sassy and Waldo are left alone to raid the cafeteria's refrigerator. As Sassy and Waldo's after school antics escalate, hilarity ensues as the two dogs start a club…by accident.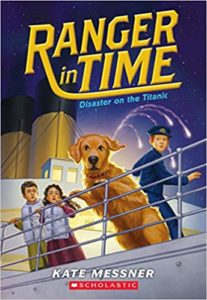 So many young readers love books that involve time travel such as the I Survived series and The Magic Treehouse series. In the Ranger in Time series by Kate Messner, Ranger the dog is a time traveling rescue dog (which is completely awesome). In the newest book in the series, Ranger in Time: Disaster on the Titanic (Scholastic, 1/29), Ranger meets Patrick, a crew member on the Titanic's maiden voyage, before the ship sets sail. Once on board, they befriend Maryam and Hamad. But one night, the ship hits an iceberg and starts to take on water. It's a race against time for Ranger and his friends to help get as many passengers — including themselves — off the ship before it's too late.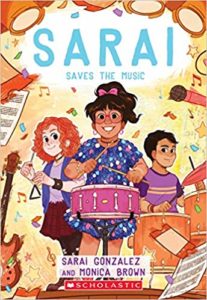 Sarai Saves the Music by Sarai Gonzalez and Monica Brown (Scholastic, 1/29) is a terrific series about spirited, smart Sarai. In this third book of the series, funding is cut at Sarai's school and her band program is the first to go. That is totally not okay with Sarai. She decides to organize a benefit concert to raise money. When she and her bandmates promote the concert on their video channel, it catches the attention of Sarai's favorite singer, Sparkles Sanchez! Can Sarai save the music? The Spanish edition, Saraí salva la música, publishes on February 26th.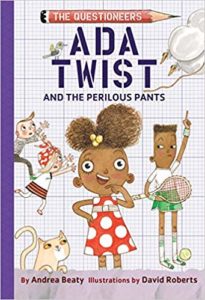 Ada Twist and the Perilous Pants by Andrea Beaty, illustrated by David Roberts (Abrams, 4/16) is a chapter book spin-off from the very popular Ada Twist, Scientist picture book. In this story, Rosie Revere's Uncle Ned gets a little carried away wearing his famous helium pants and it's up to Ada and friends to chase him down. As Uncle Ned floats farther and farther away, Ada starts asking lots of questions: How high can a balloon float? Is it possible for Uncle Ned to float into outer space? And what's the best plan for getting him down?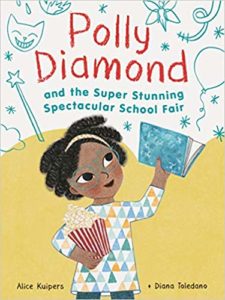 The Polly Diamond series by Alice Kuipers, illustrated by Diana Toledano, are fun stories centered around a girl who discovers a magic book that can make everything she writes happen in real life. In the second book of this series, Polly Diamond and the Super Stunning Spectacular School Fair (Chronicle, 5/7), Polly and her magic book, Spell, have all kinds of adventures together because whatever Polly writes in Spell comes true! But when Polly and Spell join forces to make the school fair super spectacular, they quickly discover that what you write and what you mean are not always the same.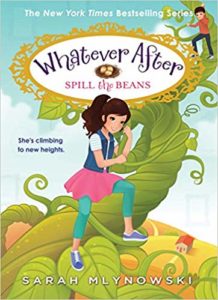 Young readers who love twisted fairy tales will be thrilled to hear of a new Whatever After book coming out! Whatever After: Spill the Beans by Sarah Mlynowski (Scholastic, 4/30) is based on Jack and the Beanstalk, and it involves siblings who meet Jack and accidentally mess up his story, which means Jack can't climb up the magic beanstalk to find the giant's riches. Can the siblings help Jack before it's too late?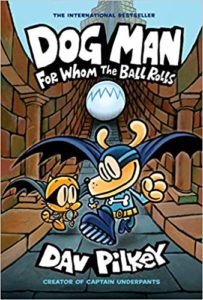 I can't find one kid who doesn't know and love Dog Man! My friend told me the other day that her son has memorize every word of the first few Dog Man books. Thank goodness Dav Pilkey continues the series with Dog Man: For Whom the Ball Rolls, with the next book in the series releasing on August 13, 2019 (Scholastic). In this story, the Supa Buddies have been working hard to help Dog Man overcome his bad habits. But when his obsessions turn to fears, Dog Man finds himself the target of an all-new supervillain! Meanwhile, Petey the Cat has been released from jail and starts a new life with Li'l Petey. But when Petey's own father arrives, Petey must face his past to understand the difference between being good and doing good.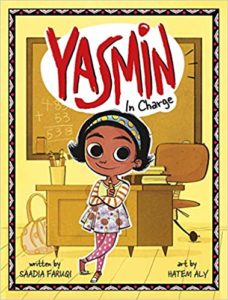 Yasmin in Charge by Saadia Faruqi, illustrated by Hatem Aly (Picture Window Books, 3/1), continues the super fun Yasmin series. In this collection of four stories, Yasmin takes charge of some sticky situations! At home, at school, or out and about, Yasmin faces challenges head on with creativity and quick thinking. Whether she's creating a new recipe, finding a way to rescue a stuck toy for a little friend, or calming down monkeys (and classmates!), a clever solution to any problem is just around the corner!
Finally, I absolutely love the Narwhal series by Ben Clanton; could Narwhal be any cuter? The fourth book in the series, Narwhal's Otter Friend (Tundra, 2/5) debuts a new character: a sea otter! *swoon* Otty the otter makes her debut splash, and while Narwhal greets her with immediate enthusiasm, Jelly's not so sure about her…mostly because he worries she'll take his place as Narwhal's best friend.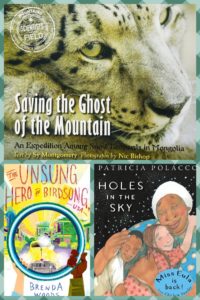 What I'm Reading
I've read some good books this week! Saving the Ghost of the Mountain by Sy Montgomery, photos by Nic Bishop, was a super interesting nonfiction book about the elusive snow leopards of Mongolia. I loved how Montgomery brings the reader into the expedition, introducing us to her guides, talking candidly about how difficult the field research could be, and describing Mongolian culture. The Unsung Hero of Birdsong, USA by Brenda Woods is a beautifully written book about the friendship that develops between a white boy and a black WWII veteran in the Jim Crow South. And finally, Holes in the Sky by Patricia Polacco is a book my nine-year-old handed me to read to her today, and like most of the books that I read by Patricia Polacco this one made me cry. In this companion book to Chicken Sunday, young Trisha is devastated when her grandmother passes away, but finds joy in bonds with a new friend, her new California neighborhood—and the invincible Miss Eula.
Next week I'll chat about some of the middle grade books I'm super excited about for 2019! In the meantime, I would love to know what you are reading this week. Find me on Twitter at @KarinaYanGlaser, on Instagram at @KarinaIsReadingAndWriting, or email me at karina@bookriot.com.
Until next time!
Karina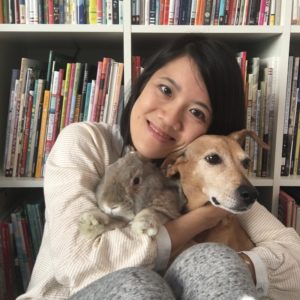 *If this e-mail was forwarded to you, follow this link to subscribe to "The Kids Are All Right" newsletter and other fabulous Book Riot newsletters for your own customized e-mail delivery. Thank you!*