Hi friends!
I discovered the other day that I have now written over one-hundred newsletters for The Kids Are All Right. I love writing these newsletters, and I'm grateful for all of you subscribers for reading these emails twice a week and for your many notes and book suggestions.
---
Sponsored by P Is for Pterodactyl by Raj Haldar and Chris Carpenter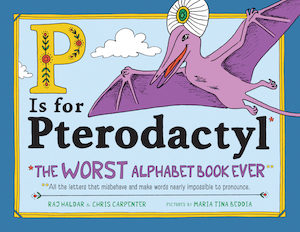 Turning the traditional idea of an alphabet book on its head, P is for Pterodactyl is perfect for anyone who has ever been stumped by silent letters or confused by absurd homophones. This whimsical, unique book takes silent letter entries like "K is for Knight" a step further with "The noble knight's knife nicked the knave's knee." Lively illustrations provide context clues, and alliterative words help readers navigate text like "a bright white gnat is gnawing on my gnocchi" with ease. Everyone from early learners to grown-up grammarians will love this wacky book where "A is for Aisle" but "Y is definitely not for Why."
---
I have read a lot of books this year. So many books! And in honor of my one-hundredth post, I thought I would give you a list of the top 100 children's books I read in 2018. Most of these books published in 2018, but some of them did not (like, when I went on a Mildred D. Taylor reading spree).
You might be wondering how I decided on this list. I tried to pick books based on whether my heart gave a squeeze when I thought about the story. All of these books made my heart happy in some way, whether it be that it opened my eyes to something I didn't know about before, or because the author's language was so beautiful, or because the illustrations left me breathless.
There were so many books that I wanted to read that I didn't get to… I will hopefully get to some of the books on my TBR stack over the holidays!
This list in not in any type of order, but I have grouped them into four categories: picture books, chapter books/early middle grade, older middle grade, and graphic novels. Happy reading!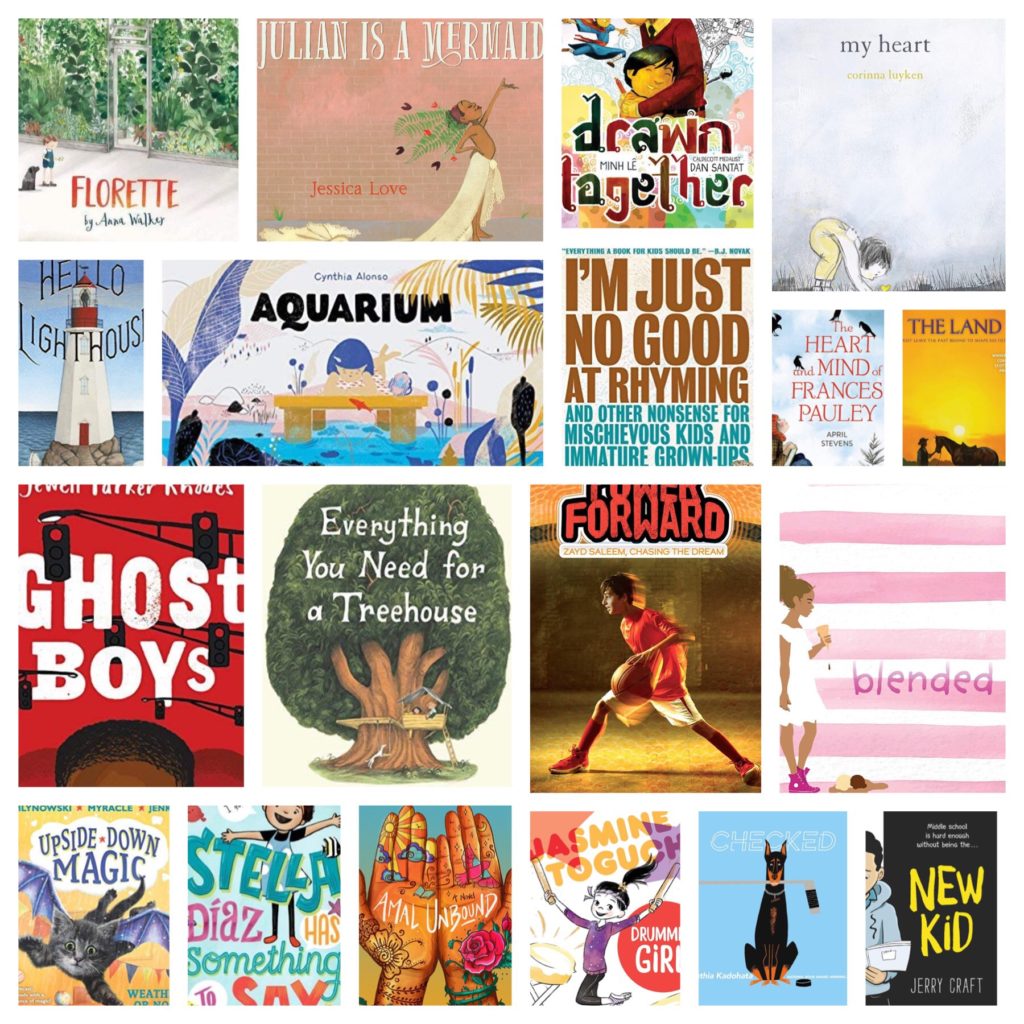 Picture Books
Chapter Books/Lower Middle Grade Books
Upper Middle Grade Books
Nowhere Boy by Katharine Marsh

Ghost Boys by Jewell Parker Rhodes
Sweep by Jonathan Auxier
Amal Unbound by Aisha Saeed
Harbor Me by Jacqueline Woodson
Tight by Torrey Maldonado
The Night Diary by Veera Hirandani
Inkling by Kenneth Oppel

The Journey of Little Charlie by Christopher Paul Curtis
Out of Left Field by Ellen Klages
Louisana's Way Home by Kate DiCamillo
The Miscalculations of Lightning Girl by Stacy McAnulty
Checked by Cynthia Kadohata
Resistance by Jennifer A. Nielsen
Just Like Jackie by Lindsay Stoddard
So Done by Paula Chase

Merci Suarez Changes Gears by Meg Medina
Blended by Sharon Draper
Enginerds by Jarrett Lerner
Stanley Will Probably Be Fine by Sally J. Pla, illustrated by Steve Wolfhard
Knock Out by K.A. Holt
Rebound by Kwame Alexander

Class Action by Steven B. Frank
Takedown by Laura Shovan
Marcus Vega Doesn't Speak Spanish by Pablo Cartaya
Mascot by Antony John
The Truth as Told by Mason Buttle by Leslie Connor

The Heart and Mind of Frances Pauley by April Stevens
Louisiana's Way Home by Kate DiCamillo
The Girl Who Drew Butterflies by Joyce Sidman
The Alcatraz Escape by Jennifer Chambliss Bertman
The Parker Inheritance by Varian Johnson
The Serpent's Secret by Sayantani DasGupta

The Invention of Hugo Cabret by Brian Selznick
The Assasination of Brangwain Spurge by M.T. Anderson
Let the Circle Be Unbroken by Mildred D. Taylor
Winnie's Great War by Lindsay Mattick, illustrated by Sophie Blackall
Restart by Gordon Korman
When You Reach Me by Rebecca Stead (3rd time rereading)
The Wednesday Wars by Gary D. Schmidt (4th time rereading)

Okay for Now by Gary D. Schmidt (4th time rereading)
The Land by Mildred D. Taylor
The Not-So-Boring Letters of Private Nobody by Matthew Landis
The Well by Mildred D. Taylor
The Unteachables by Gordon Korman (Balzer + Bray, 1/8/19)
The Little Prince by Antoine de Saint-Exupery
Tru and Nelle: A Christmas Tale by G. Neri
Graphic Novels
96. The Cardboard Kingdom by Chad Sell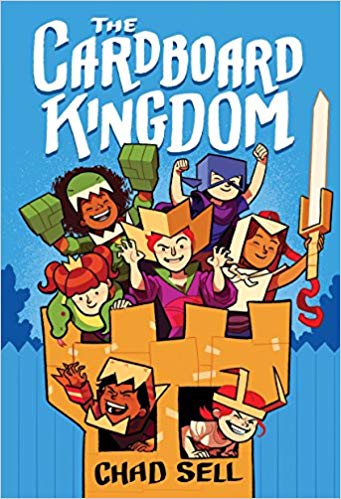 97. New Kid by Jerry Craft (HarperCollins, 2/5/19)
98. All Summer Long by Hope Larson
99. Amulet 8: Supernova by Kazu Kibuishi
100. Narwhal's Otter Friend by Ben Clanton (Tundra Books, 2/5/19)
Well, that's a wrap on 2018! As I mentioned before, Book Riot is taking a break from December 25 to January 1, so I'll see you again on January 6. As always, I'm reachable on Twitter at @KarinaYanGlaser, on Instagram at @KarinaIsReadingAndWriting, or email at karina@bookriot.com.
Wishing you a very happy holiday season and a joyful new year!
See you in 2019!
Karina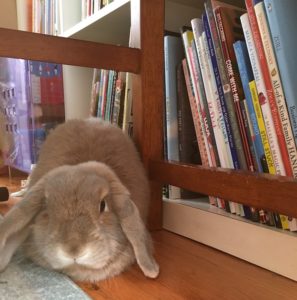 *If this e-mail was forwarded to you, follow this link to subscribeto "The Kids Are All Right" newsletter and other fabulous Book Riot newsletters for your own customized e-mail delivery. Thank you!*