Happy last newsletter of 2018! Thank you so much for hanging out with me every week. And I have some BIG NEWS: Book Radar is going to be coming at you twice a week, on Mondays and Thursdays, starting January 3, 2019! I couldn't be more excited if I swallowed a cat and broke out in kittens. I can't wait to get started! I'm going to add a couple of new sections and keep on with the general bookish enthusiasm. Enjoy your upcoming week, be kind to yourself as well as others, and remember that I love you and I like you. – xoxo, Liberty
---
Sponsored by Book Riot's 10 Best Nonfiction Books of 2018 Giveaway.
We're giving away ten of our favorite works of nonfiction of the year! Click here to enter.
---
Here's this week's trivia question: What was the original title of Fahrenheit 451? (Scroll to the bottom for the answer.)
Deals, Reals, and Squeals!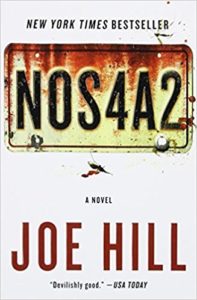 Here's the first look at Zachary Quinto as Charlie Manx in the upcoming NOS4A2 series. (Spoiler: He looks like someone destroyed the painting in Ted Danson's attic.)
Marie-Helene Bertino announced two new novels!
Ashley C. Ford will host Buzzfeed's new show.
Hidden Figures' NASA mathematician Katherine Johnson will release an autobiography next year.
GLOW comic book coming in March.
Chilling Adventures of Sabrina gets another 16 episodes.
Brian K. Vaughan sets overall film and TV deal.
29 Dates by Melissa de la Cruz will air on Disney's new streaming service.
MGM moves ahead with Reese Witherspoon's adaptation of Eleanor Oliphant is Completely Fine.
Robyn Carr's Virgin River series is being adapted for television.
Cover Reveals
Here's the first look at The World Doesn't Require You: Stories by Rion Amilcar Scott. (Liveright, August 20, 2019)
So in love with the cover of Biloxi by Mary Miller. (Liveright, May 21, 2019)
Tillie Walden shared a peek of her upcoming graphic novel Are You Listening? (First Second, September 10, 2019)
Sneak Peeks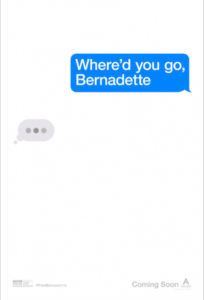 It's here! It's the first official trailer for Where'd You Go, Bernadette?
And the first trailer for the Hellboy reboot.
And here's the first image of George Clooney and Kyle Chandler in Hulu's Catch-22 adaptation.
And here's the first look at Julianna Margulies in the upcoming adaptation of The Hot Zone.
And you can watch the first Deadly Class episode online ahead of its January 16 release.
Book Riot Recommends
At Book Riot, I work on the New Books! email, the All the Books! podcast about new releases, and the Book Riot Insiders New Release Index. I am very fortunate to get to read a lot of upcoming titles, and learn about a lot of upcoming titles, and I'm delighted to share a couple with you each week so you can add them to your TBR!
Loved, loved, loved: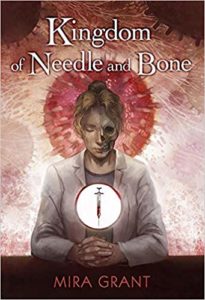 Kingdom of Needle and Bone by Mira Grant (Subterranean Press, December 31)
Nothing says "Happy holidays!" like a terrible pandemic, right? In this novella, most diseases have been eradicated, so the world doesn't know what to do when a deadly new virus spreads quickly among the US population. The aunt of the first victim thinks she knows how to stop it – but it might be an unforgivable act. (Note: Subterranean Press makes limited editions for collectors, so if you know a big Mira Grant/Seanan McGuire fan, this would make a great gift!)
Excited to read:
Wicked Fox by Kat Cho (G.P. Putnam's Sons Books for Young Readers, June 25, 2019)
I just heard about this book about ten minutes before I sat down to write this and WOWWWWWW does it sound exciting. Set in modern-day Seoul, it's about a Gumiho, a nine-tailed fox, who must eat the souls of men to survive. I would buy a book with just the description in it, tbh. MY BODY IS READY.
What I'm reading this week.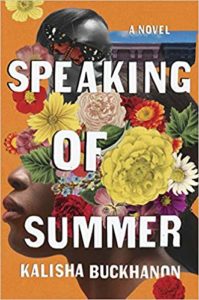 Speaking of Summer: A Novel by Kalisha Buckhanon
Elsey Come Home by Susan Conley
The Good Detective by John McMahon
All Summer Long by Hope Larson
What We Were Promised by Lucy Tan
And this is funny.
I feel the same, kitty. (And the responses to this hilarity are amazing.)
Trivia answer: The Fireman.
You made it to the bottom! Thanks for reading! – xo, L