Hello and happy Tuesday, intrepid voyagers! Today we've got a cover reveal, an adaptation for Catherynne Valente, new releases, deals, a review of Iron and Magic by Ilona Andrews, and more, in this last Tuesday newsletter of 2018. Onward!
---
This newsletter is sponsored by The Magnetic Collection at Lion Forge.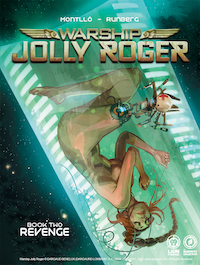 Commander Jon Tiberius Munro is reeling from the death of his son, while Vexton, the man responsible, campaigns for the presidency of the Galactic Federation. Not only is Vexton preparing to claim the most powerful seat in colonized space, but also the heart of one of the galaxy's most popular holoactresses, Penelope. Everything seems to be going Vexton's way, but he has no idea what lengths Munro and his crew will go to for revenge… Find Warship Jolly Roger Book 2: Revenge by Sylvain Runberg and illustrated by Miquel Montlló in stores now from The Magnetic Collection at Lion Forge!
---
To absolutely toot our own horn, our Read Harder Challenge for 2019 is up and includes some SF/F tasks!
The newest book in the Tensorate series (much beloved by yours truly) gets a cover reveal! And, as with all of the covers in series so far, it's stunning.
Also in Tor news, if you need more stories in your inbox Tor.com is launching a short fiction newsletter, promising "two months' worth of short fiction delivered to their inboxes in multiple digital formats on a bimonthly basis."
We've got a giveaway for an early audiobook download of S.A. Chakraborty's The Kingdom of Copper, if you're finding the wait til January 22 just too long.
An adaptation of Catherynne Valente's Refrigerator Monologues is being produced by Amazon Studios.
Remember that monster-creation contest Dungeons & Dragons was running? We have a winner!
Not an adaptation but a Spike Lee time-travel movie is coming to Netflix in 2019 and that is very exciting.
How did I miss that Netflix is revisiting the world of The Dark Crystal? A prequel, The Age of Resistance, has a cast and some first looks at character designs.
New releases to look out for in the coming weeks:
The Feed by Nick Windo Clark, December 24 (a tech-collapse apocalypse novel, just what you need for your holidays!)
Kingdom of Needle and Bone by Mira Grant, December 31 (a pandemic novella, see above)
Ebook deals to pad your holiday TBR:
Wintersong by S. Jae Jones for $2.99 (this one seems like it's on perennial discount, and I continue to highly recommend it)
Under the Pendulum Sun by Jeanette Ng for $1.99 (ditto)
All three of the Heartland Trilogy by Chuck Wendig are on deep sale — Under the Empyrean Sky for $1.99, Blightborn for $0.99, and The Harvest for $0.99
And for today's review, I consider a spin-off series of my all-time favorite (yes, you read that right) urban fantasy series.
Iron and Magic (The Iron Covenant #1) by Ilona Andrews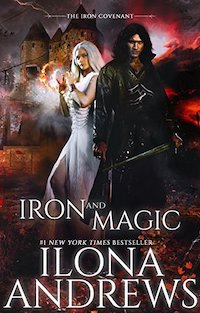 I somehow missed that Hugh D'Ambray, of the Kate Daniels series infamy, had gotten his own book. Imagine my surprise when he turned up in Magic Triumphs (reviewed here), and married! And not on the side I expected him on!
This is not a spoiler — the entire set-up to Iron and Magic is that the banished Hugh, forsaken by his god-like master Roland, has to provide for his troops and that means a marriage of convenience to a woman who owns a castle. Said castle-owner Elara turns out to be a woman of power in her own right, possessed of a reputation that may or may not include human sacrifice. It's a match made in exactly the kind of hellish world that Hugh and Elara inhabit, as it turns out.
If you haven't read any of the Kate Daniels books, you could start here — the main players are well-introduced, the backstory is referenced when necessary, and the plot for this first installment is specifically contained to the castle in Kentucky and its surrounding areas, eschewing the wider world of the series for the time being. But there are a lot of big players lurking in the background, and Hugh's own arc is such a delicious about-face from what we previously knew of him that I definitely recommend at least reading Magic Rises (Kate Daniels #6) before you dive into this one.
I picked this up wondering how Andrews could possibly redeem Hugh Freaking D'Ambray. The answer, my friends, is a marriage of convenience and an enemies-to-lovers romance, with plenty of gore, strategy, and struggles for dominance (both in and out of the bedroom). Elara and Hugh are excellent counterpoints, both strong leaders used to keeping secrets as a matter of course. Watching them spar with each other was a pleasure. The tiny hints of Elara's backstory are well-played, especially since we already know all of Hugh's worst moments; the promise of more details kept the pages turning and will definitely keep me invested moving forward.
There are magical villains, vampires, sorcery, and all-out battles aplenty; Iron and Magic also has the camaraderie, found-family, and broken characters searching for redemption that I've come to both expect and love. Andrews writes a mean fight scene as well as a great party, and this book sits nicely alongside the primary series. A must-read for anyone who's already sold on the series, and a solid introduction to a much bigger world just waiting for you to enter.
And that's a wrap! You can find all of the books recommended in this newsletter on a handy Goodreads shelf. If you're interested in more science fiction and fantasy talk, you can catch me and my co-host Sharifah on the SFF Yeah! podcast. For many many more book recommendations you can find me on the Get Booked podcast with the inimitable Amanda, or on Twitter as jennIRL.
Praise the old gods and the new,
Jenn