Hey YA Readers: Let's talk about some of the great reads from 2018 that haven't been on every "best of" list.
"What's Up in YA?" is sponsored by Flatiron Books and Legendary by Stephanie Garber.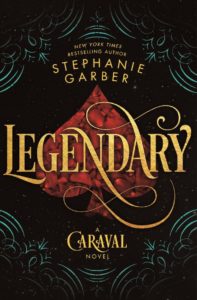 After being swept up in the magical world of Caraval, Donatella Dragna has finally escaped her father and saved her sister Scarlett from a disastrous arranged marriage. The girls should be celebrating, but Tella isn't yet free. She made a desperate bargain with a mysterious criminal, and the time to repay the debt has come.
---
Some YA books are loud, while others are far more quiet. Quiet books, too often, get left off the scads of "best of" lists each year, but it doesn't mean they're not great or have the perfect reader. These are titles worthy of a little more attention and praise and would make for some excellent end-of-year reading.
I've tried to not include books I've highlighted in previous newsletters, but it's likely there's some overlap. My reading tastes tend toward realistic and contemporary, so this list reflects that. Descriptions are mine, since I've read each of them.
It's refreshing to read a tightly-written YA novel that feels like Real Teen problems, and this is one of them. It's a story about a girl named Betts (her nickname) and the quick and fast relationship she falls into with Aiden. Everything seems perfect at first, but then it becomes clear he's manipulative and possessive; it's emotional abuse that, eventually, does turn a bit physical.
At the heart of the story, though, is Betts's relationship with her best friend Jo. What happens when a best friend sees a problem but you won't listen?
When Teo's brother Manny comes home from a tour of duty, he's not who he was before. Not a bit. But it's their sister Xochitl who decides it's time to deal with both Manny's challenges — and T's own struggles — by taking them from their rental by SeaTac down to Hatch, New Mexico, where they'll spend the summer helping Manny find treatment for his PTSD with their uncle who himself struggles post-service.
It's extremely rare to see a YA road trip book featuring a cast of characters of color. This is one of them and it does good job of looking at SO many aspects of a person's experience. Race, ethnicity, class, and education all play in smoothly. It also digs into healthcare and the ways that, during the book's timeframe (2008-2009), the VA wasn't a place that made mental health care for returning vets a priority or even accessible at all.
So many teens will see themselves in this story.
We had Patrick on Hey YA to talk about the book and about road trip stories in YA earlier this year, too, if you want to learn more. 
A powerful story about a girl who has grown up without much investment in her Native heritage after the death of her mother after a car accident (Apple was born early, her life saved after the accident). She's since lived in the Minneapolis suburbs with her wealthy white father and stepmother, without much contact with her family in the North Dakota Turtle Mountains, who are Ojibwe. But when her dad and stepmother decide to go on a long summer vacation, Apple gets the chance to spend the summer with her grandparents in North Dakota, along with her big extended family.
The book follows as she learns more about her own cultural heritage and comes to understand her mother better. It's written with dialect and integrates Michif throughout where appropriate. Especially good for younger YA readers.
Cynthia Leitich Smith praised this book on an episode of Annotated this year and it's so worth a listen. 
A lovely, powerful, and raw book about grief and loss. Rumi's sister and best friend Lea dies in a car accident, and Rumi is sent to live with her aunt in Hawaii while her mother grieves alone. Rumi is angry — both because Lea is gone and because she believes her mother abandoned her. There is a lot of anger and resentment throughout, but none of it is unwarranted. Bowman is skillful in highlighting how anger can be easier than sadness and grief, and she does so in a manner that allows Rumi to be angry and unlikable while also being sympathetic to the reader.
Readers itching for more asexual representation in YA will find a lot to enjoy here. Rumi doesn't make a declaration of her sexuality, but it's in the investigation and questioning where there is much power.
Perhaps it's cheating to include a book I have only just begun, but I'm going to. This one came out early this month and because it's a nonfiction YA title pubbing in a month that's easy to miss new titles, it's worth a shout. Brockenbrough's book is a critical look at Trump, his legacy, and his presidency. It's a big book, and as has been mentioned a few times on social media, the first book about a sitting president presented in a critical light for young readers. It's really well designed with tons of citations (the resources list is massive!), timelines, images, and other information graphics to help highlight key parts of the text.
____________________
Thanks for hanging out and we'll see you again later this week! If you haven't already, make sure you keep your eyes on Book Riot this week for our exciting week-long YA Adaptation Showdown event.