Hey YA Readers: Let's celebrate some upcoming YA milestones.
"What's Up in YA?" is sponsored by Book Riot's 10 Best Nonfiction Books of 2018 Giveaway.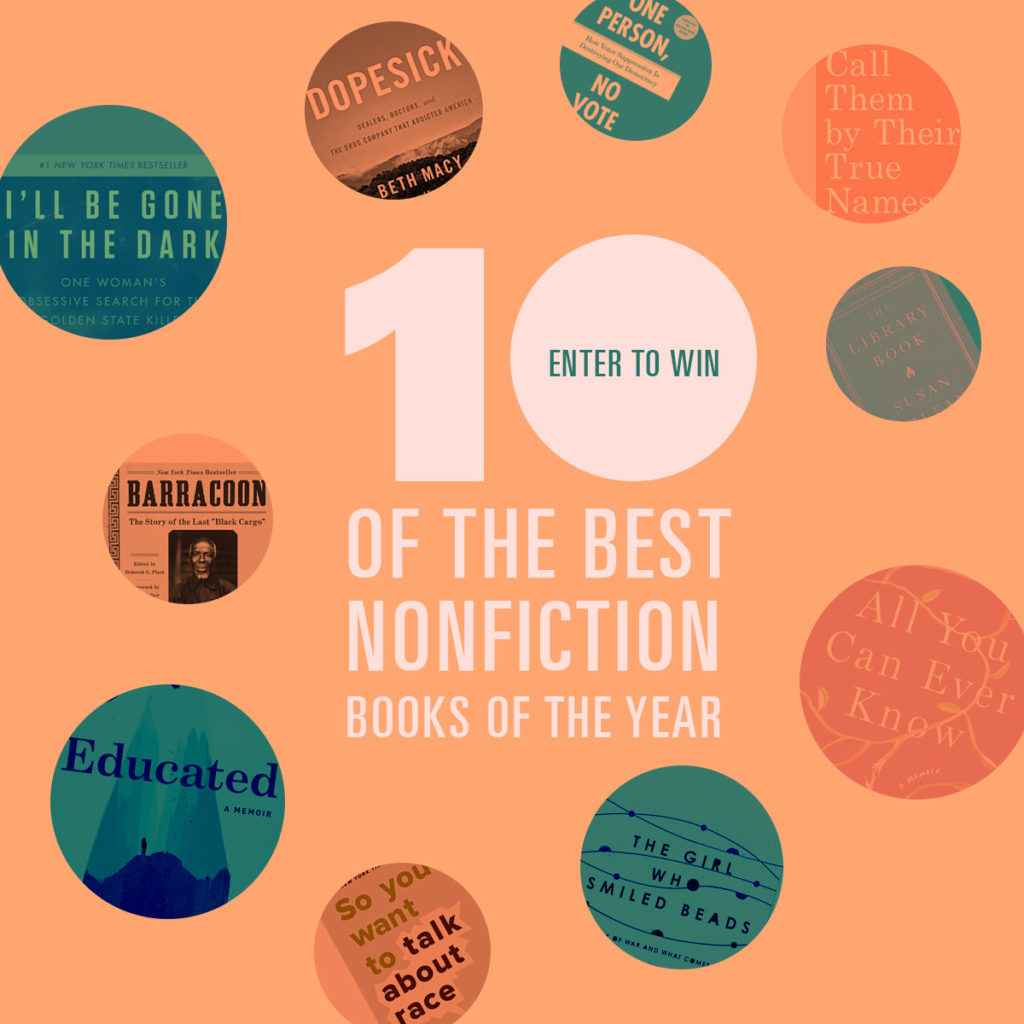 ---
With 2019 drawing closer and closer, how about a look at a handful of YA book which will be celebrating some big milestones in the coming year? Here are seven books celebrating 10, 20, and 30 year anniversaries. Some of them will be getting sparkly commemorative editions, while others have had recent adaptations or upcoming adaptations to reignite interest. Still others are books that have made a big impact in the world of YA and deserve to be highlighted again.
Descriptions from Goodreads. I've read most, but not all, of the titles. Maybe 2019 is the year of catching up on YA classics.
10 Year Anniversaries
Ash by Malinda Lo
In the wake of her father's death, Ash is left at the mercy of her cruel stepmother. Consumed with grief, her only joy comes by the light of the dying hearth fire, rereading the fairy tales her mother once told her. In her dreams, someday the fairies will steal her away, as they are said to do. When she meets the dark and dangerous fairy Sidhean, she believes that her wish may be granted.
The day that Ash meets Kaisa, the King's Huntress, her heart begins to change. Instead of chasing fairies, Ash learns to hunt with Kaisa. Though their friendship is as delicate as a new bloom, it reawakens Ash's capacity for love-and her desire to live. But Sidhean has already claimed Ash for his own, and she must make a choice between fairy tale dreams and true love.
Entrancing, empowering, and romantic, Ash is about the connection between life and love, and solitude and death, where transformation can come from even the deepest grief.
Just listen, Adam says with a voice that sounds like shrapnel.
I open my eyes wide now.
I sit up as much as I can.
And I listen.
Stay, he says.
Choices. Seventeen-year-old Mia is faced with some tough ones: Stay true to her first love—music—even if it means losing her boyfriend and leaving her family and friends behind?
Then one February morning Mia goes for a drive with her family, and in an instant, everything changes. Suddenly, all the choices are gone, except one. And it's the only one that matters.
If I Stay is a heartachingly beautiful book about the power of love, the true meaning of family, and the choices we all make.
There will likely be a 10th anniversary edition cover but it hasn't been revealed yet! 
20 Year Anniversaries
There are six things very wrong with my life:
1. I have one of those under-the-skin spots that will never come to a head but lurk in a red way for the next two years.
2. It is on my nose
3. I have a three-year-old sister who may have peed somewhere in my room.
4. In fourteen days the summer hols will be over and then it will be back to Stalag 14 and Oberfuhrer Frau Simpson and her bunch of sadistic teachers.
5. I am very ugly and need to go into an ugly home.
6. I went to a party dressed as a stuffed olive.
In this wildly funny journal of a year in the life of Georgia Nicolson, British author Louise Rennison has perfectly captured the soaring joys and bottomless angst of being a teenager. In the spirit of Bridget Jones's Diary, this fresh, irreverent, and simply hilarious book will leave you laughing out loud. As Georgia would say, it's "Fabbity fab fab!"
Monster by Walter Dean Myers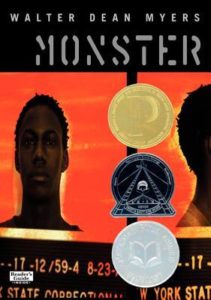 Sometimes I feel like I have walked into the middle of a movie. Maybe I can make my own movie. The film will be the story of my life. No, not my life, but of this experience. I'll call it what the lady who is the prosecutor called me. Monster.
Fade In: Interior Court. A guard sits at a desk behind Steve. Kathy O'Brien, Steve's lawyer, is all business as she talks to Steve.
O'Brien
Let me make sure you understand what's going on. Both you and this king character are on trial for felony murder. Felony Murder is as serious as it gets. . . . When you're in court, you sit there and pay attetion. You let the jury know that you think the case is a serious as they do. . . .
Steve
You think we're going to win ?
O'Brien (seriously)
It probably depends on what you mean by "win."
Sixteen-year-old Steve Harmon is on trial for murder. A Harlem drugstore owner was shot and killed in his store, and the word is that Steve served as the lookout.
Guilty or innocent, Steve becomes a pawn in the hands of "the system," cluttered with cynical authority figures and unscrupulous inmates, who will turn in anyone to shorten their own sentences. For the first time, Steve is forced to think about who he is as he faces prison, where he may spend all the tomorrows of his life.
As a way of coping with the horrific events that entangle him, Steve, an amateur filmmaker, decides to transcribe his trial into a script, just like in the movies. He writes it all down, scene by scene, the story of how his whole life was turned around in an instant. But despite his efforts, reality is blurred and his vision obscured until he can no longer tell who he is or what is the truth. This compelling novel is Walter Dean Myers's writing at its best.
Charlie is a freshman. And while he's not the biggest geek in the school, he is by no means popular. Shy, introspective, intelligent beyond his years yet socially awkward, he is a wallflower, caught between trying to live his life and trying to run from it. Charlie is attempting to navigate his way through uncharted territory: the world of first dates and mixed tapes, family dramas and new friends; the world of sex, drugs, and The Rocky Horror Picture Show, when all one requires is that perfect song on that perfect drive to feel infinite. But Charlie can't stay on the sideline forever. Standing on the fringes of life offers a unique perspective. But there comes a time to see what it looks like from the dance floor.
Speak by Laurie Halse Anderson
The first ten lies they tell you in high school.
"Speak up for yourself–we want to know what you have to say."
From the first moment of her freshman year at Merryweather High, Melinda knows this is a big fat lie, part of the nonsense of high school. She is friendless, outcast, because she busted an end-of-summer party by calling the cops, so now nobody will talk to her, let alone listen to her. As time passes, she becomes increasingly isolated and practically stops talking altogether. Only her art class offers any solace, and it is through her work on an art project that she is finally able to face what really happened at that terrible party: she was raped by an upperclassman, a guy who still attends Merryweather and is still a threat to her. Her healing process has just begun when she has another violent encounter with him. But this time Melinda fights back, refuses to be silent, and thereby achieves a measure of vindication.
30 Year Anniversary
Weetzie Bat by Francesca Lia Block
In 1989 Francesca Lia Block made a dazzling entrance into the literary scene with what would become one of the most talked-about books of the decade; Weetzie Bat. This poetic roller coaster swoop has a sleek new design to match its new sister and brother books, Goat Girls and Beautiful Boys. Rediscover the magic of Weetzie Bat, Ms. Block's sophisticated, slinkster-cool love song to L.A., the book that shattered the standard, captivated readers of all generations, and made Francesca Lia Block one of the most heralded authors of the last decade.
This could be a book about cheap cheese and bean burritos, slinkster dogs, lanky lizards and rubber chickens …Or strawberry sundaes with marshmallow toppings, surfing, stage-diving and sleeping on the beach …It could even be a book about magic. But what it's definitely about is Weetzie Bat, her best friend Dirk and their search across L.A. for the most dangerous angel of all …true love.
____________________
Thanks for hanging out & we'll see you next week!