Happy Friday, bards and brigands! I'm in a bit of a reading slump (it happens to all of us, alas), so today is a double-sized dose of linky goodness including more Best Of lists, interviews and guest posts from some favorite authors, holiday-themed reading, nerd gear, and more.
---
This newsletter is sponsored by Once a King and HMH Teen.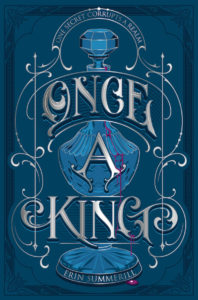 For twenty years, Channelers—women with a magical ability—have been persecuted in Malam by those without magic. Now King Aodren wants to end the bloody divide and unite his kingdom. But decades of hatred can't be overcome by issuing decrees, and rumors of a deadly Channeler-made substance are only fueling people's fears. Lirra has every reason to distrust Aodren. Yet when he asks for help to discover the truth behind the rumors, she can't say no. With Lirra by his side, Aodren sees a way forward for his people. But can he rewrite the mistakes of the past before his enemies destroy the world he's working so hard to rebuild?
---
This week on SFF Yeah!, Sharifah and I gave our favorite picks for gift-giving (to yourself or others!) this holiday season.
The Best of 2018 lists, in all their various permutations, continue to roll in! Here's a round-up:
– Goodreads Choice Awards (Fantasy: Circe by Madeline Miller; Sci-Fi: Vengeful, V.E. Schwab)
– Autostraddle (scroll down for the SF/F category, which includes So Lucky by Nicola Griffith, The Merry Spinster by Daniel Mallory Ortberg, and The Descent of Monsters by JY Yang)
– NPR's Book Concierge (with shout-outs to Witchmark, The Dark Descent of Elizabeth Frankenstein, A Thousand Beginnings and Endings, Record of a Spaceborn Few, Gnomon, How Long Til Black Future Month, and many more)
– NYPL's Top 100 (Circe and Spinning Silver made the top 10, there is definitely a pattern here)
Last year I crunched the SF/F titles on these lists for the most-picked, and I've decided to do it again. Tune into SFF Yeah!'s 12/19 episode for those details!
On the flip side of "best of," here's a list of 2018 YA fantasy that Namera thinks were hugely underrated (including For a Muse of Fire, reviewed here).
And not an official "best of," but here's a round-up of 21 amazing horror books by women (including personal favs Tananarive Due, Mira Grant, Nalo Hopkinson, and Lauren Beukes).
Are we in a Golden Age of interplanetary stories? Here's a list with compelling evidence (and an earworm for you).
A very happy Chanukah to those celebrating; here's a list of Jewish SF/F for all of us to add to our TBRs.
I just reviewed Empire of Sand by Tasha Suri (here), so I was delighted to see this thoughtful guest post from her about magic's role in faith and history.
Also in "I just reviewed that!" (here), NK Jemisin is making the interview rounds for How Long Til Black Future Month, and these two pieces are worth a read: Vulture chronicles her trajectory as a writer and looks at her forthcoming urban fantasy; and GQ talked to her about the mythology of cities, particularly New York, and political despair.
How do people really behave during an apocalypse? There's research around this, and as Arkady Martine discusses, it's not what you might think.
Waterworld but better: here's a round-up of undersea SF/F, including some deep cuts that I now desperately need to read.
This post of fantasy-inspired makeup looks makes me want to get way better at makeup.
Do you or a loved one need a really fancy Hoth-inspired parka? Columbia is on it.
Also in the Star Wars-gifts realm, here's a coffee table book of blueprints.
And in a final gifty deep-dive, here are three biographies for the Madeleine L'Engle completist in your life.
And that's a wrap! You can find all of the books recommended in this newsletter on a handy Goodreads shelf. If you're interested in more science fiction and fantasy talk, you can catch me and my co-host Sharifah on the SFF Yeah! podcast. For many many more book recommendations you can find me on the Get Booked podcast with the inimitable Amanda, or on Twitter as jennIRL.
May the odds be ever in your favor,
Jenn