Welcome to Check Your Shelf! This is your guide to all things book talk worth knowing to help librarians like you up your game when it comes to doing your job (& rocking it).
"Check Your Shelf" is sponsored by Penguin Teen.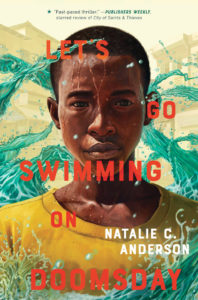 In this riveting, unflinching tale of sacrifice and hope, critically-acclaimed author Natalie C. Anderson delivers another tour-de-force that will leave readers at the edge of their seats.
When Abdi's family is kidnapped, he's forced to do the unthinkable: become a child soldier with the ruthless jihadi group Al Shabaab. Forced to become a child soldier, a sixteen-year-old Somali refugee must confront his painful past in this haunting, thrilling tale of loss and redemption for fans of A Long Way Gone and What is the What.
---
Libraries & Librarians
Book Adaptations in the News
Books in the News
Award News
All Things Comics
Audiophilia
Best Books of 2018
Book Lists, Book Lists, Book Lists
Bookish Curiosities & Miscellaneous
Level Up (Library Reads)
Do you take part in LibraryReads, the monthly list of best books selected by librarians only? We've made it easy for you to find eligible diverse titles to nominate. Kelly Jensen created a database of upcoming diverse books that anyone can edit, and Nora Rawlins of Early Word is doing the same, as well as including information about series, vendors, and publisher buzz.
____________________
Thanks for hanging out and I'll see you again next week!
–Katie McLain, @kt_librarylady on Twitter. Currently reading Unmasked by the Marquess by Cat Sebastian.