Happy Tuesday, Riot faithful! Vanessa here subbing in for Liberty this week. While I am so not worthy to fill Lib's hungry hungry bookeating (and bat-winged!) shoes, I'll do my best to do her proud and give you the skinny on some fresh reads.
To the books!
---
Sponsored by Gallery Books.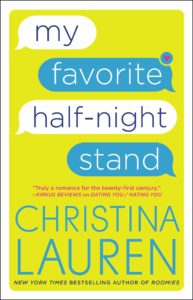 By the New York Times bestselling author who "hilariously depicts modern dating" (Us Weekly), My Favorite Half-Night Stand is a laugh-out-loud romp through online dating and its many, many fails. Perfect for fans of Roxanne and She's the Man, Christina Lauren's latest romantic comedy is full of mistaken identities, hijinks, and a classic love story with a modern twist. Funny and fresh, you'll want to swipe right on My Favorite Half-Night Stand.
---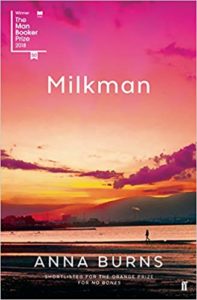 Milkman by Anna Burns
I have been dying to get my hands on this bad boy since it was named the Man Booker prize winner back in October! Set in the 70s in an unnamed city in Northern Ireland, it's about an 18-year-old girl who's coerced into a relationship with an older married paramilitary guy known as the milkman. The publisher's summary called it "a story of the way inaction can have enormous repercussions, in a time when the wrong flag, wrong religion, or even a sunset can be subversive." Umm YES PLEASE.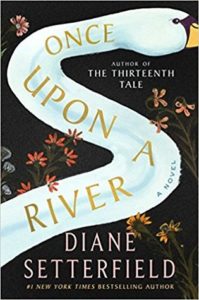 Once Upon A River by Diane Setterfield
GAH I'M SO EXCITED! The writer of the much beloved The Thirteenth Tale is back and I may have pulled a muscle in a sad attempt at a hurkey when the galley for it came in. This one opens on a dark night in an inn on the Thames where the locals are sitting around telling stories when a wounded stranger bursts in the door holding the lifeless body of a little girl. Then hours later, that little girl is suddenly… not dead and no one can really explain why. Atmospheric English setting? Check. Mix of folklore, magic, and myth? Double check.
Backlist bump: I mean obvi The Thirteenth Tale.
Theater of the World: The Maps that Made History by Thomas Reinertsen Berg
I can't get enough of this kind of non-fiction lately! This one is a gorgeous full-color illustrated history of mapmaking and how it both informed and shaped worldwide exploration. It goes as far back as the Stone Age to break down how we got to a place where Google Earth is a thing. I have my eye on this one for a few of the history buffs in my life this holiday season.
---
That's all I've got for you today! If I haven't scared you off, shoot me an email at vanessa@riotnewmedia.com to say hola or find me on Twitter and the gram @buenosdiazsd. Sign up for the In the Club and Audiobooks newsletters for tips, tricks, and latest listens by yours truly, and watch me booktube every Friday too!
Stay bad & bookish, my friends.
Vanessa