It seems like the rest of the big new books of 2018 are packed into the first two weeks of November. Between that and bookish best of the year lists, news will be plentiful all the way until Christmas.
---
Sponsored by In the Name of the Children: An FBI Agent's Relentless Pursuit of the Nation's Worst Predators (BenBella Books, Inc.)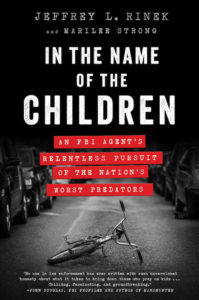 Recommended by the New York Times Book Review, In the Name of the Children is 30-year FBI veteran Jeffrey Rinek's personal, harrowing account of what it takes—and what it costs—to try to keep our children safe and to bring to justice those who prey on society's most vulnerable victims. Rinek and his coauthor award-winning writer Marilee Strong captivate readers with stories from horrific investigations, including the notorious Yosemite Park murders, as he faces predators and elicits confessions from those who kidnap and kill through a unique empathy-based approach.
---
To kick off the home stretch of 2018, I've got eight new November releases out this week, so you can get them in your hot little hands right now!

The Gene Machine: The Race to Decipher the Secrets of the Ribosome by Venki Ramakrishnan – "An insider account of the race for the structure of the ribosome, a fundamental discovery that both advances our knowledge of all life and could lead to the development of better antibiotics against life-threatening diseases" as well as a personal story about one man's scientific journey.
The Woo-Woo: How I Survived Ice Hockey, Drug Raids, Demons, and My Crazy Chinese Family by Lindsay Wong – "In this jaw-dropping, darkly comedic memoir, a young woman comes of age in a dysfunctional Asian family whose members blamed their woes on ghosts and demons when in fact they should have been on anti-psychotic meds."
How to Be Alone: If You Want To, and If You Don't by Lane Moore – A former editor at Cosmopolitan and comedy show host writes about what it's been like to live a life mostly alone in a memoir that's "powerful and entertaining journey in all its candor, anxiety, and ultimate acceptance—with humor always her bolstering force and greatest gift."
Faking It: The Lies Women Tell About Sex–And the Truths They Reveal by Lux Alptraum – When we talk about sex, we talk about women as mysterious, deceptive, and—above all— untrustworthy. … But where does this assumption come from?" In this book, a sex educator "tackles the topic of seemingly dishonest women; investigating whether women actually lie, and what social situations might encourage deceptions both great and small."

An Unexplained Death: The True Story of a Body at the Belvedere by Mikita Brottman – After seeing a 'Missing' poster with a sepia-toned photography of a man dressed in a bow tie and a tuxedo, Mikita Brottman spent a decade "sifting through the details of the missing man's life and disappearance, and his purported suicide by jumping from the roof of her own apartment building, the Belvedere."
In Extremis: The Life and Death of the War Correspondent Marie Colvin by Lindsey Hilsum – Journalist Marie Colvin was killed in an artillery attack in Syria in 2012 at just 56 years old. In this book, a fellow reporter offers an investigation into Colvin's life and death "based on exclusive access to her intimate diaries from age thirteen to her death, interviews with people from every corner of her life, and impeccable research."
Churchill: Walking with Destiny by Andrew Roberts – A chunkster biography of Winston Churchill based on "exclusive access to extensive new material: transcripts of War Cabinet meetings, diaries, letters and unpublished memoirs from Churchill's contemporaries."
Why Religion? A Personal Story by Elaine Pagels – "Why is religion still around in the twenty-first century? Why do so many still believe? And how do various traditions still shape the way people experience everything from sexuality to politics, whether they are religious or not?"
Hooray, new nonfiction! You can find me on Twitter @kimthedork, and co-hosting the For Real podcast here at Book Riot with questions and comments! Happy reading!