Buenos dias, audiophiles! It's November and still I'm sitting in 80 degree weather because I live in San Diego. My boots and scarves are feeling very disrespected, shoved in the lonely back of my closet when all they want to do is come out and play. PORQUEEEE????
But my fall longing has nothing to do with audiobooks, does it? It's the heat, it's frying my brain. Let's talk audio!
---
Sponsored by the FLIGHT OR FRIGHT audiobook, a terrifying new anthology edited by Stephen King and Bev Vincent.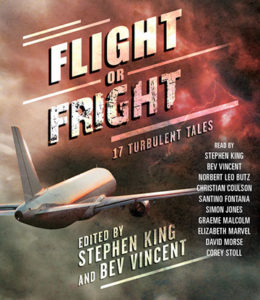 Listen to the FLIGHT OR FRIGHT audiobook – a terrifying new anthology edited by STEPHEN KING and BEV VINCENT. Narrated by Stephen King and an all-star cast, the FLIGHT OR FRIGHT audiobook features brand new stories by King (The Turbulence Expert) and Joe Hill (You Are Released) as well as classic tales from the likes of Richard Matheson, Ray Bradbury, Roald Dahl, Sir Arthur Conan Doyle and many more.
---
Latest Listen
So listen, I'm a big ol' mentirosa (liar). I didn't listen to one red hot second of either of the audiobooks I mentioned last week (Nic Stone's Odd One Out and Ruth Goodman's How to Behave Badly in Elizabethan England). They both sound so great but life just gets in the way sometimes! Ya know?
While I fully intend to get to those listens, reader Kimberlee (hey girl hey!) wrote in with another awesome suggestion. Since 2018 marks the 200th anniversary of Mary Shelley's Frankenstein, celebrate by catching this classic on audio. There are several versions out there, but we're pretty jazzed about this unabridged version narrated by Gildart Jackson of Charmed fame. Hurray for a strong accent/voice game and a riveting listen!
Listens on Deck
I know I just said I gots lots of catching up to do but I am really excited about American Like Me, an amazing collection of essays edited by America Ferrera all about what it's like to grow up between cultures. It boasts a seriously impressive list of contributors (Lin-Manuel Miranda, Uzo Aduba, Jeremy Lin, Issa Rae, Wilmer Valderrama, Anjelah Johnson-Reyes and SO many more) and sounds like caldo de pollo for my first generation American soul.
From the Internets
Libro's Best – The vast majority of Libro.fm's October 2018 bestsellers are either titles on my TBR or ones I've recently read/listened to. Leading the packs for fiction and nonfiction are Tana French's The Witch Elm and Tara Westover's Educated, both of which get the hardest of cosigns by me. One is a delicious slow burn with an ooooh SH*T reveal at the end and the other is the best time I've had feeling like an underachiever in some time.
Page to Screen in November 2018 – Audiobooks.com has a quick list of listens whose adaptations are hitting the big screen in November. I can barely keep up with all of this news coming out of Adaptation Nation!
I'm super intrigued by The Nutcracker and the Four Realms: The Secret of the Realms by Disney Book Group, narrated by Nicole Barber. I'll admit I knew nothing about it until watching the adaptation's weird and twisty trailer, but they had me at Misty Copeland.
Over at the Riot
Audiophile Favorites – I know I'm generally the one with the recommendations here but PLOOOOT TWIIIIIST! We rioters recently asked readers you to tell us about great audiobooks for book club. Here are some of the favorites you shared!
And yeah, this very paragraph is a carryover from one of my In The Club newsletters, which you're totally signed up for, si? It's kinda perfect for both newsletters and I do what I want!
Listens for Writers – A lot of us writer folks love to read but don't always have a lot of time to do so. In comes this list of great listens on the craft of writing.
Nonfiction November – Since the month o' nonfiction is upon us, now's a great time to bring back this list of 50 Must Read Nonfiction Audiobooks.
---
Thanks for hanging with me today! You can find me on the Twitter and the gram @buenosdiazsd. Shoot me an email at vanessa@riotnewmedia.com if you have any feedback or questions, and don't forget to sign for In The Club for book club tips & tricks.
Stay bad & bookish, my friends.
Vanessa