Hey Kid Lit friends,
The National Center on Family Homelessness reports that 2.5 million children are homeless each year in America, representing one in every 30 children. This is a social issue that is near to my heart. My first full-time job right out of college was at a non-profit that provided transitional housing to hundreds of homeless families every night, and I was disheartened (although not surprised) to read an article last week from the New York Times that stated that tonight one in ten school children will sleep in a homeless shelter or in the homes of relatives.
There have been many children's books written about homelessness and poverty, so I put together a reading list. I hope these books will create opportunities for discussion and social action.
*Please note all book descriptions are from Goodreads.
---
Sponsored by NaNoWriMo, a nonprofit that believes your story matters. Write your novel this November during National Novel Writing Month!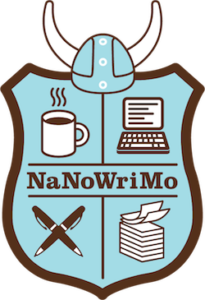 National Novel Writing Month (NaNoWriMo) is a fun, seat-of-your-pants approach to creative writing. Every year, hundreds of thousands of writers around the world take on the challenge of writing 50,000 words of a novel in the 30 days of November. Track your progress on our website with personalized writing stats and graphs, meet local writers for neighborhood write-ins, and receive pep talks from authors like Justina Ireland, Min Jin Lee, and Andy Weir. Valuing enthusiasm, determination, and a deadline, NaNoWriMo is for anyone who has ever thought about writing a novel. Sign up today!
---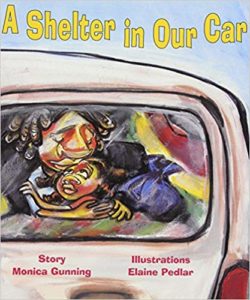 A Shelter in Our Car by Monica Gunning, illustrated by Elaine Pedlar
Zettie and her Mama left their warm and comfortable home in Jamaica for an uncertain life in the United Sates. With Papa gone, Mama can't find a steady job that will sustain them and so they are forced to live in their car. But Mama's unwavering love, support, and gutsy determination give Zettie the confidence that, together, she and her mother can meet all challenges.Monica Gunning's moving and authentic story about homelessness in an American city was developed with the help of the Homeless Children s Network in San Francisco. Elaine Pedlar's strong and lively illustrations bring the story to life in vibrant chalk pastel."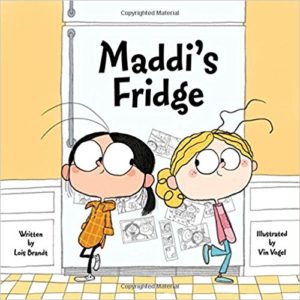 Maddi's Fridge by Lois Brandt, illustrated by Vin Vogel
Best friends Sofia and Maddi live in the same neighborhood, go to the same school, and play in the same park, but while Sofia's fridge at home is full of nutritious food, the fridge at Maddi's house is empty. Sofia learns that Maddi's family doesn't have enough money to fill their fridge and promises Maddi she'll keep this discovery a secret. But because Sofia wants to help her friend, she's faced with a difficult decision: to keep her promise or tell her parents about Maddi's empty fridge. Filled with colorful artwork, this storybook addresses issues of poverty with honesty and sensitivity while instilling important lessons in friendship, empathy, trust, and helping others.
Those Shoes by Maribeth Boelts, illustrated by Noah Z. Jones
All Jeremy wants is a pair of those shoes, the ones everyone at school seems to be wearing. Though Jeremy's grandma says they don't have room for "want," just "need," when his old shoes fall apart at school, he is more determined than ever to have those shoes, even a thrift-shop pair that are much too small. But sore feet aren't much fun, and Jeremy soon sees that the things he has — warm boots, a loving grandma, and the chance to help a friend — are worth more than the things he wants.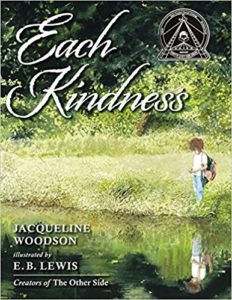 Each Kindness by Jacqueline Woodson, illustrated by E.B. Lewis
Chloe and her friends won't play with the new girl, Maya. Every time Maya tries to join Chloe and her friends, they reject her. Eventually Maya stops coming to school. When Chloe's teacher gives a lesson about how even small acts of kindness can change the world, Chloe is stung by the lost opportunity for friendship, and thinks about how much better it could have been if she'd shown a little kindness toward Maya.
Middle Grade Books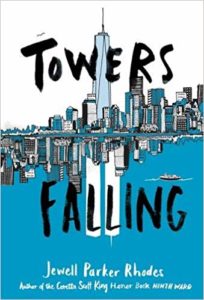 Towers Falling by Jewell Parker Rhodes
When her fifth-grade teacher hints that a series of lessons about home and community will culminate with one big answer about two tall towers once visible outside their classroom window, Dèja can't help but feel confused. She sets off on a journey of discovery, with new friends Ben and Sabeen by her side. But just as she gets closer to answering big questions about who she is, what America means, and how communities can grow (and heal), she uncovers new questions, too. Like, why does Pop get so angry when she brings up anything about the towers?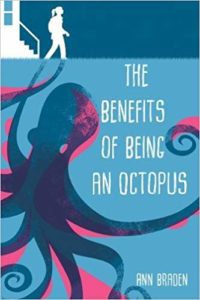 The Benefits of Being an Octopus by Ann Braden
Seventh-grader Zoey has her hands full as she takes care of her much younger siblings after school every day while her mom works her shift at the pizza parlor. Not that her mom seems to appreciate it. At least there's Lenny, her mom's boyfriend―they all get to live in his nice, clean trailer. At school, Zoey tries to stay under the radar. Her only friend Fuchsia has her own issues, and since they're in an entirely different world than the rich kids, it's best if no one notices them. Unfortunately, she's not totally invisible, and one of her teachers forces her to join the debate club. Can Zoey find the courage to speak up, even if it means risking the most stable home she's ever had?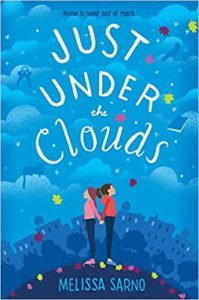 Just Under the Clouds by Melissa Sarno
Always think in threes and you'll never fall, Cora's father told her when she was a little girl. Two feet, one hand. Two hands, one foot. That was all Cora needed to know to climb the trees of Brooklyn. But now Cora is a middle schooler, a big sister, and homeless. Her mother is trying to hold the family together after her father's death, and Cora must look after her sister, Adare, who's just different, their mother insists. Quick to smile, Adare hates wearing shoes, rarely speaks, and appears untroubled by the question Cora can't help but ask: How will she find a place to call home?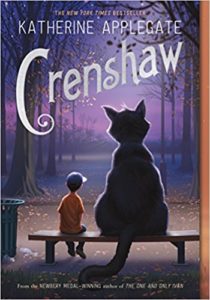 Crenshaw by Katherine Applegate
Jackson and his family have fallen on hard times. There's no more money for rent. And not much for food, either. His parents, his little sister, and their dog may have to live in their minivan. Again. Crenshaw is a cat. He's large, he's outspoken, and he's imaginary. He has come back into Jackson's life to help him. But is an imaginary friend enough to save this family from losing everything?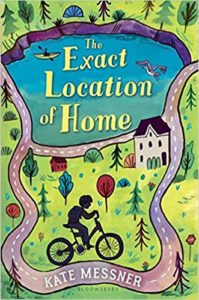 The Exact Location of Home by Kate Messner
Kirby "Zig" Zigonski lives for the world of simple circuits, light bulbs, buzzers, and motors. Electronics are, after all, much more predictable than most people–especially his father, who he hasn't seen in over a year. When his dad's latest visit is canceled with no explanation and his mom seems to be hiding something, Zig turns to his best friend Gianna and a new gizmo–a garage sale GPS unit–for help. Convinced that his dad is leaving clues around town to explain his absence, Zig sets out to find him. Following one clue after another, logging mile after mile, Zig soon discovers that people aren't always what they seem . . . and sometimes, there's more than one set of coordinates for home.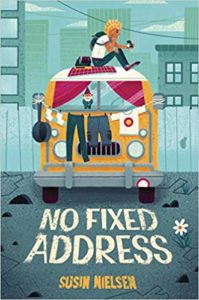 No Fixed Address by Susin Nielsen
Twelve-and-three-quarter-year-old Felix Knutsson has a knack for trivia. His favorite game show is Who What Where When; he even named his gerbil after the host. Felix's mom, Astrid, is loving but can't seem to hold on to a job. So when they get evicted from their latest shabby apartment, they have to move into a van. Astrid swears him to secrecy; he can't tell anyone about their living arrangement, not even Dylan and Winnie, his best friends at his new school. If he does, she warns him, he'll be taken away from her and put in foster care.
Be sure to check out the wonderful podcast Lifelines, Episode 9. Author Saadia Faruqi recommends picture books about the reality of poverty, and Ann Braden, middle grade author of The Benefits of Being an Octopus, shares the first half of her conversation with 5th grade educator Kristin Crouch.
Jasmine Toguchi: Flamingo Keeper is the latest book in Debbi Michiko Florence's wonderful chapter book series. Jasmine's best friend, Linnie, has just gotten a puppy. And now Jasmine wants a pet of her own―a flamingo! So when her grandmother sends Jasmine a daruma doll as a surprise gift, Jasmine colors in one doll eye and wishes for a flamingo to keep.
Horse Meets Dog by Elliott Kalan and Tim Miller (Balzer & Bray, 10/30) is a new picture book about a horse that is just an oversize dog with funny paws…according to Dog. And Dog? Just a tiny baby horse with a weird tail. That's what Horse thinks, anyway. A story with hilarious misunderstandings!
Nowhere Boy by Katharine Marsh is a middle grade book told in two perspectives. Max, a thirteen-year-old American boy from Washington, D.C. is lonely and homesick when he starts a new school in Brussels, Belgium. Fourteen-year-old Ahmed has just fled a life of uncertainty and suffering in Aleppo, Syria, to find himself in Belgium, his father lost on the trip to Europe. Their lives intersect in Brussels in surprising and life-changing ways.
Around the web…
In Conversation: Sharon M. Draper and Jason Reynolds, via Publisher's Weekly
Middle Grade Books About Indian Mythology, via Book Riot
Are you a diverse writer of middle grade literature? HarperCollins Children's Books is hosting a Diverse Voices Open Inbox. For more information and the official rules, check out this website.
Giveaway!
Don't forget to enter our giveaway for a custom book stamp for your personal library! Click here to enter.
I would love to know what you are reading this week! Find me on Twitter at @KarinaYanGlaser, on Instagram at @KarinaIsReadingAndWriting, or email me at karina@bookriot.com.
Until next time!
Karina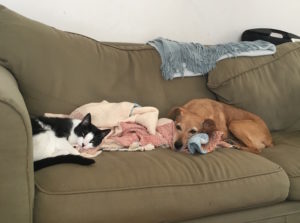 *If this e-mail was forwarded to you, follow this link to subscribe to "The Kids Are All Right" newsletter and other fabulous Book Riot newsletters for your own customized e-mail delivery. Thank you!*