Hello, nonfiction readers! There are a lot of great books coming out this week, but I wanted to open this newsletter by talking about just one of them, The Library Book by Susan Orlean.
---
Sponsored by Chronicle Books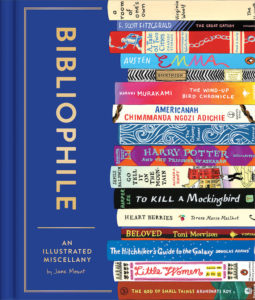 The ultimate gift for book lovers, Bibliophile brims with literary treasures, all delightfully illustrated by beloved artist and founder of Ideal Bookshelf, Jane Mount. Readers will: • Tour the world's most beautiful bookstores • Test their knowledge of the written word with quizzes • Find their next great read in lovingly curated stacks of books • Sample the most famous fictional meals • Peek inside the workspaces of their favorite authors … and much more! A source of endless inspiration, Bibliophile is sure to enchant any and all who identify as bookworms.
---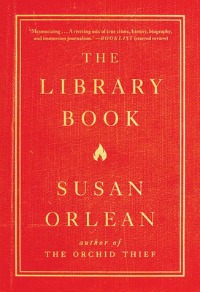 The book, a look at a 1986 fire that nearly destroyed the Los Angeles Public Library, is fantastic. I'm a hardcore library advocate in both my personal and professional life, so of course this book has been on my radar for awhile. But it really exceeded my expectations, once I stopped expecting it to be a full narrative of the fire and started to look at it more like a collection of essays about why libraries are vital, worthwhile, important institutions.
Another 2018 book on libraries that hasn't gotten as much attention is Palaces for the People by Eric Klinenberg, a sociologist's look at how the future of democracy is depending on shared spaces – like libraries – where connections and communities are formed. I haven't gotten to read this one yet, but it's sitting next to me at my desk as I am typing.
The awesome thing about these books coming out so close together is that there seems to be a larger-than-usual collection of pieces on why libraries, in particular, are awesome. Here are three of my favorites:
With that, I'm going to leave you with a bunch of other great links from the vast corners of the bookish internet (many that include other recent titles that should be on your TBR):
BitchReads recommends 15 fall nonfiction books for feminists, a wonderfully diverse list that includes everything from Betraying Big Brother: The Feminist Awakening in China by Leta Hong Fincher Nicole Chung's memoir All You Can Ever Know.
PopSugar has rounded up seven new nonfiction books for people who don't really like nonfiction, which includes a few books that missed my radar like Once You Go In: A Memoir of Radical Faith by Carly Gelsinger and some big fall titles like Justin Timberlake's Hindsight and All the Things I Can't See in Front of Me.
Looking to cozy up with a smart fall book? Bustle has you covered with a round up of fall's best introspective essay collections by women. What if This Were Enough? by Heather Havrilesky and How to Be Alone by Lane Moore are both high on my list.
Over at B&N Reads, you can browse through some of October's best biographies and memoirs, which includes everything from a Babe Ruth biography (The Big Fella by Jane Leavy) to another RBG book (The Unstoppable Ruth Bader Ginsburg by Antonia Felix) and a couple of heavies that seem to be newly out in paperback (Grant by Ron Chernow and Leonardo da Vinci by Walter Isaacson).
Entertainment Weekly has a brief peek at the story behind American Like Me, a collection of essays about navigating life as a first-generation American edited by the great and good America Ferrera. I know I've mentioned that book before – the contributor list is just so amazing!
Personality tests are addicting and, in many cases, kind of a joke. Merve Emre, author of The Personality Brokers, breaks down five myths about personality tests in the Washington Post.
I hope that gave you something to dive into! And don't forget to enter our giveaway for a custom book stamp for your personal library. Click here to enter.
You can find me on Twitter @kimthedork, and co-hosting the For Real podcast here at Book Riot with questions and comments!