Happy Friday, Belters and boggarts! Today I've found you a book club, fantasy series, horror, alien babies, a round-up of witchy reads, and more.
---
This newsletter is sponsored by Epic Reads.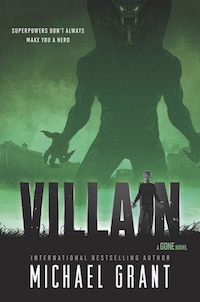 Monster. Villain. Hero. Which supercreature will they be? It's been four years since the events of GONE. The dome is down, but the horrors within have spread, and now all of humanity is in danger. An alien virus is creating monsters that walk the cities and countryside, terrorizing all. And the only people who can stop a superpowered villain, are superpowered heroes. Michael Grant returns to the globally bestselling GONE universe in this follow-up novel to the hotly anticipated MONSTER. Old foes return and new ones rise. The fight will be bloody. This isn't another battle, this is the war to save the human race.
---
Our SFF Yeah! podcast is doing its first book club, and you're invited! Sharifah and I will be discussing Rosewater by Tade Thompson in a special Halloween episode, and you should definitely read along with us. You can catch up with the podcast here, if you're so inclined.
Need a new fantasy series for your fall/winter reading? We've got recommendations. And if that's not enough, here's a quiz to help you pick!
This list of horror books for wimps could use more diversity in the picks, but is otherwise solid, and I'm a wimp so I would know. Cosign on Get in Trouble, Mongrels (with warning for LOTS of gore), and The Historian.
I love this list of crimey SF/F; I've read all but Silenced and Zero Sum Game and both are now on my TBR.
More Doctor Who reads! This time it's a list of what the companions are reading, because obviously.
Sharifah and I talked a bunch about the new slew of Avatar: The Last Airbender adaptations on SFF Yeah, and relevant to that conversation is this interview with an Alaska Native about Inuit representation on the show.
If I told you someone did a maternity photo-shoot inspired by the Alien franchise, would you click? Here you go — the choice is yours (but I personally found this DELIGHTFUL).
'Tis the season to get witchy, tra la la la la, la la la la! Here are six of my favs, in addition to the previously rec'd The Witches of New York: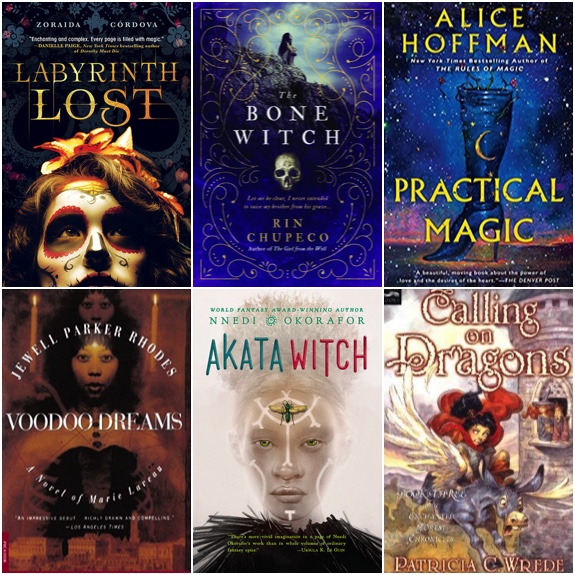 Labyrinth Lost by Zoraida Cordova (Brooklyn Brujas #1)
This YA novel follows the adventures of Alex, for whom magic is both everyday and hugely unwanted. Her family, who live in Brooklyn, are part of a magical community and her Deathday Celebration, when she is supposed to come fully into her magic, is approaching. But magic has brought her nothing but pain and terror, and all she wants is to get rid of it. So she decides to do her own spell — a spell to take away her magic.
The Bone Witch by Rin Chupeco (Bone Witch #1)
Tea is born to a family of witches — but no one is prepared for her to have the power to raise the dead. When her powers manifest, she's sent off to be trained by the other asha and prepared for a life of service to the crown. But she quickly learns that everyone wants to use her powers, and she has to decide for herself where her loyalties lie.
Practical Magic by Alice Hoffman
Sisters Gillian and Sally are the latest in the long line of witchy Owens women. Gillian left home early and has jumped from relationship to relationship, job to job, state to state ever since. Sally, who wants nothing more than a regular life, got married, had kids, and thought that she'd finally found her best life. When her husband dies, that shatters, and she moves her family away from their hometown and settles into pretending that Everything Is Fine And Completely Normal, even though it's far from. When Sally shows up in the middle of the night with her abusive boyfriend dead in the backseat, it sets off a string of events that will change how three generations of women — Sally and Gillian, Sally's daughters, and the aunts — relate to each other and their relationship with the powers that they've inherited.
Voodoo Dreams by Jewell Parker Rhodes
First year medical student Marie Levant finds herself relocating to New Orleans, drawn by terrible dreams, only to find that she's a successor to the infamous Marie Laveau, Voodoo Queen. Rhodes brings both modern-day and past New Orleans to life, with generous sprinklings of ghosts, zombies, and other supernatural adventures, and it's #ownvoices to boot.
Akata Witch by Nnedi Okorafor (Akata Witch #1)
12-year-old Sunny is having a hard enough time adjusting to life in Nigeria after being born and raised in New York, so getting enmeshed in a quest to stop a supernatural serial killer and learning that she herself has powers is the last thing she needs in her life. But as she learns more about the secret supernatural world, she finds both real friends and starts to learn about her own true self.
Calling on Dragons by Patricia Wrede (The Enchanted Forest Chronicles #3)
I know I raved about The Enchanted Forest Chronicles in a recent newsletter, so this is just a reminder that the third installment is narrated by the unflappable and extremely tidy witch Morwen, owner of a jillion cats, and is fantastic.
And that's a wrap! You can find all of the books recommended in this newsletter on a handy Goodreads shelf. If you're interested in more science fiction and fantasy talk, you can catch me and my co-host Sharifah on the SFF Yeah! podcast. For many many more book recommendations you can find me on the Get Booked podcast with the inimitable Amanda, or on Twitter as jennIRL.
Your fellow booknerd,
Jenn