Hey YA Fans: Let's talk about a fun YA format — the graphic hybrid.
"What's up in YA?" is sponsored by Epic Reads.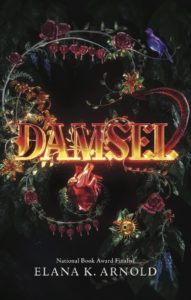 A dark, twisted, unforgettable fairy tale from Elana K. Arnold, author of the National Book Award Finalist What Girls Are Made Of. The rite has existed for as long as anyone can remember: When the king dies, his son the prince must venture out into the gray lands, slay a fierce dragon, and rescue a damsel to be his bride. This is the way things have always been. When Ama wakes in the arms of Prince Emory, she knows none of this. She has no memory of what came before she was captured by the dragon or what horrors she faced in its lair. She knows only this handsome young man, the story he tells of her rescue, and her destiny of sitting on a throne beside him. It's all like a dream, like something from a fairy tale. As Ama follows Emory to the kingdom of Harding, however, she discovers that not all is as it seems. There is more to the legends of the dragons and the damsels than anyone knows, and the greatest threats may not be behind her, but around her, now, and closing in.
---
I love books that play with format in unexpected ways. This is one big reason why novels in verse are so captivating: they take something that seems familiar — poetry — and uses that format to tell a full narrative.
One of my favorite takes on format is what I call the graphic hybrid. These are books which integrate comics into the narrative. They're not graphic novels and they're not traditional novels (and in some cases, they're not novels at all). They blend the two into a cohesive and compelling story.
There aren't a whole lot of books that fall into this hybrid category, but whenever a new one arises, my fascination with them and desire to see more of them rises. This year, we've had at least two books, one fiction and one nonfiction, play with this format. A bonus, too, is that the nonfiction title also integrates verse into the story telling.
Find below a small selection of the small number of these graphic hybrids. They're a great study in storytelling, as much as they're a great way to help readers who are looking for comics but also a traditional book find something to try. They're also great for introducing those who are a bit more reluctant to either format to something new.
Agony House by Cherie Priest, with art by Tara O'Connor
If you're a fan of haunted house stories, this new book from Priest and O'Connor will be totally up your alley. It follows Denise and her family as they move back to New Orleans following Hurricane Katrina. They're rehabbing a rundown house with the hopes of living there and turning it into a bed and breakfast. BUT IT MIGHT BE HAUNTED. The book takes on this, as well as some brilliant themes of gentrification and race.
Chasing Shadows by Swati Avasthi, with art by Craig Phillips
If this book had published in 2017 or 2018 and not 2014, I think it would have hit a much more enthusiastic audience but one of the beauties of back list titles is introducing them to new readers. This gem of a book follows three best friends who find themselves victims of a shooting. One of them dies, leaving the other two to suss out what their relationship is to one another — especially as one girl succumbs to mental illness and grief. Smart, moving, and powerful, with art that really gets what wrestling with monsters like mental illness and grief feels like.
It's been so many years since I read this one, but it never falls out of my memory. The book is comprised of three short stories, all having to do with love and romance. But it's not exactly what you expect: it's supernatural, it's not always safe, and with the added benefit of illustrations, it's absolutely absorbing. This was a National Book Award Finalist nearly 10 years ago for a reason, and given the massive success Taylor's seen in recent years, it's worth a first visit or a repeat reading.
It's Frankenstein's big year this year, and this book hit shelves early in the year, too, so I hope it hasn't been forgotten or overlooked because it's brilliant. This is a nonfiction book in verse with illustrations (!) that follows the story of how Mary Shelley conceptualized and wrote the evergreen classic Frankenstein. I thought I knew quite a bit about the book and creator, but this book highlighted how much I knew that was actually not entirely true. The "bet" that led to the book being written? True, but, when the story of Frankenstein is presented that way, it undercuts the years of thinking about the story Shelley spent before putting pen to paper. A moving, smart, and timely read in a format that's remarkable and unique.
Also cool? Judge did the writing and the art herself.
____________________
Thanks for hanging out & we'll see you again later this week!