Hey Kid Lit friends,
There are lots of holiday books coming out today as publishers and booksellers gear up for December! As usual, if there is a book I have read and loved, I'll mark it with a 
.
*Please note that all book descriptions are from Goodreads.
---
Sponsored by …And Then You Die of Dysentery: Lessons in Adulting from the Oregon Trail by Lauren Reeves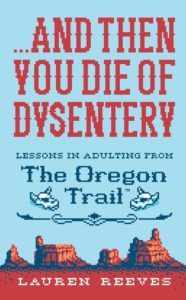 Pack your wagons, find your ride-or-(literally) die friends, and roll up to Matt's General Store with a sack of cash—it's time to hit the Oregon Trail, twenty-first-century style! …And Then You Die of Dysentery is the perfect send-up to the sometimes frustrating, always entertaining, and universally beloved Oregon Trail computer game. Featuring a four-color design in the game's iconic 8-bit format, alongside pop culture references galore, the book offers 50 humorous, snarky life lessons gleaned from the game's most iconic moments—it's the ultimate trip down memory lane . . . all the way to the Willamette Valley.
---
Board Book New Releases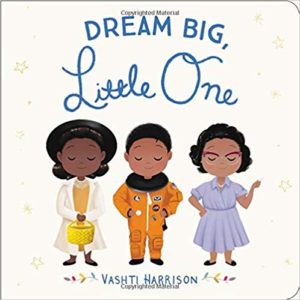 Dream Big, Little One by Vashti Harrison
Among these women, you'll find heroes, role models, and everyday women who did extraordinary things – bold women whose actions and beliefs contributed to making the world better for generations of girls and women to come. Whether they were putting pen to paper, soaring through the air or speaking up for the rights of others, the women profiled in these pages were all taking a stand against a world that didn't always accept them.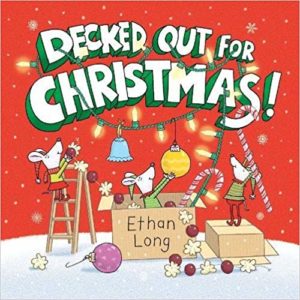 Decked Out for Christmas! by Ethan Long
The mice at the North Pole are getting ready to deck the halls with all the essentials. They've got ornaments and twinkle lights, candy canes and popcorn garlands. One by one, the mice unpack all the merriest decorations, but soon the items become a bit unexpected. Hot cocoa? Fuzzy dice? A map? In a festive twist, it's revealed that it's not a tree the mice are decorating, but Santa's sleigh, all decked out for Christmas Eve!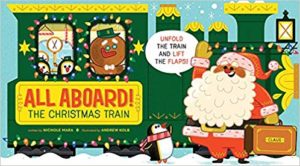 All Aboard! The Christmas Train by Nichole Mara, illustrated by Andrew Kolb
Folding out car by car, this accordion-style book takes readers on a tour of Santa's Christmas train. Each car has lots to see—elves making toys, penguins playing, reindeer preparing for the big day—as Santa searches for his missing boot.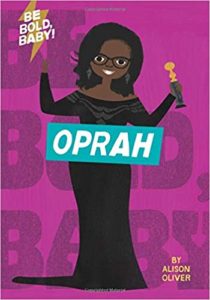 Be Bold, Baby! Oprah! by Alison Oliver
Celebrate Oprah Winfrey's most motivational and powerful moments, with quotes from the media mogul, and vibrant illustrations by Alison Oliver. Be encouraging. Be brilliant. Be you. Each book ends with a mirror! Look for the companion volume, Be Bold, Baby: Michelle Obama.
Picture Book New Releases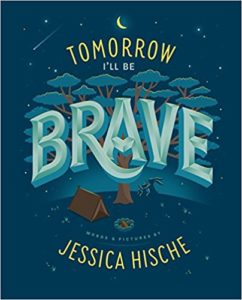 Tomorrow I'll Be Brave by Jessica Hische
Journey through a world filled with positive and beautifully hand-lettered words of widsom, inspiration, and motivation. As this book reminds readers, tomorrow is another day, full of endless opportunities–all you have to do is decide to make the day yours.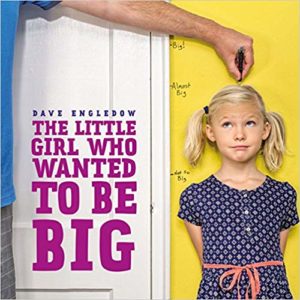 The Little Girl Who Wanted to Be Big by Dave Engledow
There once was a little girl who wanted to be big. Her dad told her that to be big, she had to think big. So she did—she grew taller than the tallest buildings, larger than the largest mountain, and big enough to reach the farthest plants. But being the biggest person in the universe also makes it hard to go home. What's the biggest girl in the world to do when she's grown up a little too fast?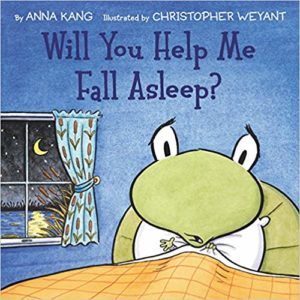 Will You Help Me Fall Asleep? by Anna Kang, illustrated by Christopher Weyant
Tomorrow is the annual boat race and Monty needs as much energy as possible to make sure he crosses the finish line first. He tried closing his eyes, counting sheep, and reading a book, but nothing will help him fall asleep.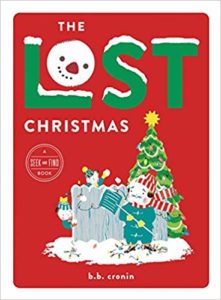 The Lost Christmas by B.B. Cronin
It's time to decorate the tree for Christmas–but Grandad can't find any of his ornaments! The hunt for the missing decorations takes the children up and down in Grandad's bric-a-brac-filled house and out into a winter wonderland. And when every ornament is on the tree at last, Grandad has a wonderful holiday surprise in store. This seek-and-find book from the award-winning author of The Lost House and The Lost Picnic will delight readers of any age and belongs under a Christmas tree.
 Construction Site on Christmas Night by Sherri Duskey Rinker, illustrated by Ethan Long
The trucks are gearing up for Christmas by building a special gift! But, there's a surprise waiting for each of them, too! Presents await for Excavator, Bulldozer, Crane, Dump Truck, and Cement Mixer as each finishes their part of this big, important job and rolls off to a sweet and sleepy goodnight.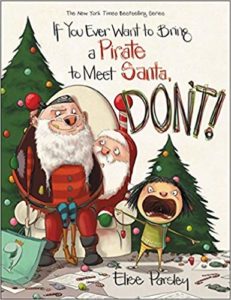 If You Ever Want to Bring a Pirate to Meet Santa, Don't! by Elise Parsley
If your dad says you're going to meet a bearded guy with a red suit and a bag full of treasures…he is not talking about meeting a pirate! But Magnolia has already invited the misbehaving swashbuckler to jump in line to meet Santa. So what if pirates are on the Naughty List? She'll just teach this one to change his scurvy ways–no plundering or sword-fighting or plank-walking allowed! Plus, Santa is happy to hear everyone's wish list. Right?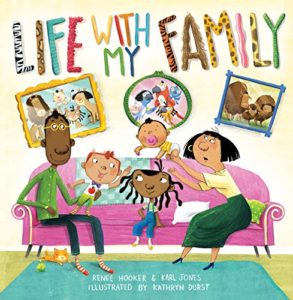 Life With My Family by Renee Hooker and Karl Jones, illustrated by Kathryn Durst
When a young girl gets frustrated with her chaotic life at home, she imagines what things would be like if her family were animals instead. Would life be better as a pod of pelicans, a pride of lions, or a herd of buffalo? Or is it ultimately a family of humans that she needs?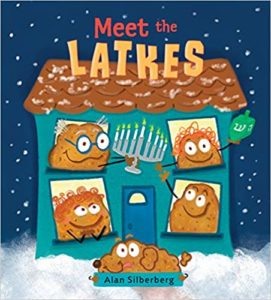 Meet the Latkes by Alan Silberberg
Lucy Latke's family is just like yours or mine. Except that they're potato pancakes. And also, they are completely clueless. After lighting the menorah and gobbling the gelt, Grandpa Latke tells everyone the Hanukkah story, complete with mighty Mega Bees who use a giant dreidel to fight against the evil alien potatoes from Planet Chhh. It's up to the Latke family dog to set the record straight. (To start with, they were Maccabees, not Mega Bees…) But he'll have to get the rest of the Latkes to listen to him first!
Chapter Book New Releases
 The Infamous Ratsos: Project Fluffy by Kara LaReau, illustrated by Matt Myers
Chuck Wood is the most popular kid in school, and Louie Ratso can't believe that Chuck has asked him for help! Chuck likes Louie's friend Fluffy Rabbitski, and he wants Louie to help him get Fluffy to notice him. As for Ralphie Ratso, he can't believe that his brother wants to spend all his time with Chuck instead of with him. Meanwhile, despite Louie and Chuck's attempts to get Fluffy's attention, she has eyes for only one thing: her garden. But there may be hope. As their father, Big Lou, tells his boys, the best way to get someone to like you is to show that you're interested in what they like. After all, that's how Big Lou won over Mama Ratso years ago.
Middle Grade New Releases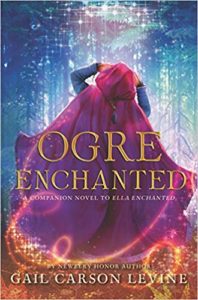 Ogre Enchanted by Gail Carson Levine
Evie is happiest when she is healing people, diagnosing symptoms and prescribing medications, with the help of her devoted friend (and test subject) Wormy. So when Wormy unexpectedly proposes to her, she kindly turns him down; she has far too much to do to be marrying anyone. And besides, she simply isn't in love with him. But a certain meddling fairy named Lucinda has been listening in, and she doesn't approve of Evie's rejection. Suddenly, Evie finds herself transformed from a girl into a hideous, hungry ogre! Stuck in this new and confusing form, Evie now has only sixty-two days to accept another proposal—or else be stuck as an ogre forever.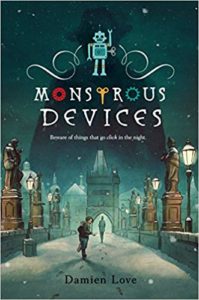 Monstrous Devices by Damien Love
On a winter's day in a British town, twelve-year old Alex receives a package in the mail: an old tin robot from his grandfather. "This one is special," says the enclosed note, and when strange events start occurring around him, Alex suspects this small toy is more than special; it might be deadly. Right as things get out of hand, Alex's grandfather arrives, pulling him away from an attack—and his otherwise humdrum world of friends, bullies, and homework—and into the macabre magic of an ancient family feud. Together, the duo flees across snowy Europe, unraveling the riddle of the little robot while trying to outwit relentless assassins of the human and mechanical kind.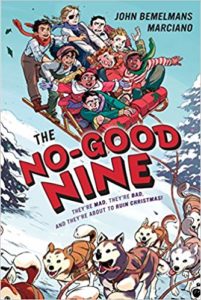 The No-Good Nine by John Bemelmans Marciano
Pittsburgh, 1931. When Peter awakens on Christmas morning to find his stocking full of coal, he is outraged. After he finds the Naughty List, which contains the names of some other children who received no gifts, he decides they should band together and journey to Santa's workshop to plead their case, as well as play with the toys intended for the Nice children. The ragtag band of misfits sets out on a series of wild misadventures as they travel by train, truck, dog sled, and boat, encountering thieves and bootleggers, in order to reach the renowned Toy Factory only to accidentally burn it down.
Nonfiction New Releases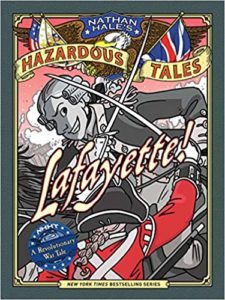 Lafayette! by Nathan Hale
A captain at eighteen and a major general by nineteen, he was eager to prove himself in battle. When he heard about the Revolution going on in America, he went overseas and fought alongside Alexander Hamilton and George Washington for America's independence. Nathan Hale's Hazardous Tales are graphic novels that tell the thrilling, shocking, gruesome, and TRUE stories of American history. Read them all—if you dare!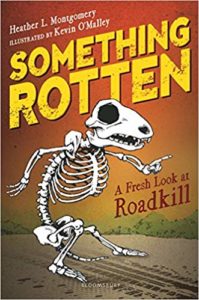 Something Rotten by Heather Montgomery
When Heather L. Montgomery sees a rattlesnake flattened on the side of the road, her first instinct is to pick it up and dissect it–she's always wanted to see how a snake's fangs retract when they close their mouths, and it's not exactly safe to poke around in a live reptile's mouth. A wildlife researcher with a special penchant for the animals that litter the roadways, Heather isn't satisfied with dissecting just one snake. Her fascination with roadkill sets her off on a journey from her own backyard and the roadways of the American South to scientists and kids in labs and homes across the globe.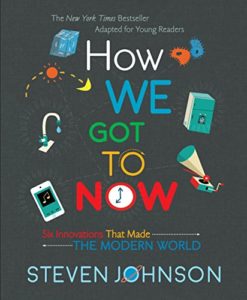 How We Got to Now by Steven Johnson
In the lively storytelling style that has made him a popular, bestselling author, Steven Johnson looks at how accidental genius, brilliant mistakes, and unintended consequences shape the way we live in the modern world. Johnson's "long zoom" approach connects history, geography, politics, and scientific advances with the deep curiousity of inventors or quirky interests of tinkerers to show how innovation truly comes about.
Backlist Book Recommendations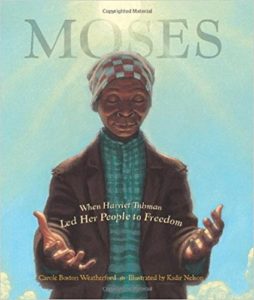 Picture Book Recommendation: Moses: When Harriet Tubman Led Her People to Freedom by Carole Boston Weatherford, illustrated by Kadir Nelson
This poetic book is a resounding tribute to Tubman's strength, humility, and devotion. With proper reverence, Weatherford and Nelson do justice to the woman who, long ago, earned over and over the name Moses.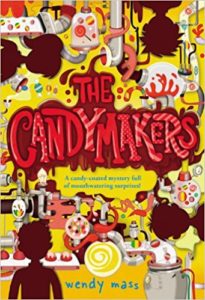 Middle Grade Book Recommendation: The Candymakers by Wendy Mass
In the town of Spring Haven, four children have been selected to compete in the national candymaking contest of a lifetime. Who will make a candy more delicious than the Oozing Crunchorama or the Neon Yellow Lightning Chew?
Logan, the candymaker's son, who can detect the color of chocolate by feel alone? Miles, the boy allergic to rowboats and the color pink? Daisy, the cheerful girl who can lift a fifty-pound lump of taffy as if it were a feather? Philip, the suit-and-tie-wearing boy who's always scribbling in a secret notebook?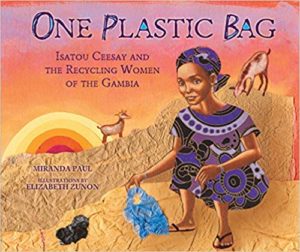 Nonfiction Recommendation: One Plastic Bag: Isatou Ceesay and the Recycling Women of the Gambia by Miranda Paul, illustrated by Elizabeth Zunon
Plastic bags are cheap and easy to use. But what happens when a bag breaks or is no longer needed? In Njau, Gambia, people simply dropped the bags and went on their way. One plastic bag became two. Then ten. Then a hundred.
Giveaway!
Don't forget to enter our giveaway for a custom book stamp for your personal library! Click here to enter.
That's it for me – I have to get back to reading! I would love to know what you are reading this week! Find me on Twitter at @KarinaYanGlaser, on Instagram at @KarinaIsReadingAndWriting, or email me at karina@bookriot.com.
Until next week!
Karina
Annabelle is trying to hypnotize you into reading ALL THE BOOKS.
*If this e-mail was forwarded to you, follow this link to subscribe to "The Kids Are All Right" newsletter and other fabulous Book Riot newsletters for your own customized e-mail delivery. Thank you!*