Hi, Kid Lit fans!
I am very excited to have New York Times bestselling author Alan Gratz on the newsletter today! Alan is the author of multiple books for young readers, including Refugee, Ban This Book, Projekt 1065, Code of Honor, and The League of Seven series. His most recent book, Grenade, is set during World War II, the day the Americans land on Okinawa. The Japanese Army pulls Hideki Kaneshiro and all the other boys out of middle school and gives them each two grenades. One grenade, they tell Hideki, is to kill an American soldier. The other grenade is to kill himself.
---
Sponsored by Zola's Elephant, written by Randall de Sève and illustrated by Pamela Zagarenski.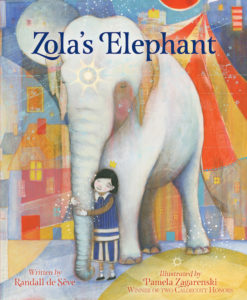 In this stunningly illustrated book about making a new friend and moving into a new home, two-time Caldecott-honor winning illustrator Pamela Zagarenski and New York Times bestselling author Randall de Sève create a dazzling world that celebrates both the power of imagination and the bravery it can inspire.
---
I had a chance to ask Alan about his research, writing habits, and the historical middle grade books he loves. Enjoy!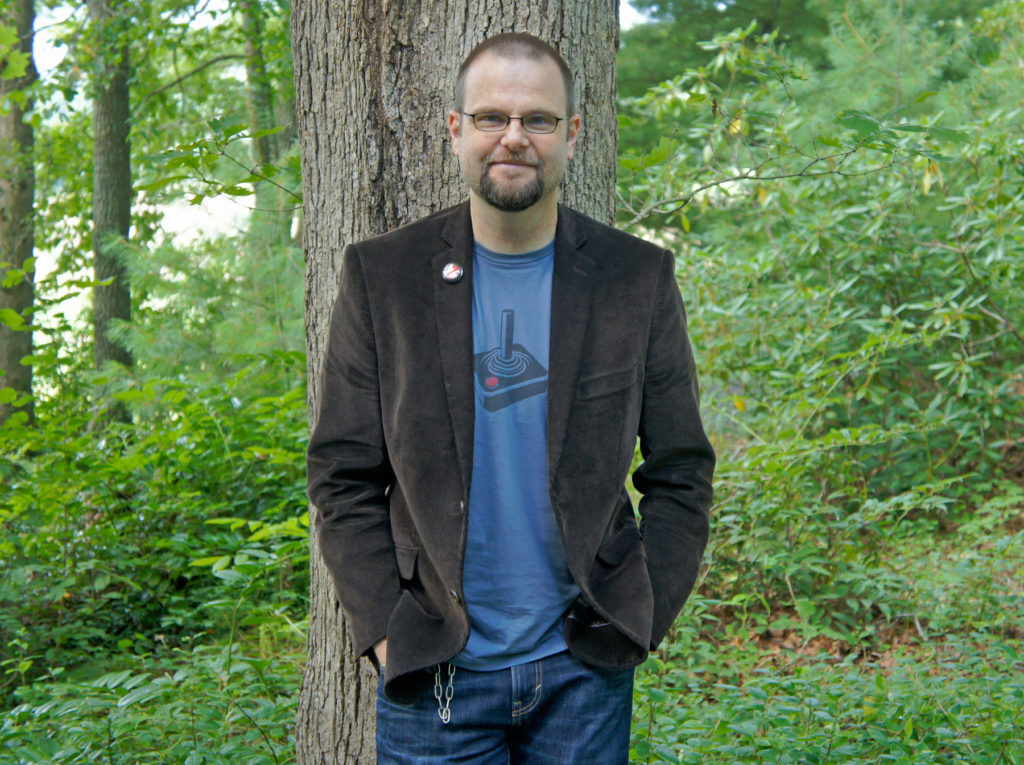 Photo Credit: Wes Stitt
Karina Yan Glaser: I absolutely loved Grenade. I read in an interview you did with the Cybils Awards that this book began when you visited Japan and met an old man who was a boy on Okinawa during World War II. Did you keep in touch with this man while writing the book?
Alan Gratz: Hi Karina! Thank you! Yes, I was first turned on to this story by a man I met when I visited Japan almost eight or nine years ago, but alas, no, I haven't been in touch with him in a long time. I was in Tokyo as an Artist in Residence at the American School in Japan in 2010, and he was introduced to me casually by one of the teachers at the school. His story stunned me, and stuck with me.
I don't know about you, but there are some ideas I know I am not ready to write when they come my way. I could have never written Refugee at the beginning of my career, for example. That was a book I needed a lot more experience to be able to write. Grenade was the same for me. I knew this was an incredible situation—untrained Okinawan middle school boys given grenades and sent off to kill trained American Marines—but I didn't even know where to begin to tell that story. So I filed it away in my brain with all the other book ideas I have, and sat on it for years.
Cut to 2017. I've just tackled the biggest story of my career so far, Refugee, and the story of the battle of Okinawa resurfaced for me. In fact, it was Refugee that showed me the way in to telling the story that became Grenade. Refugee is the story of what happens to three kids and their families when war comes and they have to leave their country to find safety. Grenade would be the story of what happens when war comes and a boy and his family are unable to leave. Grenade is, essentially, a story about refugees in their own land.
When I decided I wanted to write about the Battle of Okinawa, I tried getting back in touch with the teachers at the school to see if they could reconnect me with the man who had told me the story, but folks had moved on by then. I wish I'd had him as a resource! If I had, I might have written specifically about him and his experiences, the way I did with Jack Gruener and his personal experiences in the Holocaust for my book Prisoner B-3087. Unable to track him down, I had to use the story he told me only as inspiration. From there I had to find other resources to bring this piece of history to life.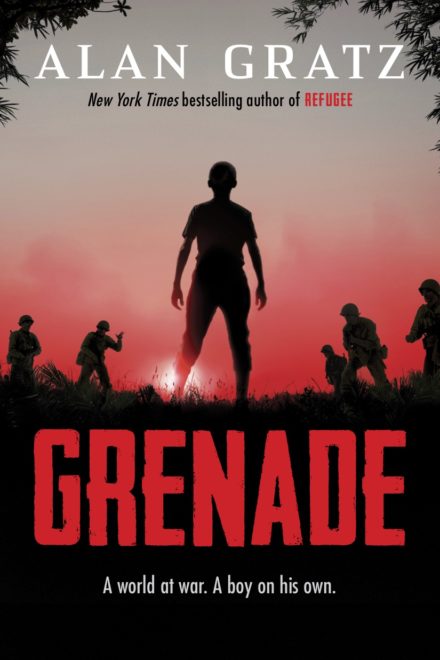 KYG: What type of research did you have to do to write Grenade?
AG: I read a number of books about the war in the Pacific, some specifically about the Battle of Okinawa. Much has been written about the battles in the Pacific, and I read historians' accounts as well as the accounts of soldiers and Marines who were on Okinawa and other islands where the Americans and Japanese fought. But those books only told one side of the story: the American side. And the American military side at that.
History, as they say, is told by the winners. But I wanted to tell a different history. One that isn't often told. I wanted this book, as I said before, to be the story of the civilians on Okinawa. The people who became refugees in their own country when two powerful nations chose their island to wage war against each other. For those stories, my primary course was a wonderful book of interviews done with dozens of Okinawans who survived the Battle of Okinawa. Many stories were told in that collection—stories of boys sent into battle, of girls recruited as nurses, of families separated by war, and always of civilians in harm's way, sometimes deliberately so. Nowhere on the island was safe during the month-long battle. From those stories, I built my fictional Okinawan boy and his family, basing everything that happens to them on things that really happened to the Okinawan people during the battle. I read other books about Okinawa as well—books about Okinawan history, and culture, and religion. And we had Okinawan readers to help me too.
KYG: You have a very busy travel schedule! How do you find time to write?
AG: I block my travel out so that I have three months on the road doing school visits and conferences, then three months home, then three months on the road again doing visits, then three months off again. I have to get most of my writing done in those six months I'm home! It certainly forces me to focus if I want to have a new book out each year…
KYG: What first got you interested in writing books for middle grade readers?
AG: The first three books of my career were really more young adult than middle grade. I thought that was the direction I was going to go the idea for The Brooklyn Nine came along. The Brooklyn Nine is nine "innings"—nine short stories—about the nine kids in nine successive generations of an American family, and their connections to baseball and American history. The kid in one story is the parent in the next, and the grandparent in the next, and so on. It made sense for most of them to be between the ages of 8 and 12, and suddenly I found myself writing my first truly middle grade novel. And I loved it. Which shouldn't really have come of as much of a surprise as it did. I was an eighth grade English teacher in a former life, and in some ways I feel like I never left middle school. 🙂 I am very happy where I am now, writing middle grade fiction. I wouldn't want it any other way!
KYG: What are you working on now?
AG: Next up is a novel about D-Day! It's middle grade, and told from the perspectives of a number of different people, both kids and adults, who came together to make the Allied invasion of France a success. I wrote the first draft over the summer, and will jump into revisions when I'm home for the winter!
KYG: What are some other middle grade historical novels you would recommend?
I love Between Shades of Gray and Salt to the Sea by Ruta Sepetys. I'm also a big fan of The War That Saved My Life by Kimberly Brubaker Bradley. Gary Schmidt's Lizzie Bright and the Buckminster Boy is a favorite. Laurie Halse Anderson's Revolutionary War era trilogy Chains, Forge, and Ashes are amazing. Linda Sue Park's A Long Walk to Water was a real inspiration when I was writing Refugee, and her books about Korean history—The Kite Fighters, A Single Shard, and When My Name was Keoko—are terrific. Lauren Tarshis's I Survived series is a great introduction to historical fiction for a lot of kids.
KYG: What great book recommendations! Thank you, Alan, for taking time to chat with me!
Check out Alan Gratz's terrific new book, Grenade, available now. More information about all of his books is available on his website.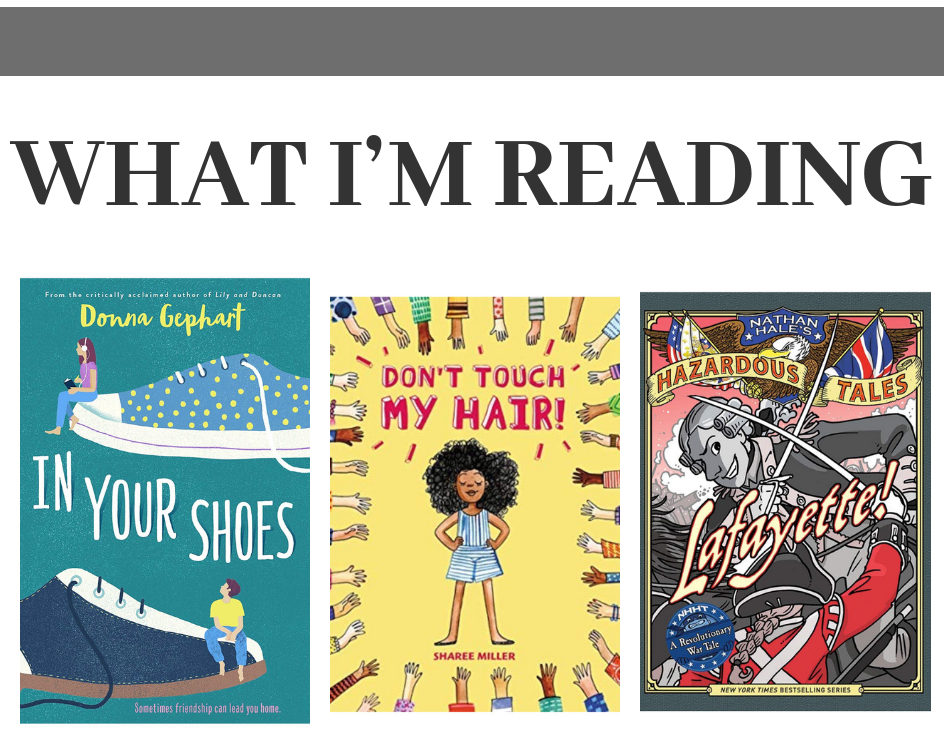 I'm really enjoying Donna Gephart's In Your Shoes. It's about two middle school students: Amy is new to Buckington Middle School, and Miles is an anxious boy who enjoys working at his family's bowling ally. Their lives intertwine in unexpected and beautiful ways.
Don't Touch My Hair! by Sharee Miller (Little, Brown, 11/6) is a great picture book! Aria gets frustrated because wherever she goes, someone wants to touch her hair. In the street, strangers reach for her fluffy curls; and even under the sea, in the jungle, and in space, she's chased by a mermaid, monkeys, and poked by aliens…until, finally, Aria has had enough!
Nathan Hale continues his bestselling Hazardous Tales series with Lafayette!, a story about the Marquis de Lafayette, a French noble. He was a captain at eighteen and a major general by nineteen, but he was eager to prove himself in battle. When he heard about the Revolution going on in America, he went overseas and fought alongside Alexander Hamilton and George Washington for America's independence.
Around the web…
Finalists for 2018 National Book Award in Young People's Literature Announced, via Publisher's Weekly
7 #ownvoices Native American Picture Books, via Book Riot
Be Loud: 28 Best Kindergarten Read Aloud Books, via Book Riot
Podcast: 20 Years of Magic, Part 2: The Artists of Harry Potter, via Scholastic
Giveaway!
Don't forget to enter our giveaway for a custom book stamp for your personal library! Click here to enter.
I would love to know what you are reading this week! Find me on Twitter at @KarinaYanGlaser, on Instagram at @KarinaIsReadingAndWriting, or email me at karina@bookriot.com.
Until next time!
Karina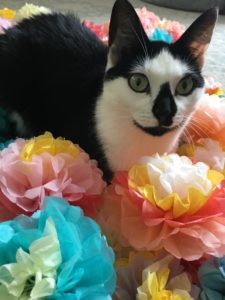 Annabelle says hello!
*If this e-mail was forwarded to you, follow this link to subscribe to "The Kids Are All Right" newsletter and other fabulous Book Riot newsletters for your own customized e-mail delivery. Thank you!*