This edition of Today in Books is sponsored by Zola's Elephant, written by Randall de Sève and illustrated by Pamela Zagarenski.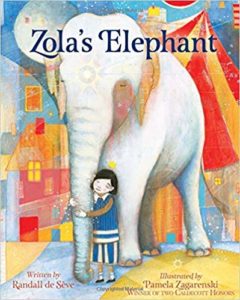 ---
Join YA Authors In One Action A Day
Follow #28DaysOfAction on Twitter where YA authors have joined together to take one action–big or small–a day to do until the election. It's a great way to combat that feeling of having no power in a situation, plus many are giving great examples of things to do if you don't even know where to start.
Calling John le Carré Fans!
Here is your teaser trailer for AMC's six-part miniseries adaptation of The Little Drummer Girl. Starring Florence Pugh, Alexander Skarsgård, and Michael Shannon it will premiere November 19th.
And In History Is Cool News
An ancient Roman comic strip with speech bubbles was found in an unearthed Roman tomb in the northern Jordanian town of Beit Ras. There's more than sixty speech bubble like inscriptions that explain the action in the images. You can see more images and a video of the discovery here.
And don't forget to enter our giveaway for a custom book stamp for your personal library. Stamp all the books!