Bienvenidos, bibliophiles! Welcome to In The Club, a newsletter of resources to keep your book group well-met and well-read.
Can we talk? Last week was hard. So is this week. If you're tired, it's ok. You're not alone. To women, to survivors, to rioters everywhere: I believe you, I see you, and hope that today we might share in a little bit of well-deserved joy.
So let's get to it.
---
This newsletter is sponsored by Epic Reads.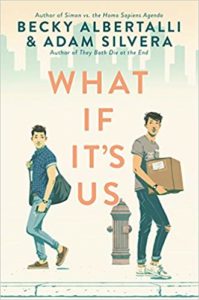 Bestselling authors Becky Albertalli and Adam Silvera combine their talents in this heartfelt collaboration about two boys who can't decide if the universe is pushing them together—or pulling them apart. ARTHUR is only in New York for the summer, but if Broadway has taught him anything, it's that the universe can deliver a show-stopping romance when you least expect it. BEN thinks the universe needs to mind its business. If it had his back, he wouldn't be on his way to the post office carrying a box of his ex-boyfriend's things. But when they meet-cute at the post office, what exactly does the universe have in store for them . . . ?
---
It's giveaway time! Enter here to win this gorgeous custom bookplate stamp and make your library just a little bit fancier.
Also, file this away under Nice Things Vanessa Can't Have because I'm seemingly one of seven Latinos without a middle name. That's right, folks. My initials are V.D. Ay ay ay.
Sea Witch & Chill? – Madeline Miller's Circe has been optioned for TV!!!! Somebody please tell me what network or streaming service I should throw my hard-earned money at because my body and Visa are ready.
Book Club Bonus: I'm a little bit obsessed with books that tell a traditionally villainized woman's story from her perspective and fully flesh it out with lots of juicy nuance. Pick a retelling that does this sort of thing, then unpack how the retelling changes (or doesn't change!) your interpretation of the main character. Need some recs? Try Circe, Wicked, or Language of Thorns.
30+ (and 40, and 50, and 60…) and Thriving – "Youth is often celebrated, especially in publishing; there is a pervasive idea that one must debut by Age X (often 30) or one has Failed Utterly." Wise words from the Riot's Annika Klein in this piece on women authors who debuted at 35+. Don't mind me, I'll just be over here slow-clapping as I mutter, "I haven't missed the ship. I haven't missed the ship."
Book Club Bonus: Celebrate these women! Dedicate a season (or an entire book club, yeeee!) to reading work by women who were published after 35. Discuss how these women's perspectives and life experience have informed their work.
Related: Want to further support the authors? Check out this list of easy (many of which are $Free.99!) ways to do so.
Bookish Brujas – Here a witch, there a witch, everywhere a lit witch! The question is: which literary witch are you? Take this awesome quiz to find out.
Book Club Bonus: I said this newsletter was all about joy and I freakin' mean it. Have your whole book club take the quiz, then take turns sharing which witch they got and how they do or don't identify with that pick. Ooooh you should totally meet on Halloween and then dress up as each of those witches. Book Club Coven, yo.
Related: I got Elphaba and I AM HERE FOR IT. "Powerful, intelligent, and maybe not the biggest fan of precocious children." #awkward #iwasthatprecociouschild
If You Don't Give A Damn, We Don't Give A… – Yep… that is indeed a classy rap throwback from my 20s. Sing that chorus in the dark three times and the ghost of Lil' John will appear yelling, "YEAH!" More importantly, it's also the sentiment behind Unlikeable Female Characters, a brand new podcast by three feminist crime writers that's all about female characters who DGAF if you like them. Say it with me now: "YEAH!"
Book Club Bonus: You know you have to listen to this pod as a group, right? While you're waiting for the first episode to drop in a few weeks, check out the work of hosts Kristen Lepionka, Layne Fargo, and Wendy Heard.
Related: This piece by Rioter Olivia Páez on liking "unlikeable" women in fiction.
That One Time at Book Club – Book club ain't always easy: there's no time, but you make time and then Susan shows up and she hasn't read the book and she didn't bring a dish for the potluck and now you're throwing wine in her face so WHY GAWD WHY did you ever sign up for this??! One Rioter shares why you should throw a one-time book club and this might just be the answer to your readerly prayers. Brunch, bonding, and minimal commitment: f*ck yeah.
Book Club Bonus: Errrr… hold a one-time book club. Thank you for coming to my TED talk.
---
Thanks for hanging with me today. But wait! There's more! You can catch me this Thursday on Get Booked where I sub in for Amanda and try not to make a giant fool of myself.
As always, you can find me on both el Twitter and the gram @buenosdiazsd. Shoot me an email at vanessa@riotnewmedia.com if you have any feedback or just to say hola.
Stay bad & bookish, my friends.
Vanessa
More Resources:
– Our Book Group In A Box guide
– List your group on the Book Group Resources page