This edition of Today in Books is sponsored by After the Fire by Will Hill.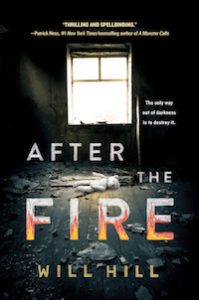 ---
Gather Round Fans Of Thrillers With Unlikable Women
We're getting a podcast! Crime writers Kristen Lepionka, Layne Fargo, and Wendy Heard have created Unlikeable Female Characters: "A new podcast where feminist thriller writers talk about female characters who don't give a damn if you like them." It's set to launch in a few weeks and you can follow on Twitter for more information.
Does It Feel Like You've Been Waiting For-EV-er For The Good Omens Adaptation?
I can't hurry up the upcoming Amazon show, based on Neil Gaiman and Terry Pratchett's novel, but I can give you a little nibble with a trailer!
The Swedish Academy Elects New Members
Hopefully making it functional again and bringing them closer to selecting winners for the Nobel Prize for Literature. Congrats to Eric Runesson, a Swedish supreme court judge, and Jila Mossaed, an Iranian-born novelist and poet.
And don't forget to enter our giveaway for a custom book stamp for your personal library. Stamp all the books!