Hello, Kid Lit friends!
It's October, which means it's time to talk spooky books! Here are some wonderful children's books that will get you in the mood for fall and Halloween. All descriptions from Goodreads.
---
Sponsored by So Done. "Verdict: A pitch-perfect look at changing adolescent relationships and resilience."– School Library Journal, Starred Review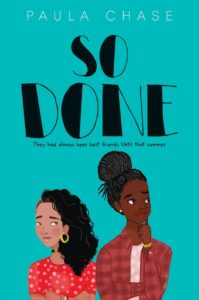 Being a girl in the Cove is different from being a boy. A girl needs her crew. But what happens when your crew is finished with you? Jamila Phillips and Tai Johnson have been inseparable since they were toddlers. In Pirates Cove – a low-income housing project – Mila's single father does everything he can to support his kids and his community. Tai lives across the street with her grandmother, who is the only family she needs. When they are reunited after a summer apart, their friendship threatens to combust from the pressure of secrets, middle school, and dance auditions for a new talented-and-gifted program.
---
Picture Books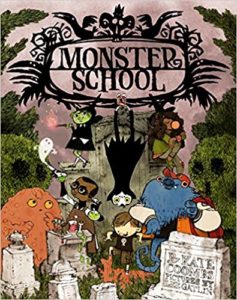 Monster School by Kate Coombs, illustrated by Lee Gatlin
Twilight's here. The death bell rings. Everyone knows what the death bell brings—it's time for class! You're in the place where goblins wail and zombies drool. (That's because they're kindergartners.) Welcome to Monster School. In this entertaining collection of poems, award-winning poet Kate Coombs and debut artist Lee Gatlin bring to vivid life a wide and playful cast of characters (outgoing, shy, friendly, funny, prickly, proud) that may seem surprisingly like the kids you know . . . even if these kids are technically monsters.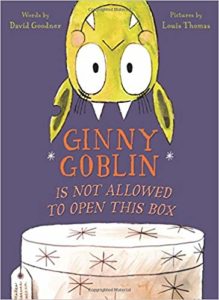 Ginny Goblin is Not Allowed to Open This Box by David Goodner, illustrated by Louis Thomas
Ginny Goblin has one simple rule to follow: She is not allowed to open this box. Not until dinnertime. But Ginny Goblin doesn't like to follow the rules, so nothing will stop her from trying to open this box. Not a tall tower, not a misty mountain, not a frightful forest, and certainly not a murky moat filled with scaly, scary serpents . . .  But wait! What is in the box? You'll have to open this book to find out! (Don't worry, you're allowed.)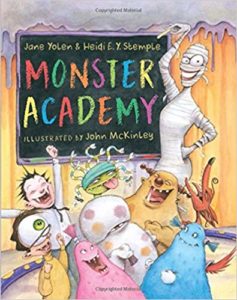 Monster Academy by Jane Yolen and Heidi E.Y. Stemple, illustrated by John McKinley
Come along with Principal Frank N. Stein into a bright, energetic classroom where the class pet is a big purple boa constrictor, recess is in a swamp, and class bats help build a Creepy Castle in the Monster Maker's Lab. When Tornado Jo, a new student, roars into class, a storm is brewing. Who could ever guess that her new best friend will be a vampire, and she'll help him find his missing fang?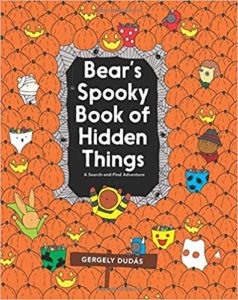 Bear's Spooky Book of Hidden Things by Gergely Dudas
On Halloween night, Bear is hoping for all treats and no tricks. And he'd like lots of his very favorite treat: honeycomb! Bear is off on an adventure—through a pumpkin patch and a haunted house and a corn maze—to search for this sweet. Can YOU help Bear sort through all the tricks to uncover where his treat is hidden?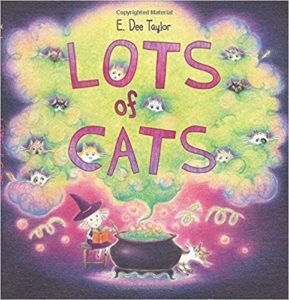 Lots of Cats by E. Dee Taylor
A lonely little witch tries to brew a magical potion to conjure up some friends, but instead she gets cats…lots of cats! Margaret the witch is about to find out that taking care of a bunch of lively cats sounds like lots of fun…but it could turn out to be lots of trouble!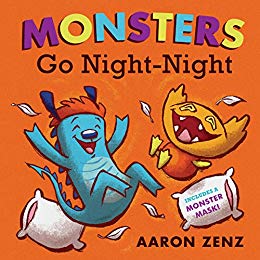 Monsters Go Night-Night by Aaron Zenz
Bedtime means brushing your teeth, putting on pajamas, snuggling, and kissing your family goodnight. For monsters, bedtime looks a little different. They brush their teeth, but not with a toothbrush. They get dressed for bed, but not in slippers and nightcaps. They snuggle, but not with a blankie or a teddy bear. Monsters Go Night-Night takes readers through the bedtime rituals of seven friendly monsters while making each step of the routine a guessing game. Getting ready for bed has never been so much fun!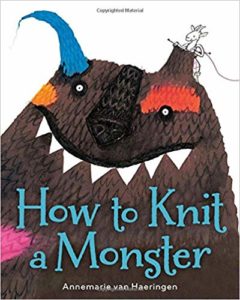 How to Knit a Monster by Annemarie van Haeringen
Greta the goat is a wonderfully accomplished knitter. She can even knit little goats and turn them loose to play around her feet. But when she gets distracted from her knitting, threatening creatures spring from her needles, each more menacing than the last. It takes quick thinking, courage, and brilliant knitting for Greta to find her way out of a perilous situation. In this whimsical story, creativity and craft empower our heroine to restore her safety . . . as long as she pays attention to what is growing on her knitting needles!
Chapter Books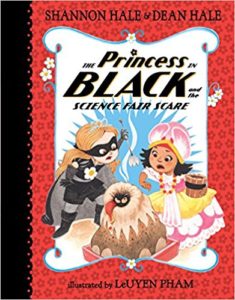 The Princess in Black and the Science Fair Scare by Shannon Hale & Dean Hale, illustrated by LeUyen Pham
Princess Magnolia is excited. Excited and nervous. She's going to the Interkingdom Science Fair today to present her poster about seeds and plants, and when she arrives, she sees that her friends are there too! Princess Honeysuckle made a mole habitat, Princess Sneezewort has built a blanket fort, and Tommy Wigtower has a talking volcano that's saying "EAAAAT!" Wait, what? A surprise goo monster makes this a job for the Princess in Black, and the Princess in Blankets is on the scene to lend a hand. But will two masked heroes be enough to save the science fair?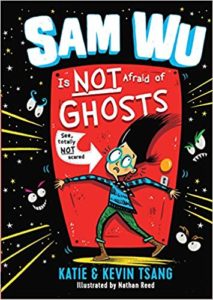 Sam Wu Is Not Afraid of Ghosts by Katie and Kevin Tsang
After an unfortunate (and very embarrassing) incident in the Space Museum, Sam goes on a mission to prove to the school bully, and all his friends, that he's not afraid of anything—just like the heroes on his favorite show, Space Blasters. And when it looks like his house is haunted, Sam gets the chance to prove how brave he can be. A funny, touching, and charming story of ghost hunting, escaped pet snakes, and cats with attitude!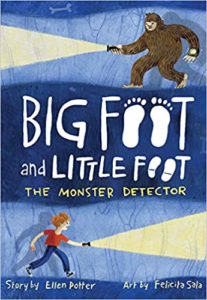 Big Foot and Little Foot: The Monster Detector by Ellen Potter, illustrated by Felicita Sala
Hugo is a young Sasquatch. Boone is a young boy. After an unlikely encounter, they've become an even unlikelier pair of best friends. After saving up his Monster Card wrappers, Hugo sends away for a special prize in the mail—a Monster Detector! Using the watchlike device, Hugo quickly spots a monster right in his own cavern. Spooked, but still excited about his prize, Hugo heads to school and finds yet another surprise—his friend Boone!
Middle Grade Books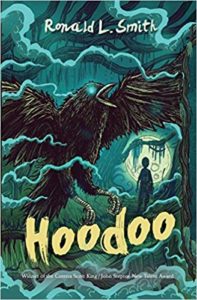 Hoodoo by Ronald L. Smith
Twelve-year-old Hoodoo Hatcher was born into a family with a rich tradition of practicing folk magic: hoodoo, as most people call it. But even though his name is Hoodoo, he can't seem to cast a simple spell. Then a mysterious man called the Stranger comes to town, and Hoodoo starts dreaming of the dead rising from their graves. Even worse, he soon learns the Stranger is looking for a boy. Not just any boy. A boy named Hoodoo. The entire town is at risk from the Stranger's black magic, and only Hoodoo can defeat him. He'll just need to learn how to conjure first.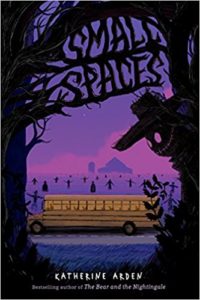 Small Spaces by Katherine Arden
After suffering a tragic loss, eleven-year-old Ollie only finds solace in books. So when she happens upon a crazed woman at the river threatening to throw a book into the water, Ollie doesn't think–she just acts, stealing the book and running away. As she begins to read the slender volume, Ollie discovers a chilling story about a girl named Beth, the two brothers who both loved her, and a peculiar deal made with "the smiling man," a sinister specter who grants your most tightly held wish, but only for the ultimate price.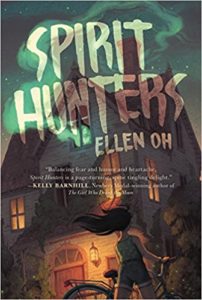 Spirit Hunters by Ellen Oh
Harper doesn't trust her new home from the moment she steps inside, and the rumors are that the Raine family's new house is haunted. Harper isn't sure she believes those rumors, until her younger brother, Michael, starts acting strangely. The whole atmosphere gives Harper a sense of déjà vu, but she can't remember why. She knows that the memories she's blocking will help make sense of her brother's behavior and the strange and threatening sensations she feels in this house, but will she be able to put the pieces together in time?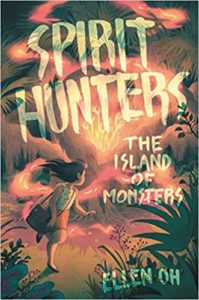 Spirit Hunters: The Island of Monsters by Ellen Oh
Harper Raine faces new challenges ahead when her parents take the whole family to a remote tropical island for vacation. As Harper starts to have visions of the resort's history of disappearances and discovers more about the island's dark and fabled past, she must use her newly acquired spirit hunting talents to save everyone on the island from murderous spirits on the attack.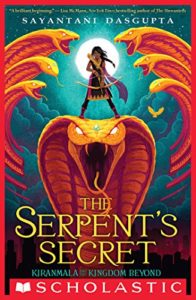 The Serpent's Secret (Kiranmala and the Kingdom Beyond) by Sayantani DasGupta
MEET KIRANMALA:
INTERDIMENSIONAL DEMON SLAYER
(Only she doesn't know it yet.)
On the morning of her twelfth birthday, Kiranmala is just a regular sixth grader living in Parsippany, New Jersey . . . until her parents mysteriously vanish and a drooling rakkhosh demon slams through her kitchen, determined to eat her alive. Turns out there might be some truth to her parents' fantastical stories-like how Kiranmala is a real Indian princess and how she comes from a secret place not of this world.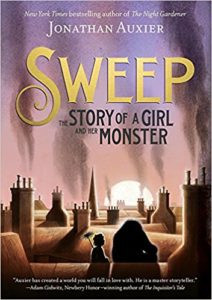 Sweep: The Story of a Girl and Her Monster by Jonathan Auxier
It's been five years since the Sweep disappeared. Orphaned and alone, Nan Sparrow had no other choice but to work for a ruthless chimney sweep named Wilkie Crudd. She spends her days sweeping out chimneys. The job is dangerous and thankless, but with her wits and will, Nan has managed to beat the deadly odds time and time again. When Nan gets stuck in a chimney fire, she fears the end has come. Instead, she wakes to find herself unharmed in an abandoned attic. And she is not alone. Huddled in the corner is a mysterious creature—a golem—made from soot and ash.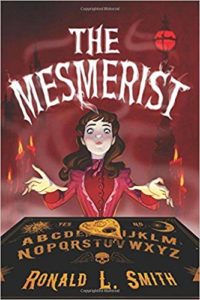 The Mesmerist by Ronald L. Smith
Thirteen-year-old Jessamine Grace and her mother make a living as sham spiritualists—until they discover that Jess is a mesmerist and that she really can talk to the dead. Soon she is plunged into the dark world of Victorian London's supernatural underbelly and learns that the city is under attack by ghouls, monsters, and spirit summoners. Can Jess fight these powerful forces? And will the group of strange children with mysterious powers she befriends be able to help? As shy, proper Jess transforms into a brave warrior, she uncovers terrifying truths about the hidden battle between good and evil, about her family, and about herself.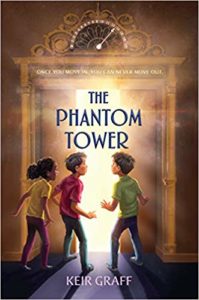 The Phantom Tower by Keir Graff
Colm and Mal are twins so identical their own mom can't tell them apart, but they're different in just about every other way. Mal's a pragmatist while Colm's a dreamer, and they bicker and battle constantly. Neither brother is excited to be moving to Chicago for a fresh start with their mom just after their dad's death. But nothing cures homesickness like intrigue–and their new home, Brunhild Tower, has plenty of it: mysterious elderly neighbors who warn against wandering the building at midday, strange sounds in the walls, and an elevator missing a button for the thirteenth floor.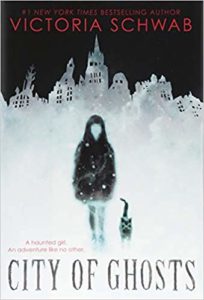 City of Ghosts by Victoria Schwab
Ever since Cass almost drowned (okay, she did drown, but she doesn't like to think about it), she can pull back the Veil that separates the living from the dead . . . and enter the world of spirits. Her best friend is even a ghost. So things are already pretty strange. But they're about to get much stranger. When Cass's parents start hosting a TV show about the world's most haunted places, the family heads off to Edinburgh, Scotland. Here, graveyards, castles, and secret passageways teem with restless phantoms. And when Cass meets a girl who shares her "gift," she realizes how much she still has to learn about the Veil — and herself.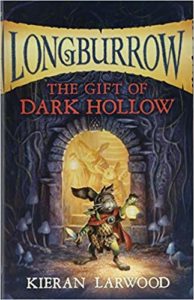 The Gift of Dark Hollow by Kieran Larwood
The Longburrow series is Middle-earth for middle graders as readers are drawn deeper and deeper into the story of the young rabbit Podkin One-Ear fighting to save his land from evil. Hiding with fellow refugees, Podkin, Paz, and Pook are temporarily safe in Dark Hollow Warren. But their enemies—the evil Gorm—still search for them. The rabbits' only hope may be to locate twelve magical Gifts and use them to defeat the Gorm. The fate of all rabbitkind is at stake, and danger lurks at every turn. It will take all the siblings' courage and ingenuity to find the Gifts, battle the Gorm, and stay alive. Action and intrigue infuse the second installment of a series that shows that anyone—even little rabbits—can do great things.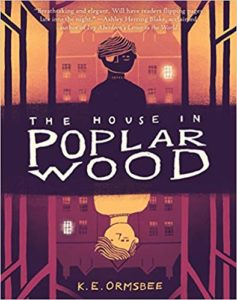 The House in Poplar Wood by K. E. Ormsbee
For as long as the Vickery twins can remember, Lee and his mother have served Memory, while Felix and his father assist Death. This is the Agreement. But one Halloween, Gretchen Whipple smashes her way into their lives. Her bargain is simple: If the twins help her solve the murder of local girl Essie Hasting, she'll help them break the Agreement. The more the three investigate, however, the more they realize that something's gone terribly wrong in their town. Death is on the loose, and if history repeats itself, Essie's might not be the last murder in Poplar Wood.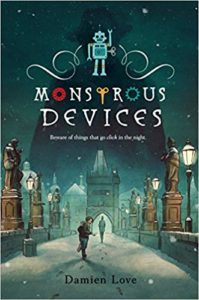 Monstrous Devices by Damien Love
On a winter's day in a British town, twelve-year old Alex receives a package in the mail: an old tin robot from his grandfather. "This one is special," says the enclosed note, and when strange events start occurring around him, Alex suspects this small toy is more than special; it might be deadly. Right as things get out of hand, Alex's grandfather arrives, pulling him away from an attack—and his otherwise humdrum world of friends, bullies, and homework—and into the macabre magic of an ancient family feud. Together, the duo flees across snowy Europe, unraveling the riddle of the little robot while trying to outwit relentless assassins of the human and mechanical kind.
Begone the Raggedy Witches by Celine Kiernan
On the night that Aunty dies, the raggedy witches come for Mup's family. Pale, cold, and relentless, the witches will do anything for the tyrannical queen who has outlawed most magic and enforces her laws with terror and cruelty — and who happens to be Mup's grandmother. When witches carry off her dad, Mup and her mam leave the mundane world to rescue him. But everything is odd in the strange, glittering Witches Borough, even Mam. Even Mup herself. In a world of rhyming crows, talking cats, and golden forests, it's all Mup can do to keep her wits about her. And even if she can save her dad, Mup's not sure if anything will ever be the same again.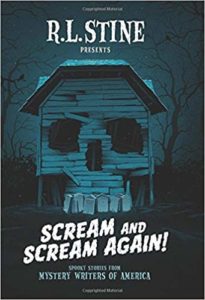 Scream and Scream Again! by R.L. Stine and the Mystery Writers of America
Scream and Scream Again! is full of twists and turns, dark corners, and devilish revenge. Collected in conjunction with the Mystery Writers of America, this set includes works from New York Times bestselling authors telling tales of wicked ice-cream trucks, time-travelling heroes, witches and warlocks, and of course, haunted houses. Read it if you dare! With twenty never-before-published scary stories from some of the most popular authors today, it's sure to leave readers screaming for more.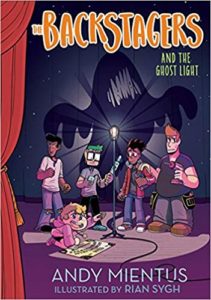 The Backstagers and the Ghost Light by Andy Mientus, illustrated by Rian Sygh
The stage crew at St. Genesius Prep—or Backstagers, as they like to call themselves—are ready for whatever the theater world can throw their way: the madness of tech week, inevitable prop malfunctions, and all the paranormal activity that goes on behind the scenes. Luckily Jory, Hunter, Sasha, Beckett, and Aziz are up for the job!
Graphic Novels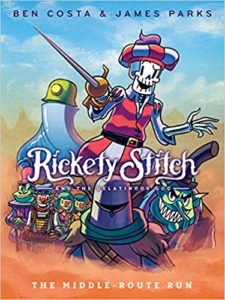 Rickety Stitch and the Gelatinous Goo: The Middle-Route Run by Ben Costa and James Park
Rickety Stitch is a walking, talking, singing skeleton minstrel, the only animated skeleton in the dungeon who seems to have retained his soul. He has no idea who he used to be when he was covered in a living, breathing sack of meat and skin. His only clue to his former identity is a song he hears snippets of in his dreams, an epic bard's tale that could also explain the old fog covering the comical fantasy land of Eem… Oh, and his sidekick and only friend is a cube of sentient goo.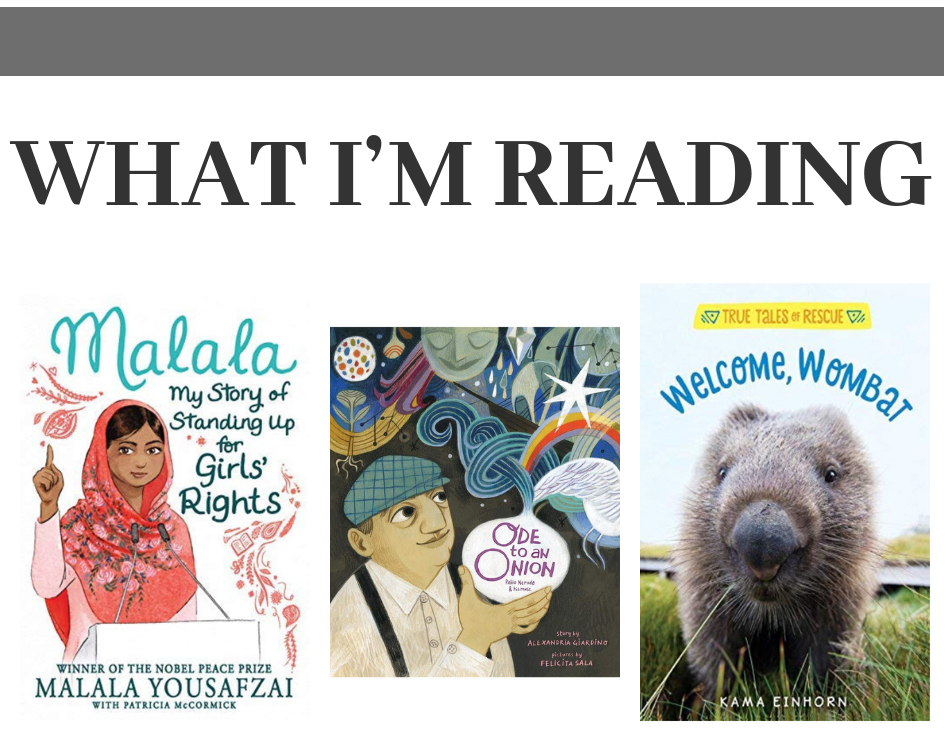 Malala: My Story of Standing Up for Girls' Rights by Malala Yousafzai with Patricia McCormick (Little, Brown, 10/9/18) is a great chapter book for kids who are reading beyond picture books but are not quite ready for the middle grade autobiography, I am Malala: How One Girl Stood Up for Education and Changed the World. This chapter book version has shorter chapters as well as illustrations throughout, and it is a good introduction to Malala's life and influence.
Ode to an Onion: Pablo Neruda and His Muse by Alexandria Giardino, illustrated by Felicita Sala (Cameron Kids, 10/9/18) is a gorgeous picture book about the poet Pablo Neruda and his friend Matilde. Pablo is in a sad mood, and his friend Matilde encourages him to find the beauty and joy in the garden around him.
Welcome, Wombat by Kama Einhorn (HMH, 11/20/18) is a great nonfiction chapter book for kids interested in animals and conservation. Filled with adorable photos and interesting facts, the story follows the life of Panzer, an injured baby wombat who arrives at Sleepy Burrows Wombat Sanctuary in Australia.
Around the web…
Q & A with Kekla Magoon, via Publisher's Weekly
19 Sparkly and Wonderful Unicorn Books for Babies and Children, via Book Riot
Which Vanderbeeker Sibling Are You?, via Book Riot
Giveaway
Don't forget to enter our giveaway for a custom book stamp for your personal library!
I'd love to know what you are reading this week! Find me on Twitter at @KarinaYanGlaser, on Instagram at @KarinaIsReadingAndWriting, or email me at karina@bookriot.com.
Until next time!
Karina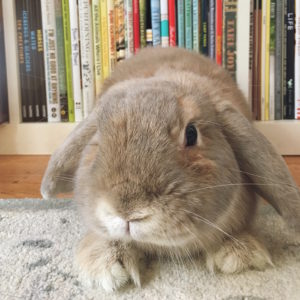 *If this e-mail was forwarded to you, follow this link to subscribe to "The Kids Are All Right" newsletter and other fabulous Book Riot newsletters for your own customized e-mail delivery. Thank you!*