Hey Kid Lit friends,
Happy Tuesday! Happy new release day!
Quick public service announcement: Due to the large number of books I am receiving each week, I will be limiting the number of new releases I feature to books I really love or books that are highly anticipated.
That being said, enjoy these new books! As usual, the book descriptions are from Goodreads.
---
Sponsored by Encounter Vol. 1 by Art Baltazar & Franco
A brand-new comic collection from the creators of Tiny Titans and Mini Marvels—Art Baltazar, Franco, and Chris Giarrusso—teamed up for the first time! Encounter is a new kind of hero; an alien escaped to Earth with pods that will eventually hatch to become his siblings. He can take any form he chooses, and decides to become a hero! With help from his talking dog, Barko, Encounter fights crime on our planet. Catch up on the colorful duo's adventures in Encounter Vol. 1: Out of This World, in stores October 9th from Caracal, an imprint of Lion Forge.
---
Board Book New Releases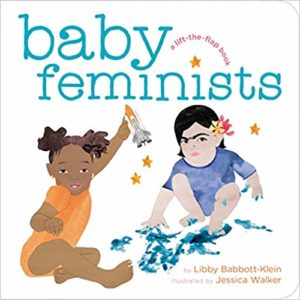 Baby Feminists by Libby Babbott-Klein, illustrated by Jessica Walker
Before Ruth Bader Ginsburg, Mae Jemison, Frida Kahlo, and others were change-making feminists, they were . . . babies! In this board book that's perfect for budding feminists, lift the flap to discover what these iconic figures might have looked like as adorable babies and toddlers. With its inspiring message that any baby can grow up to make the world a better place for all genders, this sturdy 7″ x 7″ board book makes the perfect baby gift for any family that wants to raise children who can recognize Gloria Steinem on sight.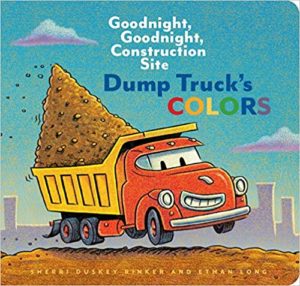 Dump Truck's Colors by Sherri Duskey Rinker, illustrated by Ethan Long
Join Dump Truck on his colorfully busy day at the construction site! Little construction fans will love the colors that fill the world of the bestselling Goodnight, Goodnight, Construction Site, from the BLUE sky in the morning to the WHITE moon at night!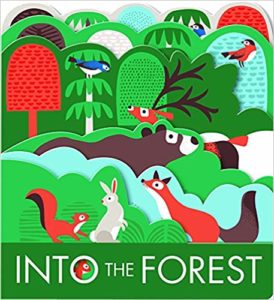 Into the Forest by Laura Baker, illustrated by Nadia Taylor
Through a simple narrative about a squirrel looking for her family, Into the Forest introduces different animal families as they go about their daily lives. With a gentle rhyming text and beautiful illustrations, Into the Forest's die-cut pages and embossing make this the perfect tactile package for little hands.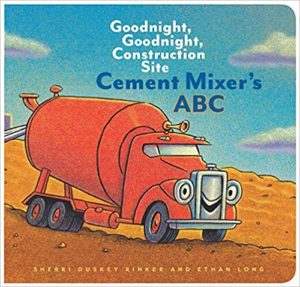 Cement Mixer's ABC by Sherri Duskey Rinker, illustrated by Ethan Long
Sing along with these construction ABCs! Cement Mixer churns out a rollicking alphabet rhyme that makes work light and teaches little readers the words of the construction site, from A to Z.
Picture Book New Releases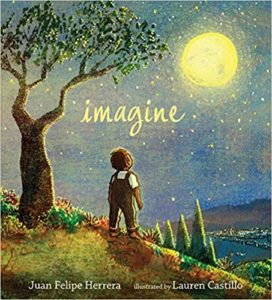 Imagine by Juan Felipe Herrera, illustrated by Lauren Castillo
Have you ever imagined what you might be when you grow up? When he was very young, Juan Felipe Herrera picked chamomile flowers in windy fields and let tadpoles swim across his hands in a creek. He slept outside and learned to say good-bye to his amiguitos each time his family moved to a new town. He went to school and taught himself to read and write English and filled paper pads with rivers of ink as he walked down the street after school. And when he grew up, he became the United States Poet Laureate and read his poems aloud on the steps of the Library of Congress. If he could do all of that . . . what could you do?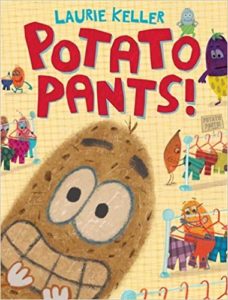 Potato Pants by Laurie Keller
Potato is excited because today―for one day only― Lance Vance's Fancy Pants Store is selling . . .POTATO PANTS! Potato rushes over early, but just as he's about to walk in, something makes him stop. What could it be? Find out in this one-of-a-kind story about misunderstandings and forgiveness, and―of course―Potato Pants!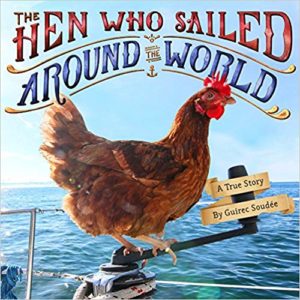 The Hen Who Sailed Around the World by Guirec Soudee
Monique is a highly accomplished chicken: she surfs, she skateboards, and she just crossed the world on a tiny boat with her human companion, Guirec, who helped steer. On their three-year journey, together they were unstoppable. When they became stranded in the ice off Greenland for four months, Monique, unruffled as always, kept Guirec alive with her eggs– and they both made it home.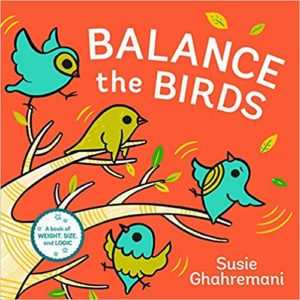 Balance the Birds by Susie Ghahremani
A follow-up to Stack the Cats, Balance the Birds is about balance and relative size. When birds spot a tree and decide to land on its branches, the readers can help them find the perfect balance. Like Stack the Cats, Balance the Birds introduces key early math skills for toddlers.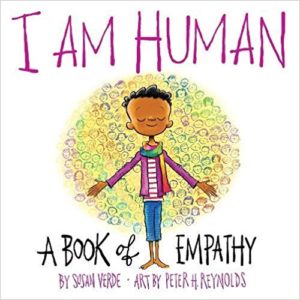 I Am Human: A Book of Empathy by Susan Verde, illustrated by Peter H. Reynolds
From the picture book dream team behind I Am Yoga and I Am Peace comes the third book in their wellness series: I Am Human. A hopeful meditation on all the great (and challenging) parts of being human, I Am Human shows that it's okay to make mistakes while also emphasizing the power of good choices by offering a kind word or smile or by saying "I'm sorry." At its heart, this picture book is a celebration of empathy and compassion that lifts up the flawed fullness of humanity and encourages children to see themselves as part of one big imperfect family—millions strong.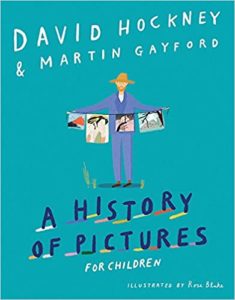 A History of Pictures for Children by David Hockney & Martin Gayford
A History of Pictures takes young readers on an adventure through art history. From cave paintings to video games, this book shows how and why pictures have been made, linking art to the human experience. Hockney and Gayford explain each piece of art in the book, helping young minds to grasp difficult concepts. The book tracks the many twists and turns toward artistic invention, allowing readers to fully appreciate how and why art has changed and includes an illustrated timeline of inventions.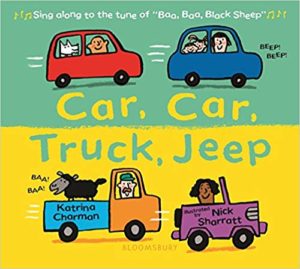 Car, Car, Truck, Jeep by Katrina Charman, illustrated by Nick Sharratt
This book is bursting with cars, buses, planes, trains, trucks, diggers–and many more Things That Go. And with a text set to the tune of Baa, Baa, Black Sheep, vehicle-obsessed little ones will never want to put this book down!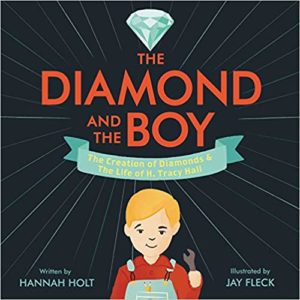 The Diamond and the Boy by Hannah Holt, illustrated by Jay Fleck
Before a diamond is a gem, it's a common gray rock called graphite. Through an intense trial of heat and pressure, it changes into one of the most valuable stones in the world. Before Tracy Hall was an inventor, he was a boy—born into poverty, bullied by peers, forced to work at an early age. However, through education and experimentation, he became one of the brightest innovators of the twentieth century, eventually building a revolutionary machine that makes diamonds.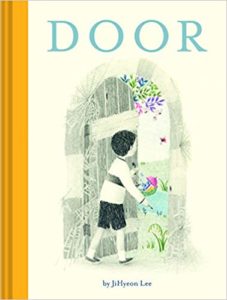 Door by JiHyeon Lee
JiHyeon Lee's debut book, Pool, was lauded as a wordless masterpiece. Here she takes readers on another journey into an unexpected world. Delicate drawings transform from grays to vivid color as a curious child goes through a mysterious door and discovers that open-mindedness is the key to adventure and friendship.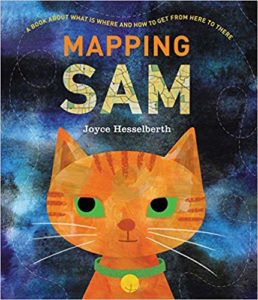 Mapping Sam by Joyce Hesselberth
Maps can show us streets and subways and cities and countries. But they can also show us what we can't see, what we can only imagine, or how to build something. In Joyce Hesselberth's Mapping Sam, Sam the cat puts her family to bed, and then—when all is quiet—heads out to explore her neighborhood.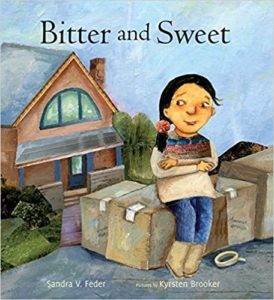 Bitter and Sweet by Sandra V. Feder, illustrated by Kyrsten Brooker
When Hannah's family has to move, her grandmother tells her how she felt leaving the old country ― it was both bitter and sweet. As Hannah leaves her friends behind and tries to get used to a new house, she only feels bitterness. Was her grandmother wrong about the sweetness? Hannah starts to feel better about the move when she sees her new house in the soft light of the Shabbat candles. When a new friend reaches out with a special gift, Hannah realizes that sweetness can come from unexpected places and that she can even create some herself.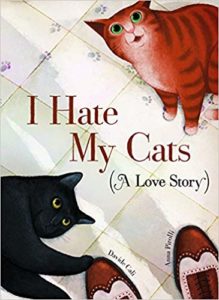 I Hate My Cats (A Love Story) by Davide Cali, illustrated by Anna Pirolli
Ginger is the weird one. She plays with peas, purrs at artichokes, and has a strange fondness for chicken (but only the neighbor's chicken). Then there's Fred. His greatest talent? Sleeping. Oh, and hiding. And when he's not hiding, he's conspiring with Ginger to destroy the house! Such is life with cats. . . can't live with 'em, can't live without 'em—if you love them, that is.
Chapter Book New Releases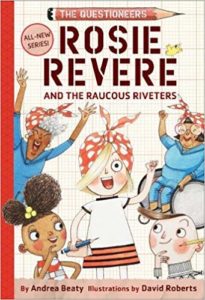 Rosie Revere and the Raucous Riveters by Andrea Beaty, illustrations by David Roberts
Rosie Revere is no stranger to flops and fails, kerfuffles and catastrophes. After all, engineering is all about perseverance! But this time, Rosie has a really important project to tackle—one that feels much bigger than herself. Rosie's beloved Aunt Rose and her friends, the Raucous Riveters—a group of fun-loving gals who built airplanes during World War II—need help inventing something new. And Rosie is just the engineer for the job!
Middle Grade New Releases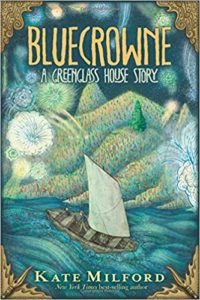 Bluecrowne: A Greenglass House Story by Kate Milford
Lucy Bluecrowne is beginning a new life ashore with her stepmother and half brother, though she's certain the only place she'll ever belong is with her father on a ship of war as part of the crew. She doesn't care that living in a house is safer and the proper place for a twelve-year-old girl; it's boring. But then two nefarious strangers identify her little brother as the pyrotechnical prodigy they need to enact an evil plan, and it will take all Lucy's fighting instincts to keep her family together.
Dog Days in the City by Jodi Kendall
Anytime Josie Shilling's large family gets too chaotic, volunteering at the local animal clinic is the one place she can escape—and she loves working with the animals. But when a box mysteriously appears on the clinic's front steps, Josie suddenly becomes responsible for seven adorable puppies! Taking care of her pig, Hamlet, last fall was a bit harder than she thought. So how is she ever going to handle a whole litter of mischievous pups and find the right homes for them all? This summer will bring big changes for Josie as she learns about growing up, letting go, and loving your pack no matter what.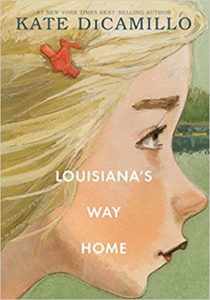 Louisiana's Way Home by Kate DiCamillo
When Louisiana Elefante's granny wakes her up in the middle of the night to tell her that the day of reckoning has arrived and they have to leave home immediately, Louisiana isn't overly worried. After all, Granny has many middle-of-the-night ideas. But this time, things are different. This time, Granny intends for them never to return. Separated from her best friends, Raymie and Beverly, Louisiana struggles to oppose the winds of fate (and Granny) and find a way home.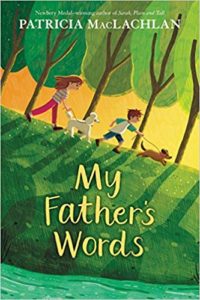 My Father's Words by Patricia MacLachlan
Declan O'Brien always had a gentle word to share, odd phrases he liked to repeat, and songs to sing while he played basketball. His favorite song was "Dona Nobis Pacem," "Grant Us Peace." His family loved him deeply and always knew they were loved in return. But a terrible accident one day changes their lives forever, and Fiona and Finn O'Brien are left without a father. Their mother is at a loss. What words are there to guide them through such overwhelming grief?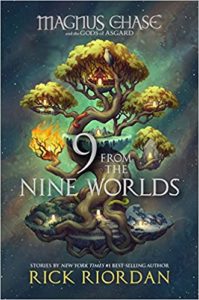 9 From the Nine Worlds by Rick Riordan
The Magnus Chase and the Gods of Asgard trilogy may have concluded, but we haven't heard the last of our favorite peeps from the Nine Worlds. Join Hearthstone, Blitzen, Samirah, Alex, Jack, T.J., Mallory, Halfborn, and more on a hilarious and unforgettable journey through Rick Riordan's unique take on Norse mythology. While Magnus is off visiting his cousin, Annabeth, his friends find themselves in some sticky, hairy, and smelly situations as they try to outwit moronic giants, murderous creatures, and meddlesome gods. Can they stave off Ragnarok at least until Magnus gets back?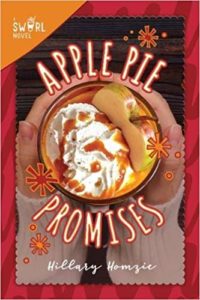 Apple Pie Promises by Hillary Homzie
Lily has lived with her mom since her parents got divorced several years ago, and her dad has recently remarried to a woman with a daughter her age named Hannah. But now, Lily's mom has gotten a once-in-a-lifetime work opportunity in Africa and she'll be gone for a year, so Lily is moving in with her dad―and new stepmom and new stepsister. It'll be as easy as apple pie, right? Wrong.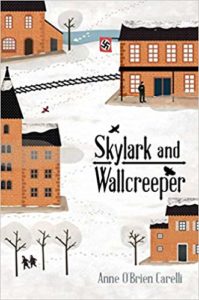 Skylark and Wallcreeper by Anne O'Brien Carelli
Queens, 2012. Hurricane Sandy is flooding New York City, and Lily is at a nursing home with her grandmother, Collette. Lily visits Collette often, as she is beginning to lose her memories. When the National Guard shows up to evacuate the building and take them to safety at the Park Slope armory in Brooklyn, Lily's granny suddenly produces a red box she's hidden in a closet for years. Once they get to safety, Lily opens the box, where she finds an old, beautiful Montblanc pen. Granny tells Lily that the pen is very important and that she has to take care of it, as well as some letters written in French.
The Truth About Martians by Melissa Savage
Mylo never really believed in Martians, unless they had a starring role in one of his comic books. But then a flying saucer crash-lands next to his Roswell, New Mexico, ranch, and he starts to hear voices–like someone is asking for his help. With his best friend Dibs and crush Gracie by his side, and his Cracker Jack superhero membership card, a slingshot, and a small American flag–for peace–in tow, Mylo sets out on an epic adventure to investigate the crash and find the Martians. But he and his friends end up discovering more about the universe than they ever could have imagined.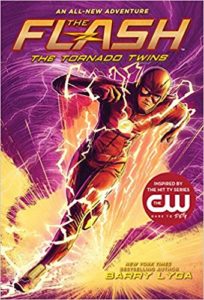 The Flash: The Tornado Twins by Barry Lyga
Catch up with the super adventures of Barry Allen, also known as the Flash, in the third book of this middle-grade series. Featuring adventures not seen on TV, Barry continues his mission to protect Central City from sinister plots. The book builds upon the world of the popular TV show in a new medium by author Barry Lyga. Fans won't want to miss the exciting conclusion to the series!
Backlist Book Recommendations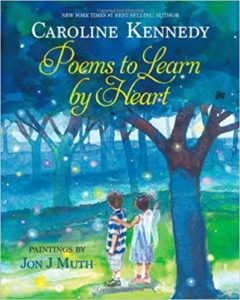 Poetry Recommendation: Poems to Learn by Heart by Caroline Kennedy, illustrated by Jon J. Muth
There's a poem to celebrate every moment in life-whether it's hitting a home run, watching a sunset, or laughing with your best friend. A poem is a gift of the heart that can inspire, reassure, or challenge us. Memorize it-share it-it's yours forever.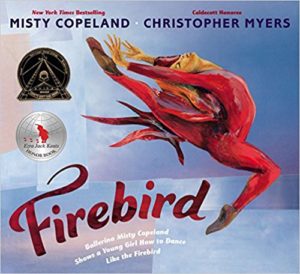 Picture Book Recommendation: Firebird by Misty Copeland, illustrated by Christopher Myers
In her debut picture book, Misty Copeland tells the story of a young girl–an every girl–whose confidence is fragile and who is questioning her own ability to reach the heights that Misty has reached. Misty encourages this young girl's faith in herself and shows her exactly how, through hard work and dedication, she too can become Firebird.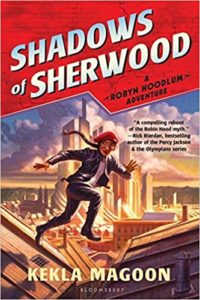 Middle Grade Recommendation: Shadows of Sherwood by Kekla Magoon
The night her parents disappear, twelve-year-old Robyn Loxley must learn to fend for herself. Her home, Nott City, has been taken over by a harsh governor, Ignomus Crown. After fleeing for her life, Robyn has no choice but to join a band of strangers–misfit kids, each with their own special talent for mischief. Setting out to right the wrongs of Crown's merciless government, they take their outlaw status in stride. But Robyn can't rest until she finds her parents. As she pieces together clues from the night they disappeared, Robyn learns that her destiny is tied to the future of Nott City in ways she never expected.
Giveaway!
Don't forget to enter our giveaway for a custom book stamp for your personal library! Click here to enter.
I would love to know what you are reading this week! Find me on Twitter at @KarinaYanGlaser, on Instagram at @KarinaIsReadingAndWriting, or email me at karina@bookriot.com.
Until next week!
Karina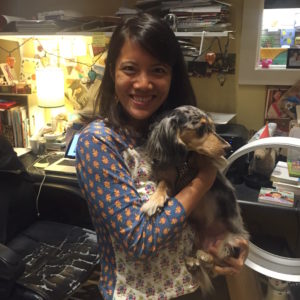 This is Mary Todd Lincoln, one of the shop dogs at Parnassus Books in Nashville, Tennessee!
*If this e-mail was forwarded to you,
follow this link to subscribe
to "The Kids Are All Right" newsletter and other fabulous Book Riot newsletters for your own customized e-mail delivery. Thank you!*