Happy Friday, time travelers and Titans! Today I'm reviewing The Enchanted Forest Chronicles by Patricia Wrede and talking about African SFF, the All Souls trilogy, technology-induced terror, and more.
---
This newsletter is sponsored by Lion Forge.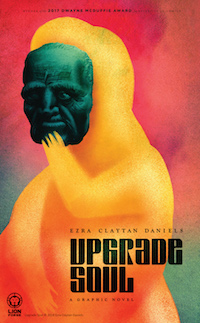 For their 45th anniversary, Hank and Molly Nonnar decide to undergo an experimental rejuvenation procedure, but their hopes for youth are dashed when the couple is faced with the results. In Upgrade Soul, McDuffie Award–winning creator Ezra Claytan Daniels asks probing questions about what shapes our identity—Is it the capability of our minds or the physicality of our bodies? Is a newer, better version of yourself still you? Upgrade Soul is in stores now from Lion Forge!
---
Couldn't make it to the All Souls Convention? Vulture has a recap that makes me wish Deborah Harkness was my best friend. (I still remember the declensions and conjugation tables from high-school Latin! HMU Deborah.)
Tade Thompson has a request regarding African SFF — and a reading list — for us, which ends with these killer lines: "African science fiction is not rising. It is here." I reviewed Thompson's Rosewater on Tuesday (short version: it's great), and this piece has a side bonus of beautifully situating his work within that of the broader African SFF scene.
Nervous about technology? Unbound Worlds has a list of eight novels for the techno-skeptic, and I strongly cosign Wildcard by Marie Lu (although you should definitely read Warcross first) and Robopocalypse by Daniel H. Wilson.
As today's review shows, I'm a fan of middle-grade SF/F, and this list of Percy Jackson read-alikes is very much in my wheelhouse.
This list of fantasy series is a thing of great beauty; I especially love how Silvana organized it into new, on-going, and completed series!
Want to get really philosophical about world-building? This excellent Twitter thread goes there, and talks about the importance of reading diversely in the process. (H/T to Barbara in Insiders for that link!)
Love to color, don't feel like shelling out for a full coloring book, and have access to a printer? We've got free Harry Potter coloring book pages for you!
Today in reviews, we take a walk down Nostalgia Lane.
The Enchanted Forest Chronicles by Patricia Wrede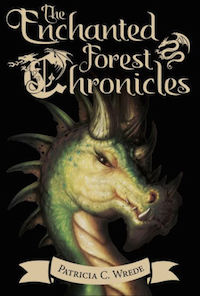 When I was packing for my two-week vacation, I went back and forth on which books to bring (as you do). I ended up deciding to only pack my iPad, which doubles as my ereader, and loaded it up with work-reading — because even when you're on vacation, review deadlines loom! But in the name of vacation, I also bought myself the ebook collection of The Enchanted Forest Chronicles, which I've been meaning to reread for ages and which were absolute favorites of mine as a kid. I am happy to tell you that they stand up, and how.
For those who were not indoctrinated in their tender years, I'll give you the briefest of synopses: these middle-grade books follow a bevy of characters including a runaway princess, the king of a magical forest, and a very tidy witch. In Wrede's gently wry fairytale universe, dragons need princesses to make them cherries jubilee and tidy their treasure hoards, wizards can be banished with soapy water, flying carpets come in designs including pink teddy bears, and the best way to go on an adventure is to know as little as possible about why you're going. Also, politeness is key.
Revisiting these was exactly the kind of "waiting on a plane or a train" reading I wanted — light, funny, and beautifully imaginative. Even more interesting as an adult reader, though, were Wrede's introductions to each book. I came to them via Cimorene in Dealing with Dragons, which — while technically the first book in the quartet — was written second, after Talking to Dragons had already come out as a stand-alone. Wrede's thoughts on working with Jane Yolen and the process of creating a series out of a one-off book were fascinating both as a fan (I do love to see a little behind-the-scenes process) and as a reviewer. Looking for the little touches of continuity in each book was like a delightful scavenger hunt. (Just me? ¯\_(ツ)_/¯ .)
Like many, I find it nerve-racking to reread old favorites. Will they be as good? Will they contain horrible stereotypes or outright racism or misogyny that my younger brain missed? I'm happy to say that while the series could certainly use a diversity update, I found it as engaging as I'd remembered. Wrede laughs with her characters in their foibles and gives them amazing moments to shine, whether they're a young fire-witch with a temper or a dragon with a cold.
And that's a wrap! You can find all of the books recommended in this newsletter on a handy Goodreads shelf. If you're interested in more science fiction and fantasy talk, you can catch me and my co-host Sharifah on the SFF Yeah! podcast. For many many more book recommendations you can find me on the Get Booked podcast with the inimitable Amanda.
Your fellow booknerd,
Jenn