Hello, Kid Lit friends!
It's no secret that I love animals. As I write this, I have a dog at my side, two cats at my feet, and a rabbit underneath the chair I'm sitting on. There have been some fantastic nonfiction books with animal themes lately, so I thought I would share them! These are all interesting, informative, and gorgeously illustrated books. Please note that all descriptions are from Goodreads.
---
Sponsored by Graphix, an imprint of Scholastic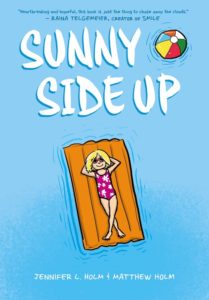 Sunny Lewin has been packed off to Florida to live with her grandfather for the summer. At first she thought Florida might be fun — it is the home of Disney World, after all. But the place where Gramps lives is no amusement park. It's full of . . . old people. Really old people. Luckily, Sunny isn't the only kid around. She meets Buzz, a boy who is completely obsessed with comic books, and soon they're having adventures of their own. But the question remains — why is Sunny down in Florida in the first place? The answer lies in a family secret that won't be a secret to Sunny much longer. . .
---
Picture Books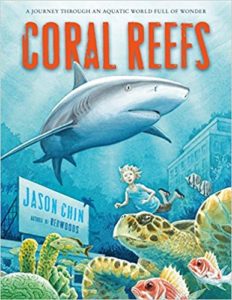 Coral Reefs: A Journey Through an Aquatic World Full of Wonder by Jason Chin
During an ordinary visit to the library, a girl pulls a not-so-ordinary book from the shelves. As she turns the pages in this book about coral reefs, the city around her slips away and she finds herself surrounded by the coral cities of the sea and the mysterious plants and animals that live, hunt, and hide there. Coral Reefs by Jason Chin plunges readers into the ocean with incredible facts about fish, coral reefs and marine life. Readers will experience the ocean like they never have before in this stunning picture book full of breathtaking illustrations.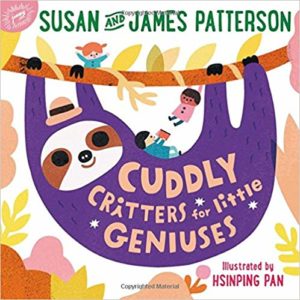 Cuddly Critters for Little Geniuses by Susan and James Patterson, illustrated by Hsinping Pan
From sloths to spoonbills and panda ants to pangolins, little geniuses will love learning about all of the unusual, adorable animals that live on this planet. More than 50 little-known flyers, swimmers, and crawlers are included in this book, whimsically illustrated by artist Hsinping Pan. Cuddly Critters for Little Geniuses will remind you that nature contains many wonders–and these cute and curious creatures are no exception!
Summer Birds: The Butterflies of Maria Merian by Margarita Engle, illustrated by Julie Paschkis
In the Middle Ages, people believed that insects were evil, born from mud in a process called spontaneous generation. Maria Merian was only a child, but she disagreed. She watched carefully as caterpillars spun themselves cocoons, which opened to reveal summer birds, or butterflies and moths. Maria studied the whole life cycle of the summer birds, and documented what she learned in vibrant paintings. This is the story of one young girl who took the time to observe and learn, and in so doing disproved a theory that went all the way back to ancient Greece.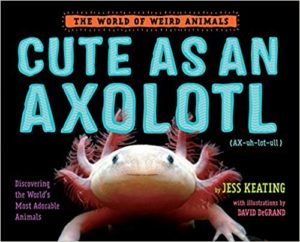 Cute an an Axolotl: Discovering the World's Most Adorable Animals by Jess Keating
The Internet pretty much runs on cute animal photos, but "cute" is so much more than clickbait kittens and insta-pups. Cute is for feathery-gilled axolotls (pronounced: ax-uh-LOT-ulz), shy pygmy hippos, poisonous blue dragons, and armored pangolins. All of these animals are cute, but they've also adapted remarkable ways to survive in their unique environments.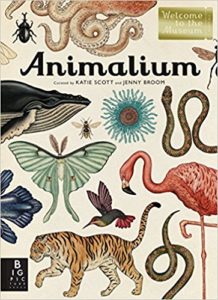 Animalium by Jenny Broom
Welcome to the Museum is a series of books set on the "walls" of the printed page, showcasing the world's finest collections of objects — from natural history to art. Open 365 days a year and unrestricted by the constraints of physical space, each title in this series is organized into galleries that display more than 200 full-color specimens accompanied by lively, informative text. Offering hours of learning, this first title within the series — Animalium — presents the animal kingdom in glorious detail with illustrations from Katie Scott, an unparalleled new talent.
Middle Grade Books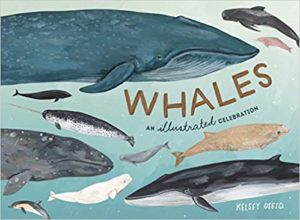 Whales: An Illustrated Celebration by Kelsey Oseid
Some of the world's most fascinating and beloved animals, cetaceans have captivated the human imagination for centuries. Whales: An Illustrated Celebration explores the most interesting and illuminating facts about these marine mammals, from the enormous blue whale (which has a heart the size of a car!) to the Amazon river dolphin (which is pink!). Gorgeously illustrated with full-color art on every page, this giftable guide delves into cetaceans' mysterious evolution (from land to water mammals), their place in mythology, and their ecology, habitats, and behaviors (such as singing, fluking, beaching, bubble feeding, and more).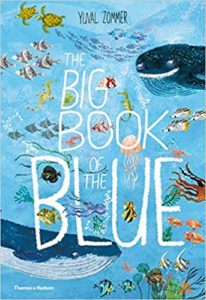 The Big Book of the Blue by Yuval Zommer
The book opens by explaining how different types of animals are able to breathe and survive underwater, and the different families to which they belong. Subsequent pages are dedicated to specific creatures, including sea turtles, whales, sharks, stingrays, and seahorses, and show varied life in specific habitats, such as a coral reef or deep sea bed. The Big Book of the Blue also explores the underwater world thematically, looking at animals in danger, learning how to spot creatures at the beach, and discovering how to do our part to save sea life. Beautiful and filled with fascinating facts, young, curious readers won't be able to tear their eyes away from the page.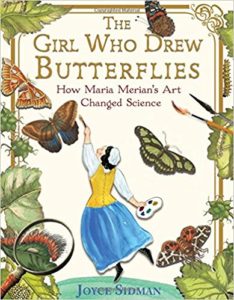 The Girl Who Drew Butterflies: How Maria Merian's Art Changed Science by Joyce Sidman
One of the first naturalists to observe live insects directly, Maria Sibylla Merian was also one of the first to document the metamorphosis of the butterfly. In this visual nonfiction biography, richly illustrated throughout with full-color original paintings by Merian herself, the Newbery Honor–winning author Joyce Sidman paints her own picture of one of the first female entomologists and a woman who flouted convention in the pursuit of knowledge and her passion for insects.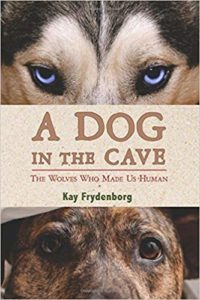 A Dog in the Cave: The Wolves Who Made Us Human by Kay Frydenborg
Fossils show we've shared our work and homes with dogs for tens of thousands of years. Now there's growing evidence that we influenced dogs' evolution—and they, in turn, changed ours. Even more than our closest relatives, the apes, dogs are the species with whom we communicate best. Combining history, paleontology, biology, and cutting-edge medical science, Kay Frydenborg paints a picture of how two different species became deeply entwined—and how we coevolved into the species we are today.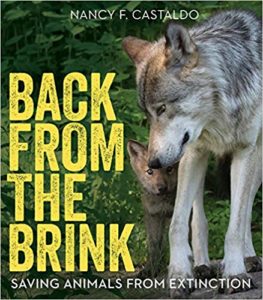 Back from the Brink: Saving Animals from Extinction by Nancy Castaldo
How could capturing the last wild California condors help save them? Why are some states planning to cull populations of the gray wolf, despite this species only recently making it off the endangered list? How did a decision made during the Civil War to use alligator skin for cheap boots nearly drive the animal to extinction? Back from the Brink answers these questions and more as it delves into the threats to seven species, and the scientific and political efforts to coax them back from the brink of extinction.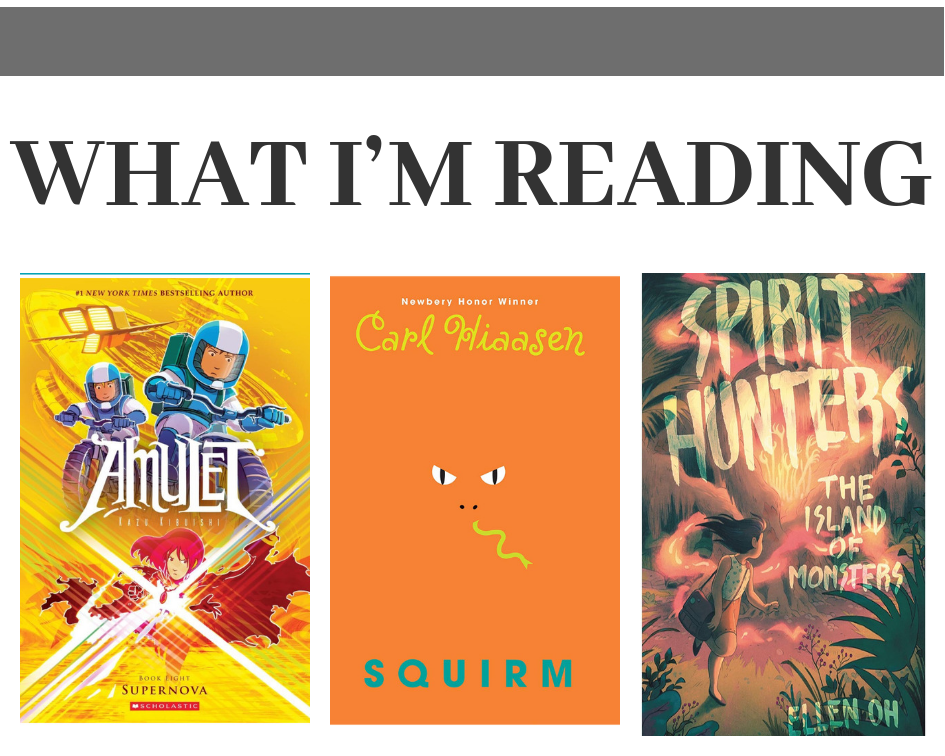 The much anticipated Amulet #8: Supernova is coming out this Tuesday! Check out a terrific interview with Kazu Kibuishi on The Yarn podcast here.
Carl Hiaasen is back again with another hilarious middle grade read. Like his other books, Squirm has an environmental theme in addition to lots of laughs, hijinks, and super smart kids. When I got married thirteen years ago, my husband and I gave out copies of Hoot by Carl Hiaasen as wedding favors.
Spirit Hunters #2: The Island of Monsters by Ellen Oh is the second book in the Spirit Hunters series, and it is seriously creepy. Perfect for middle grade readers who love being scared!
Around the web…
Noteworthy Middle Grade and YA Sequels for Fall 2018, via Publisher's Weekly
Mary Poppins Returns with New Editions, Tie-Ins, via Publisher's Weekly
Quiz: What Would Be Your Best Class at Hogwarts?, via Book Riot
9 Ways to Get Free or Cheap Kids' Books, via Book Riot
I'd love to know what you are reading this week! Find me on Twitter at @KarinaYanGlaser, on Instagram at @KarinaIsReadingAndWriting, or email me at karina@bookriot.com.
Until next time!
Karina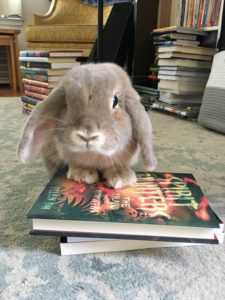 *If this e-mail was forwarded to you, follow this link to subscribe to "The Kids Are All Right" newsletter and other fabulous Book Riot newsletters for your own customized e-mail delivery. Thank you!*