Hello mystery fans! This week I've got for you a great historical mystery, a small-town police procedural with dual mysteries, and an awesome thriller!
---
Sponsored by William Morrow, publishers of I KNOW YOU KNOW the new novel by Gilly Macmillan.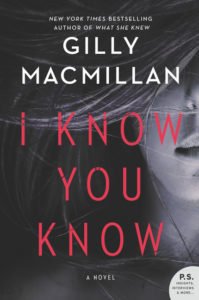 From New York Times bestselling author Gilly Macmillan comes a chilling, twisty mystery about two shocking murder cases twenty years apart, and the threads that bind them.
Twenty years ago, eleven-year-olds Charlie Paige and Scott Ashby were murdered, their bodies dumped near a dog racing track. A man was convicted of the brutal crime, but decades later, questions still linger.
For his whole life, filmmaker Cody Swift has been haunted by the deaths of his childhood best friends. Hoping to uncover new evidence, Cody starts a podcast to record his findings. But there are many people who don't want the case reopened so many years after the tragedy.
---
Loved This Historical Mystery!
The Impossible Girl by Lydia Kang: Set in Manhattan in the mid-1800s, there's rumor of a girl with two hearts. They aren't the kind of rumors that hurt your feelings or may ruin your social status, but that can literally get you killed and your body cut open and displayed for all to see. And the rumors are true: Cora Lee was born with two hearts. In order to keep anyone from discovering this, and to navigate society, she spends the day as Cora and the night disguised as her "twin brother" Jacob. She's also robbing graves to sell the bodies to medical schools and those who are seeking body anomalies. She does this for money, and so that she can hear if anyone is looking for the girl with two hearts–her! Her life is complicated enough when suddenly people on her list of anomalies–who she waits to die of natural causes–start suspiciously dying. Will she figure out what is happening before she's in the grave?… This was one of those novels where I was sucked in from the first page and absolutely adored Cora. Another win for the historical feminist mysteries category!
Great Small-Town Police Procedure (TW physical abuse)
Idyll Hands (Thomas Lynch #3) by Stephanie Gayle: This one checked off a bunch of boxes for me: small-town mystery; dual mysteries being solved; equal focus on solving the mysteries, the characters' personal lives, and police department politics. The novel switches between Police Chief Thomas Lynch and Detective Michael Finnegan. Lynch is doing his best to settle into small-town life, navigate around the town and his department's reaction to his being gay, figure out the whole dating in a small-town, and keep his men in line while solving a murder case. Finnegan was a rookie cop in the '70s when his younger sister disappeared, and he's never stopped blaming himself for waiting too long to file a missing person's report. Now, 1999, with a woman's body found in the woods, he's determined to find out what happened to his sister. Lots of great characters, interactions, and two solid mysteries had me really invested in this read. I look forward to more, especially Lynch. (Reads as a standalone in that you're never lost or feel like you're thrown into an already started story.)
Awesome Thriller! (TW pedophilia/ PTSD/ the dog dies)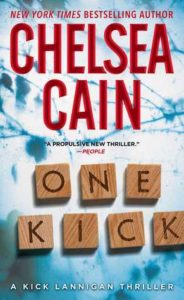 One Kick by Chelsea Cain: I love Cain, she's one of my favorite writers and after reading her new comic Man-Eaters— which is brilliant–I needed more of her so I settled in with one of her thrillers. And of course I inhaled it because Cain writes the perfect combination, for me, of intense/dark with fictional/thriller. But before I get into the review–so no one yells at me–a heads up that this was the beginning of a series that will probably never have a second book because Cain and her editor changed publishers. With that said, while the ending of this book opens a new door for a continued mystery, it did solve the mystery of this book, which is why I'm still recommending it. The novel alternates between Kick Lannigan's life, now at age 21, and the years she was kidnapped by a pedophile starting at age 6. Currently she is trying her best to keep her PTSD at bay with fighting techniques she's learned since her rescue. Because she's a survivor and a fighter, a mysterious man named Bishop appears in her life needing her to help him in a recent kidnapping case. Kick will have to get close to the world that still shares the videos she was forced to make as a child in order to help find recent victims… Cain creates amazing characters with layers of pain, fight, and hope. She keeps you turning the page with intense action, and sprinkles in just the right amount of dark humor.
Recent Releases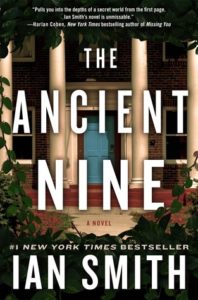 The Ancient Nine by Ian K. Smith (Currently reading: Secret society at Harvard–YES, PLEASE!)
The 7½ Deaths of Evelyn Hardcastle by Stuart Turton (Currently reading: Like a literary Groundhogs Day where Aiden Bishop has to identify Evelyn Hardcastle's killer or the day starts over AGAIN.)
Billion Dollar Whale: The Man Who Fooled Wall Street, Hollywood, and the World by Tom Wright, Bradley Hope (TBR: Another white collar true crime I'm looking forward to.)
Guess Who by Chris McGeorge (Currently reading: A locked-room mystery where a group of strangers wake up in a hotel room together…)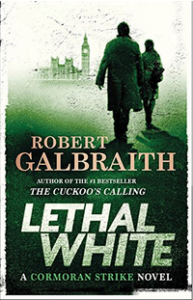 Lethal White (Cormoran Strike #4) by Robert Galbraith (Pseudonym), J.K. Rowling (TBR: It is finally here!)
The Infinite Blacktop (Claire DeWitt Mysteries #3) by Sara Gran (TBR: Noir mystery!)
The Labyrinth of the Spirits (Cemetery Of Forgotten Books #4) by Carlos Ruiz Zafón (TBR: The final in a series set in Barcelona I've been looking forward to getting into.)
Browse all the books recommended in Unusual Suspects previous newsletters on this shelf. And here's an Unusual Suspects Pinterest board.
Until next time, keep investigating! And in the meantime, come talk books with me on Twitter, Instagram, and Litsy–you can find me under Jamie Canaves.
If a mystery fan forwarded this newsletter to you and you'd like your very own you can sign up here.