Hi mystery fans! I have found my new marathoning show: Death in Paradise (streaming on Netflix). It's a BBC show about a British detective solving crimes on the gorgeous island of Saint Marie. Except, he's of course miserable by all things island life. The mysteries are good and twisty and the show creator, Robert Thorogood, also brought the characters to a series of books.
---
Sponsored by Tear Me Apart by J.T. Ellison from MIRA Books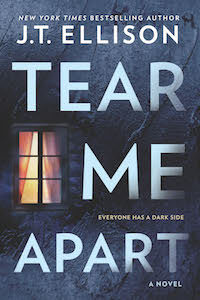 Competitive skier Mindy Wright is a superstar in the making until a spectacular downhill crash threatens her racing career and her life. During surgery, doctors discover she has leukemia, and a stem cell transplant is her only hope. But when her parents are tested, a frightening truth emerges. Mindy is not their daughter. The race to save Mindy's life means unraveling years of lies. Was she accidentally switched at birth or is there something more sinister at play? The search for the truth will tear a family apart…and someone is going to deadly extremes to protect the family's deepest secrets.
---
From Book Riot And Around The Internet
Rincey and Katie talk about mysteries in translation and the Sharp Objects adaptation on the latest Read or Dead!
Very important quiz: Would You Survive A Thriller Novel?!
4 Sci-fi And Fantasy Crime Novels To Check Out Immediately
Interview with Courtney Summers
Giveaway: We want to hear all about your reading habits! Tell us in our Fall Reader Survey and you could win a $100 gift certificate to the Book Riot store!
True Crime
Blood-Testing Firm Theranos to Dissolve (If you've yet to read Bad Blood by John Carreyrou you really should! Review)
FBI Recovers Stolen 'Wizard of Oz' Ruby Slippers
'Serial' Podcast To Focus On Cleveland's Criminal Court System In Season Three; Debuts September 20
Kindle Deal
A Quiet Place by Seicho Matsumot, Louise Heal Kawai (Translation) is $3.99! (Great, slow-burn Japanese crime fiction that reads a bit different than what US/UK/Australian crime readers are used to.)
A Bit Of My Week In Reading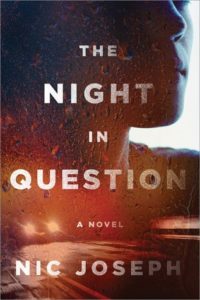 Adding to my ridiculous list of reading this weekend is The Night in Question by Nic Joseph because I really liked her last book and the premise of this one has me really intrigued: "A rideshare driver is the only witness to one of her passenger's secret affair…an affair that may be the least of his crimes."
And I finished on audio two books by Lucy Dawson: The Daughter,  which was a crime novel that starts with a woman's daughter dying in an accident (TW suicide/ child death/ stalking); White Lies a middle-aged doctor who has an affair with her seventeen-year-old patient which turns into a he-said-she-said story. (TW suicide/ statutory rape–in the book the relationship is legal but, based on the patient's chapters, I think the book may need a warning for some readers, and age of consent is different in different places.) I think fans of Lisa Jewell would like that these were also character driven novels focusing on women's lives.
Browse all the books recommended in Unusual Suspects previous newsletters on this shelf. And here's an Unusual Suspects Pinterest board.
Until next time, keep investigating! And in the meantime, come talk books with me on Twitter, Instagram, and Litsy–you can find me under Jamie Canaves.
If a mystery fan forwarded this newsletter to you and you'd like your very own you can sign up here.